In reaction to recent family plan announcements by T-Mobile and Sprint, Verizon announced today that it is making a move to streamline its own offerings - reducing costs for many customers on their most popular plans.
In the process, Verizon is eliminating traditional two year contracts entirely.
Starting August 13, Verizon will offer just 4 pre-packaged data options:
Small: $30/month for 1GB of shareable data
Medium: $45/month for 3GB of shareable data
Large: $60/month for 6GB of shareable data
X-Large: $80/month for 12GB of shareable data
Overages are charges at $15/GB.
On top of these data prices, customers will continue to pay a per line access fee - whether as an individual with a single line or a family with up ten lines. These line access charges are mostly coming down in price:
Each smartphone (with unlimited talk and text) will now cost $20/month, down from $40/month. This is actually a slight increase in price for those who used to get a special $15/month rate if they were on the Edge financing program.
Each Mobile Hotspot JetPack/MiFi will cost $10/month, down from $20/month.
Tablets will continue to cost $10/month.
And each "connected device" (like a cellular smartwatch or connected smart car) will be $5/month.
If you do want to get a new Verizon phone with the cost subsidized by a contract, this week is your last chance. But in general, most customers have been better off financing the phone purchase where the costs of the phone and the service are clearly separated out.
The New Plans Can Be Found Here: The Verizon Plans
X-Large Is Way Too Small!
For those who rely on mobile internet as their primary connection - even the X-Large plan is barely what we would consider an entry level of bandwidth we recommend for RVers.
However at $80/month, at least it's a better deal than the promotional rate Verizon offered in the spring offering 10GB for the same price.
We've confirmed from an inside source that these will be the new pricing buckets available for heavier data users, however the plans offering over 12GB are not as prominently placed: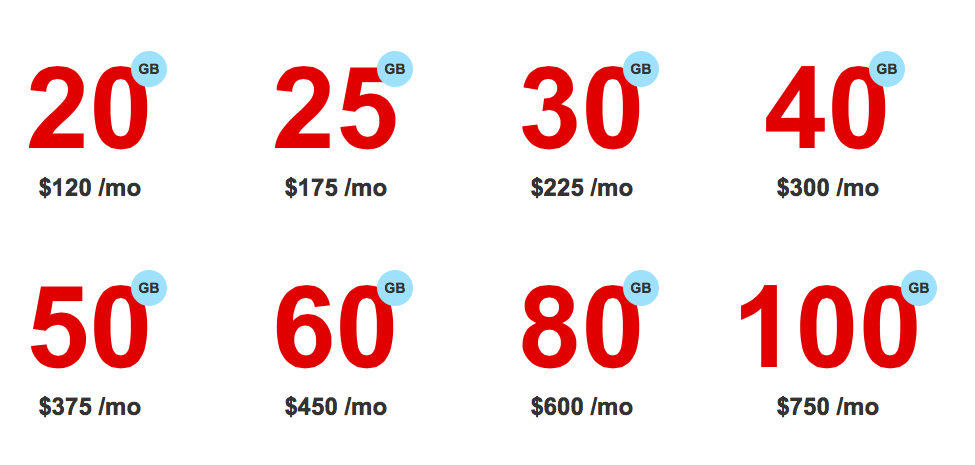 Verizon is making these plans available to customers purchasing a new smartphone at full price or enrolling in an EIP (Equipment Installment Plan - formerly called Verizon Edge, which they are dropping the marketing name of).
You can also activate a used device - as long as it is compatible with Verizon's network. Buying a new phone is NOT required to get these plans.
Current customers not desiring an equipment upgrade at this point will be able to move to these new plans, but those with time remaining on a two year contract will pay $40/mo per smartphone line access fee for the remainder of their contract period, and then the price will automatically drop to $20/mo. Customers who choose to stick with their older 'More Everything' plan, for now, can still opt to upgrade their phones with a subsidized device and next 2-year contract.
Customers who have current plans with Verizon they want to keep, such as the sweet double data deals from last October or the Millenicom refugee deal, will not be forced to switch to a new plan.
UPDATE 8/8/2015: Verizon statement added below, and the overall article updated.
Recommendations for RVers
We love Verizon's network, but unless you were lucky enough to get a promotional plan last year, the pricing for larger data buckets is sadly prohibitive.
If 20GB is $120, how is it that 40GB costs $375, more than 3x as much?
Verizon either has a problem with math, or wants to make it clear that they are not out to appeal to truly nomadic households who absolutely need more than 10GB or 20GB a month.
In general, we recommend our fellow bandwidth reliant mobile peers consider the upfront costs and risks of a Grandfathered Verizon Unlimited Data Line if they need more than about 15-20GB of Verizon data a month.
In our opinion, for the RVing audience a better sizing chart would be:
Small: 5GB
Medium: 10GB
Large: 20GB
X-Large: 40GB
XXL: 100GB
If only the carriers paid more attention to the needs of the RVing market...
Update: Statement From Verizon
We reached out to Verizon for clarification on a few details, and got this response (8/8/2015):
Any current customer on legacy pricing (no matter if on month-to-month, 2-yr contract or device payment plan) may choose to move to the new Verizon Data Plan at any time. If a customer has a 2yr agreement and moves over, the line access charge will be $40 and not $20. Upon reaching their next upgrade eligibility date, that line access charge will drop automatically.

BYOD is OK as long as the device is approved for our network.

RVers who need more than the XL option should speak with their VZW representative. We'll care for all our customers.

Customers who choose the new plan with device payments will still spread the cost of their phone or tablet evenly over 24 interest free months, and they will be able to upgrade anytime once the device is paid in full. Customers also own the device after it has been paid in full – there's no requirement to turn it in when they upgrade.
More information: