First announced in September 2016 - the Winegard ConnecT WF1 package consists of an indoor Wi-Fi router and an outdoor long-range unit that are designed to work together.
The ConnecT 4G1 (released in spring 2017) adds an embedded AT&T cellular modem to the roof mounted unit, with two external cellular antenna.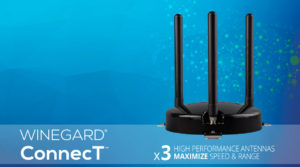 Winegard has a long reputation in the industry as the leading provider of both satellite and over-the-air TV antennas designed for RV use.
But perhaps noticing that more and more people are watching TV over the internet than over the air, Winegard is now also pursuing an entirely new direction:
RV Wi-Fi range extending, and integrated roof-mounted cellular modems.
Alternate Product Consideration
I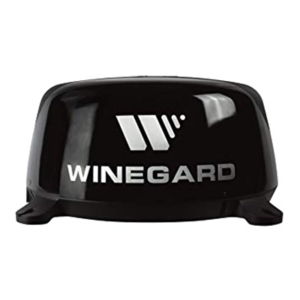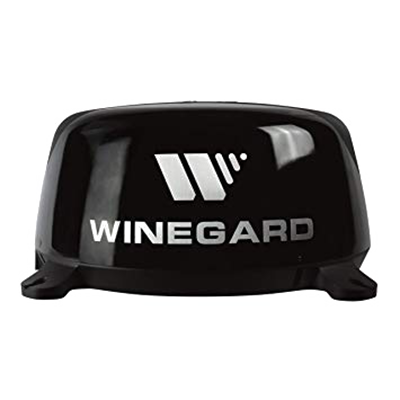 n early 2018, Winegard released the ConnecT 2.0 in both Wi-Fi and LTE only models. It is lower priced, more visually appealing and allows you to use your own SIM card - but removes the interior router component.
Winegard keeps both products still available, and we definitely recommend considering the 2.0 to see if it might meet your needs as well. There are pros and cons to both models.
The ConnecT Kits - Described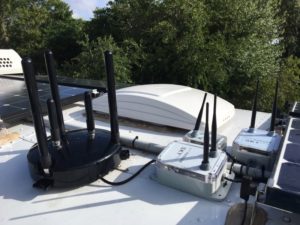 The ConnecT outdoor unit looks like an inverted three legged stool, and honestly it looks a bit odd on an RV roof.
The three legs of the stool are actually high-gain 5dBi Wi-Fi antennas, and the Wi-Fi radio in the base can use these three antennas to lock on to distant 2.4GHz 802.11b/g/n campground Wi-Fi.
The indoor unit is a modern 802.11ac simultaneous-dual-band 2.4GHz / 5GHz AC1750 wi-fi router, which should be able to fill the interior of any RV with an extremely fast indoor private wireless LAN.
If you have wired equipment as well, the ConnecT also provides a single wired gigabit ethernet port.
The outdoor unit connects to the indoor unit via a 25' ethernet cable, which provides both the power and a data connection between the two.
Specifications
Wi-Fi Router: Yes

Indoor 2.4GHz Wi-Fi:

802.11 b/g/n - 450Mbps Max (3x3 MIMO)

Indoor 5GHz Wi-Fi

: 802.11 ac/a/n - 1300Mbps Max (3x3 MIMO)
Wi-Fi Antenna: 3x 5dBi Outdoor Antennas, 6x Integrated Indoor Antennas
Wi-Fi as WAN: Yes - Roof Mounted Long Range
Guest Wi-Fi Network: Yes

Integrated Cellular Modem (ConnecT 4G1):

Roof mounted AT&T LTE modem w/ MIMO antennas.
LTE Category 3 (Max Theoretical Speed: 100Mbps Down / 50Mbps Up)
Integrated SIM, no accessible SIM slot.

Special Features:

None

Power Source:

110V AC Adapter Included (no official 12V option)

Dimensions:

tbd

Outdoor Rated:

Yes

Retail Price:

ConnecT WF1 (Wi-Fi) - $549
ConnecT 4G1 (+LTE) - $749
Table of Contents
Free/Public:
Member Exclusive Content / Review:
Review & Testing Status
We tested a prototype ConnecT s beginning in May 2016 for Winegard, and our impressions are shared below with our members.
In May 2017, Winegard sent us their newly released ConnecT 4G1 cellular model utilizing an AT&T data plan.
We took this unit on the road for several rounds of testing:
Unboxing Video & First Impressions
Here is our quick unboxing video and first impressions of the Winegard ConnecT 4G1, filmed in April 2017.
Our deeper analysis, impressions, and video guide are in our members-only section.
---
Potential Alternatives to Consider:
For other popular mobile routers on the market we are tracking - here are our featured options:
Learn More About Selecting Mobile Routers
---
More Information Available to our Members

We are honored to be able to present the above overview for free without 3rd party advertising.
In thanks for funding this resource center our members have access to any further notes, analysis, insider info, member experiences and/or our full in-depth review of this product or offering.
If you're a member, please log in above to read the review.
Purchasing Options
The roof mounted units for both the Wi-Fi only ConnecT WF1 and the LTE-equipped ConnecT 4G1 are available in either black or white.
Other than the external case color difference, the setups are identical.
Related News Center Articles
The guides below have been hand-picked to help further your education about selecting & using mobile routers.