Last October when we wrote about the new Winegard ConnecT roof-mounted long-range Wi-Fi receiver, there was something that we were asked not to share.
Our test unit, which we had been previewing since May, was also equipped with cellular capabilities.
From the very beginning Winegard had been designing this new product line to combine Wi-Fi and cellular into a roof mounted unit.
But shortly before launch, Winegard let us know that they had decided to postpone the cellular version of the ConnecT - focusing on Wi-Fi exclusively at first.
But eventually, they told us, cellular would be back - redesigned to address issues discovered during the prototyping phase.
And today is the day - with the launch of the Winegard ConnecT 4G1.
Winegard ConnecT 4G1: What's New?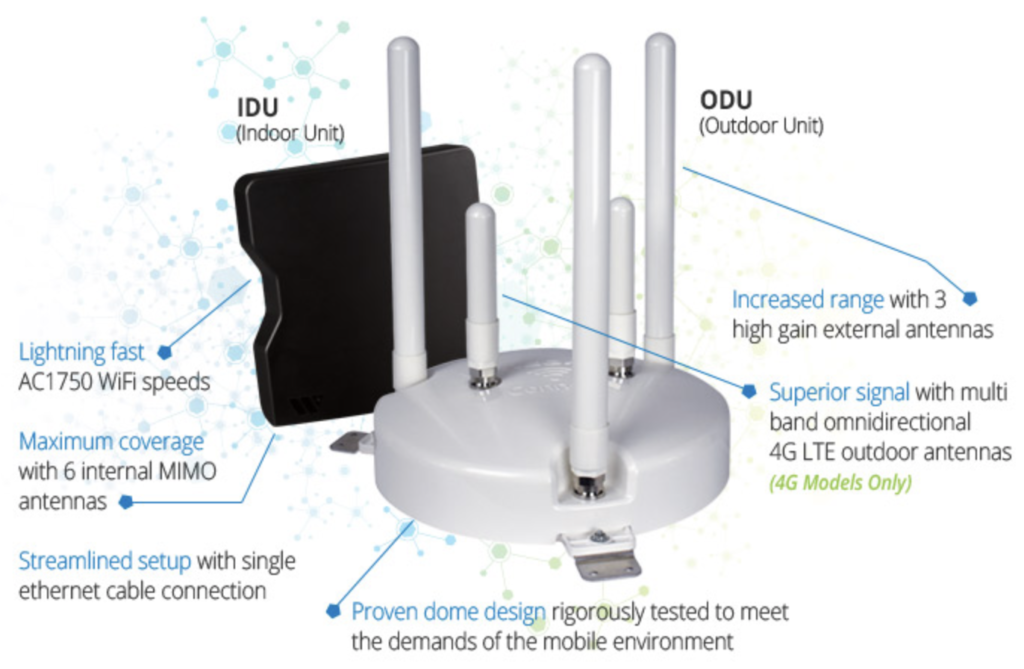 Overall the ConnecT 4G1 is nearly the same as the Wi-Fi version released in September - the only visible change being the addition of two extra antennas on the roof unit.
These two antennas support the integrated LTE modem, and the three larger surrounding antennas are dedicated to long-range Wi-Fi reception.
Indoors, the control unit is unchanged - other than that the control panel web interface will now let you select between remote Wi-Fi or cellular as an upstream connection when you configure the device..
The indoor control unit is a modern 802.11ac dual-band 2.4GHz / 5GHz AC1750 Wi-Fi router.
This indoor unit is designed to fill the interior of any RV with an extremely fast indoor private wireless LAN, while leaving the outdoor unit to focus on long range connectivity.
If you have wired equipment as well, the ConnecT indoor unit also provides a single wired gigabit ethernet port to connect to. And though the indoor unit has two USB ports, they are currently unused - and you can NOT tether to other cellular hotspot devices.
The outdoor unit connects to the indoor unit via a 25' ethernet cable, which provides both a power and a data connection between the two units.
This is.a very similar two-component architecture as has been popularized by WiFiRanger - and in our experience having a dedicated roof-mounted system is the best way to optimize for distant Wi-Fi reception.
Winegard ConnecT 4G1: Expensive AT&T Powered LTE Data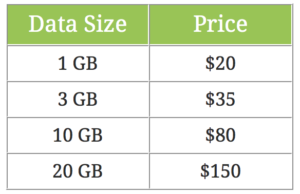 The big new feature in the ConnecT 4G1 is the integrated LTE modem.
The advantage of having a cellular modem and two matched MIMO antennas on the roof should be substantial - Winegard claims they are seeing double the performance of a conventional hotspot located indoors.
Winegard has partnered with AT&T - and the ConnecT 4G1's cellular modem is locked to AT&T service and coverage areas.
But even though it is AT&T behind the scenes, you'll can only get cellular access via a special Winegard data plan you purchase directly via the device's control panel.
You can't change carriers, swap SIM cards, or use your own plan.
The good news is that there are no contracts or activation fees required, and you can pay as you go for whatever data you need.
The bad news is the data pricing - and that any unused data expires after just one month.
Winegard's data pricing may make sense for occasional users who take a ConnecT-equipped RV out only a few times a year and who are looking to supplement campground Wi-Fi, but for anyone with serious ongoing data needs there are MUCH better options to be had.
Winegard explained their thinking to us, holding out hope for a future more flexible option:
"We don't currently have the option to bring your own SIM. This is something we have been discussing. Although we wanted to make the process as easy as possible for the average RV'er that uses it 3 weeks a year, we realize there is also a market for those who want to bring their own SIM."
Unboxing Video & First Look
Winegard sent us one of the first ConnecT 4G1 samples, and here's our first look at it:
We'll be featuring the ConnecT 4G1 in our upcoming round of head-to-head testing of cellular and Wi-Fi gear.
As always we will be sharing our results with our premium members first here:
[Next Project] Cellular Signal Enhancing Field Testing Results (2nd Quarter 2017)
Getting the Winegard ConnecT 4G1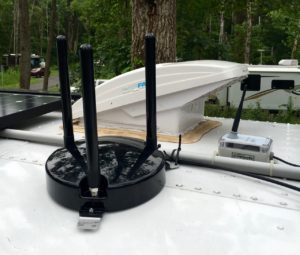 The ConnecT 4G1 should soon be available via Camping World and other Winegard distributors for a list price of $749, which is $200 more than the $549 Wi-Fi only version.
You can also purchase starting today directly from Winegard here.
Do be aware that Winegard's current $50 rebate promo offer does NOT apply to the ConnecT 4G1, only to the older Wi-Fi only ConnecT WF1.
Further Reading: