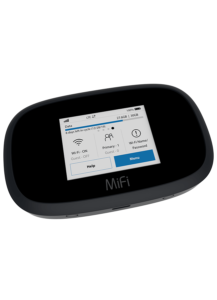 The MiFi 8000 Jetpack by Inseego was released in June 2019 (our news story) and is Sprint's current, and likely final, flagship LTE mobile hotspot device.
In 2020, Sprint merged with T-Mobile, slowly decommissioning the Sprint brand. The Sprint network, however, remains - with a few companies, like non-profits, (in addition to T-Mobile) continuing to have access to it. Therefore, this hotspot device remains relevant.
The 8000 is a major advancement in terms of raw cellular capability when compared to previous Sprint mobile hotspots. For the first time, gigabit LTE technologies are included in a hotspot Sprint's lineup.
The 8000 is almost identical to the Verizon flagship mobile hotspot, the Jetpack 8800L.
The two primary differences are more supported LTE bands on the MiFi 8000.
Since the two hotspots are so similar, anyone considering the Sprint MiFi 8000 should also be sure to full read our in-depth review of the Verizon Jetpack 8800L.
As of mid-February 2021, the 8000 is also for sale via AT&T Business.
---
Specifications
Model Number: Inseego MiFi 8000
Control Panel and Default Password:

Control Panel: http://192.168.1.1 or http://my.MiFi8000/
Default Admin Password: Random - Check Device Screen

USB Tethering Support:

WiFiRanger Tethering: Not tested, but works great in the Verizon version
Pepwave Tethering: Not tested, but works great in the Verizon version (except for Surf On-The-Go)

Networks supported:

4G/LTE: 2, 3, 4, 5, 7, 12, 13, 14, 17, 20, 25, 26, 28, 41, 46, 48, 66
Future LTE Bands (with a software update): 1, 8, 18, 19, 29, 30, 38, 39, 40, 42
3G: HSPA+ 850/1900/2100MHz
2G: GSM EDGE

LTE-Advanced Carrier Aggregation: Yes, 5-band, including LAA
MIMO Support: 4X4 internal, and 2X2 external

LTE Performance Category:

Category 18 (Max Theoretical Speed: 1200Mbps Down / 150Mbps Up)
Cellular Antenna Ports:

2x TS9 'Test Ports' (not official antenna ports), overrides internal 4x4 MIMO antennas
Right port is the primary port, for uploads.

Other Ports: USB-C

Wi-Fi Technology / Frequencies:

802.11 b/g/n/a/ac - Simultaneous 2.4GHz and 5GHz
Battery: 4400 mAh

Claimed Battery Life:

24 hours hotspot usage, multiple days standby
Can Be Powered Without a Battery: No
Battery Part #:40123117

Dimensions:

4.5" x 2.8" x 0.75" / 5.71 oz
SIM Card Type: Nano

Retail Price:

$240 - Sprint | $179.99 - AT&T Business
---
News, Videos, & Status
Inseego has sent us a review unit locked to Sprint's network - which prevented us from testing the MiFi 8000 head-to-head with other AT&T or Verizon hotspots. We also have unit in from Calyx Institute with their unlimited plan.
We have, however, extensively reviewed the Verizon hotspot which is almost identical - the Jetpack 8800L. Please see our Verizon 8800L review for the full details.
News Stories:
---
Potential Alternatives to Consider:
For other popular mobile hotspots on the market - here are our featured options:
---
---
Purchasing Options