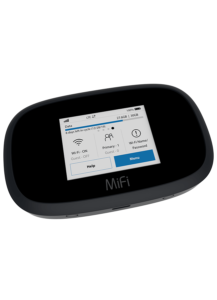 On June 16, 2019, Sprint launched the MiFi 8000 mobile hotspot device and also made a 100GB data plan (for $60/month) available for all Sprint 4G/LTE data-only devices.
Sprint had previously reserved this plan for their 5G device, the HTC Hub.
Sprint customers have long lacked a full-featured flagship-level hotspot option, but now Sprint has hotspot hardware that can compete directly with the 8800L from Verizon and the MR1100 Nighthawk from AT&T.
The MiFi 8000 actually features the same hardware design from manufacturer Inseego as Verizon's current flagship mobile hotspot - the Jetpack 8800L, so expected performance under equivalent network conditions should be about the same.
The main difference between the Verizon 8800L and the Sprint MiFi 8000 (other than branding) is support for more LTE bands in the Sprint hotspot, including Sprint's unique LTE bands (25, 26 and 41).
All other features - including things like integrated VPN support - appear to be identical to the Verizon version.
Along with the recently announced Sprint HTC 5G hub, which is quite impressive on paper, the MiFi 8000 finally brings Sprint on par with Verizon and AT&T in terms of mobile hotspot hardware capability - cellular plans and coverage notwithstanding.
Video Version of this Story:
Subscribe to our YouTube Channel
---
The Sprint MiFi 8000
Sprint's new mobile hotspot is quite an upgrade over what Sprint offered in the past. The "best" Sprint hotspot before the MiFi 8000 was the Franklin R910 - an unimpressive, no-frills category 4 mobile hotspot that is lightyears behind the MiFi 8000 in terms of features and cellular capabilities.
The MiFi 8000 is built on the Qualcomm Snapdragon x20 LTE modem, a LTE Category 18 chip that is significantly more advanced than the LTE Category 4 of the Franklin 910.
On paper, the x20 modem is capable of beyond gigabit LTE speeds, with a peak theoretical download capability of 1,200 Mbps, and a peak (Category 13) upload capability of 150 Mbps. This blows away the R910's peak theoretical Category 4 speeds of 150 Mbps down and 50 Mbps up.
Additionally, this MiFi will be compatible with most LTE bands, even many core bands on other carriers. At launch, however, not all bands are enabled in the firmware but will be available in a future update. The MiFi 8000 supports the following bands (Sprint bands are bolded):
Current LTE Bands: 2, 3, 4, 5, 7, 12, 13, 14, 17, 20, 25, 26, 28, 41, 46, 48, 66
Future LTE Bands (with a software update): 1, 8, 18, 19, 29, 30, 38, 39, 40, 42
Currently Supported HSPA+/UMTS Bands: 1, 2, 4, 5, 8
If Sprint makes this hotspot easy to unlock (tbd) - it has the bands that will allow it to work wonderfully on AT&T and Verizon as well. Surprisingly though - it is lacking LTE Band 71, which is important for Sprint's potential future merger with T-Mobile.
Another big improvement is that the MiFi 8000 comes with TS-9 test ports that can be used with external MIMO antennas! Sprint hasn't offered a mobile hotspot with external antenna ports since the ZTE Warp Connect.
External antenna ports greatly increase the signal-enhancing options for Sprint users, which is particularly important since Sprint's frequency bands aren't well-supported by current cellular-boosters.
Firmware Problems with the 8000?
Given that the 8000 is almost identical to Verizon's 8800L, it's reasonable to wonder if the 8000 suffers from the same issues that have plagued the 8800L since it launched. At this point, we don't know, but potential customers should be aware that the 8000 may have the same bug as the 8800L.
---
Compatible Sprint Plans
Sprint offers three compatible data-only plans that customers can get with the MiFi 8000. Prices include Sprint's autopay discount but not taxes and fees:
10GB Plan: $30/Month
50GB Plan: $50/Month
100GB Plan: $60/Month
Sprint's data plans do not have any overage fees, they include rollover data, and are throttled to 2G speeds once the cap is exceeded (but more high-speed data can be purchased in 2GB chunks for $10).
The 100GB plan is a new addition for 4G/LTE devices - it was originally offered as an exclusive with Sprint's 5G service, but is now available to all data-only devices like mobile hotspots.
Unfortunately, all data on Sprint post-paid hotspot plans are subject to network management - meaning that speeds may be slowed on congested towers.
For the full details on Sprint's data plans, see our Gear Center entry for Sprint's post-paid plans.
---
How to Get a MiFi 8000
Currently, MiFi 8000 devices are only available direct from Sprint for $240. However, over time, the devices will appear on third-party websites and will likely become available for sale through Sprint MVNO's like Boost Mobile as well as other Sprint resellers.
Additionally, purchasing an 8000 from Sprint requires a new line of service or upgrading an existing line to one one of the three available plans listed above. We don't know when the 8000 will be available for those who have devices on legacy plans.
Once the 8000 is more generally available, those utilizing non-Sprint MVNO's and resellers may need to work directly with their vendor to see if switching devices can be facilitated - because of the way Sprint's backend works, swapping SIM cards generally needs to involve the carrier.
---
Summary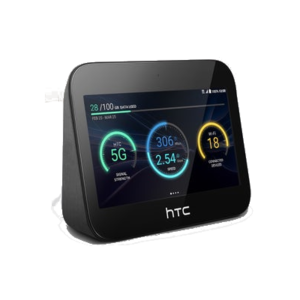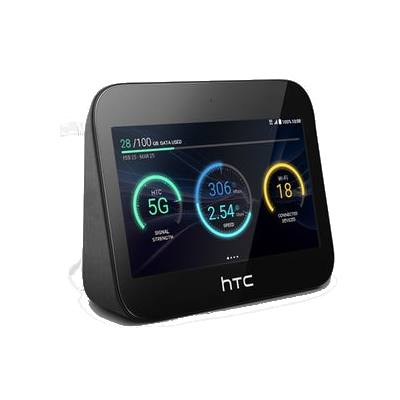 The launch of Sprint's MiFi 8000 is a pretty massive improvement in Sprint's mobile hotspot lineup - it's like leaping from SD television to 4K HDR all in one go.
The MiFi 8000 launch also comes on the heels of the release of Sprint's HTC 5G Hub - an advanced mobile-hotspot-like device that is designed for Sprint's nascent 5G service.
Together these launch Sprint into the big leagues in terms of hardware tech though, as always, Sprint lags behind in terms of coverage.