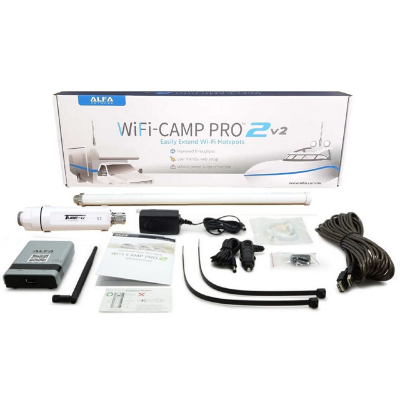 Alfa packages the
Alfa Desktop R36 WiFi Antenna
with their
External RV Booster Tube
together as the
WiFi Camp Pro 2
kit. Another option is the indoor only
WiFi CampPro 2 Mini
where an outdoor solution is not desired.
The WiFi receiving component is a USB powered WiFi radio that can connect directly to a single computer to get it online, or it can act as a WiFi-as-WAN receiver when paired with the USB Repeater module which then acts as a router, creating a local WiFi network so that multiple devices can get online and share the upstream connection.
The Alfa hardware has a solid reputation for picking up weak 2.4 Ghz WiFi at long range.
The feature set is very basic and focused on Wi-Fi extending only, but for some the price is right.
A "Version 2" of this model came out in June 2020. It is identical to the original version, but with an updated chipset that gives it higher throughput speeds.
Specifications
Model: Wi-Fi Camp Pro 2 v2, WiFi CampPro 2 Mini

Base Technology:

Alfa
Router Specs:

Wi-Fi Router:

Yes

2.4GHz Wi-Fi:

802.11 b/g/n

5GHz Wi-Fi

: N/A
Wi-Fi Antenna: 1x , 8 dBi Antenna Included
Wi-Fi as WAN: Yes
Claimed Wi-Fi Range: Unknown
Guest Wi-Fi Network: Unknown

Control Panel and Default Password: Not specified
USB Tethering Support: No

Dimensions:

R36 Repeater: 3" x 2" x 1"
External Booster Tube: 7" x 1.75"
External Booster Antenna: 18" x 0.75"

Other Ports:
Power Source: AC or DC
Outdoor Rated: No

Special Features:

None

Retail Price:

$169.99
---
News, Videos & Status
TechnoRV.com has sent us the WiFi-Camp Pro Kit 2 v2 for evaluation in July 2020, for an upcoming comparison to other options on the market. MIAs can follow along with our testing notes below, and this review will be updated once complete:
We tested the original Wi-Fi Camp Pro in early 2017 and the first edition of the Pro Kit 2 in 2019 (both also provided by TechnoRV.com). Our members have access to our video tutorial, field testing results:
Alfa also sent us their 4G version of the kit for evaluation.
Here's a quick product overview of the two version 2 Alfa Networks kits:
---
Potential Alternatives to Consider:
For other featured Long Range Wi-Fi extending gear on the market we are tracking - here are our featured options:
Learn More About Wi-Fi Extending Gear
---
Purchasing Options
Preferred Vendor - TechnoRV:
While TechnoRV's prices might be a touch higher than you might find elsewhere, they also include step-by-step instructions & videos with your purchase, and provide RV-er specific customer support. The owners are full time RVers themselves and have a great reputation for service. If you're not technically proficient, we recommend buying from them.
Members, be sure to check your Member Discounts page, as TechnoRV offers our MIAs special discounts.
Amazon: Wifi Camp Pro 2 v2