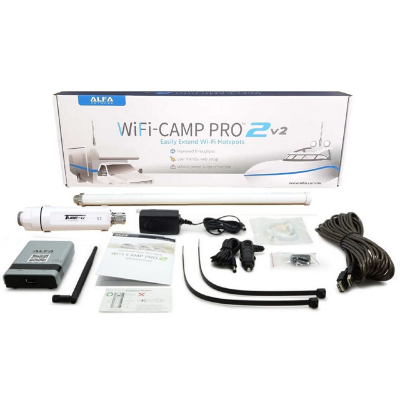 Alfa packages the
Alfa Desktop R36A WiFi Antenna
with their
External RV Booster Tube
together as the
WiFi Camp Pro 2
kit. Another option is the indoor only
WiFi CampPro 2 Mini
where an outdoor solution is not desired.
The WiFi receiving component is a USB powered WiFi radio that can connect directly to a single computer to get it online, or it can act as a WiFi-as-WAN receiver when paired with the USB Repeater module which then acts as a router, creating a local WiFi network so that multiple devices can get online and share the upstream connection.
The Alfa hardware has a solid reputation for picking up weak 2.4 Ghz WiFi at long range.
The feature set is very basic and focused on Wi-Fi extending only, but for some the price is right.
A "Version 2" of this model came out in June 2020. It is identical to the original version, but with an updated chipset that gives it higher throughput speeds.
Specifications
Model: Wi-Fi Camp Pro 2 v2, WiFi CampPro 2 Mini

Base Technology:

Alfa
Router Specs:

# of Connected Devices: Not specified

Wi-Fi Router:

Wi-Fi Standard: Wi-Fi 4 (802.11n) - 2.4 GHz
Max Theoretical Wi-Fi Speed:
Wi-Fi Antenna: 1x 8 dBi Antenna
Wi-Fi as WAN: Yes
Claimed Wi-Fi Range: Unknown
Guest Wi-Fi Network: Unknown

Default Control Panel Address and Password: Not specified
USB Tethering Support: No

Dimensions:

R36 Repeater: 3" x 2" x 1"
External Booster Tube: 7" x 1.75"
External Booster Antenna: 18" x 0.75"

Other Ports:
Power Source: AC or DC
Outdoor Rated: No

Special Features:

None

Retail Price:

$169.99
---
News, Videos & Status
TechnoRV.com sent us the WiFi-Camp Pro Kit 2 v2 for evaluation in July 2020, for an upcoming comparison to other options on the market. However as of summer 2021, TechnoRV has discontinued selling this product line-up.
MIAs can follow along with our testing notes below, and this review will be updated once complete:
We tested the original Wi-Fi Camp Pro in early 2017 and the first edition of the Pro Kit 2 in 2019 (both also provided by TechnoRV.com). Our members have access to our video tutorial, field testing results:
Alfa also sent us their 4G version of the kit for evaluation.
Here's a quick product overview of the two version 2 Alfa Networks kits:
---
---
Purchasing Options
Amazon: Wifi Camp Pro 2 v2