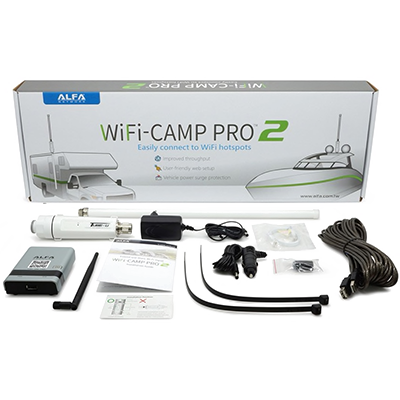 A popular budget option combines the Alfa Desktop R36 WiFi Antenna ($59.95) with their External RV Booster Tube ($99.95). Now, Alfa packages these components together as the Camp Pro 2.
The WiFi receiving component is a USB powered WiFi radio that can connect directly to a single computer to get it online, or it can act as a WiFi-as-WAN receiver when paired with the USB Repeater module which then acts as a router, creating a local WiFi network so that multiple devices can get online and share the upstream connection.
The Alfa hardware has a solid reputation for picking up weak WiFi well at long range - but there is no option for interfacing directly with any cellular modems.
The feature set is very basic, but for some the price is right.
Specifications - WiFi Camp Pro 2
Base Technology:

Alfa
Wi-Fi Router: Yes
Integrated Cellular Modem: No

Special Features:

None

Power Source:

110V AC Adapter Included

Dimensions:

Outdoor Rated:

No

Retail Price:

$169.99
Testing Status: We tested the original Wi-Fi Camp Pro in early 2017, after TechnoRV.com sent us an evaluation unit. Our members have access to our video tutorial, field testing results:
Here is our unboxing video of the equipment included in that kit:
We do not have current plans to test the updated Camp Pro 2, however, TechnoRV.com shared their product overview:
The Rest of this Review is:
Member Only Content
We are thrilled & honored to be primarily member & reader funded - allowing us to present unbiased content. The in-depth review section of this product listing is part of the premium membership benefits of joining. Members can also leave their own reviews on products.
If you're a member, please log in above to read the in-depth review for this product and/or leave your own review. If you've not joined yet, learn more about membership at:
Purchasing Options
TechnoRV: WiFi Camp Pro 2 Kit WiFi Camp Pro Kit 2/ Suction Cup Mount
While TechnoRV's prices might be a touch higher than you might find elsewhere, they also include step-by-step instructions & videos with your purchase, and provide RV-er specific customer support. The owners are full time RVers themselves and have a great reputation for service. If you're not technically proficient, we recommend buying from them.
Members, be sure to check your Member Discounts page, as TechnoRV offers our MIAs special discounts.
Amazon: Wifi Camp Pro 2
Alfa WiFi Camp Pro
Hardware

User Interface

Customer Service

Overall Performance
Quick Take
A basic and affordable dedicate WiFi extending option.
Comments Rating
( reviews)