Key Points:
Cricket Wireless lowers the price of their Simply Data 100GB data-only hotspot plan from $90 to $55
The pricing is now the same as the new 100GB plan that AT&T Prepaid just introduced
There are some subtle differences between the two plans that could matter in selecting which is right for you

In August 2020, Cricket Wireless, AT&T's prepaid subsidiary, introduced a Simply Data 100GB data plan which quickly became one of our Top Pick Plans. The monthly rate for the plan was $90.
In April 2021, AT&T Prepaid made a change to its data plan offerings and introduced a 100GB data plan for $55/month.
We were curious if Cricket would match the AT&T plan pricing, and just today they made that change - lowering the price of their 100GB plan from $90/month to $55/month.
Video Story & Comparison
Subscribe to our YouTube Channel
Plan Differences
The AT&T and Cricket plans are very similar in many respects, offering 100GB of high-speed data usage on a hotspot device or tablet, with video throttled to 480p (but the throttle can be turned off for 1080p if desired). Both plans are $55 and neither offers an auto-pay discount.
Here are where the plans differ: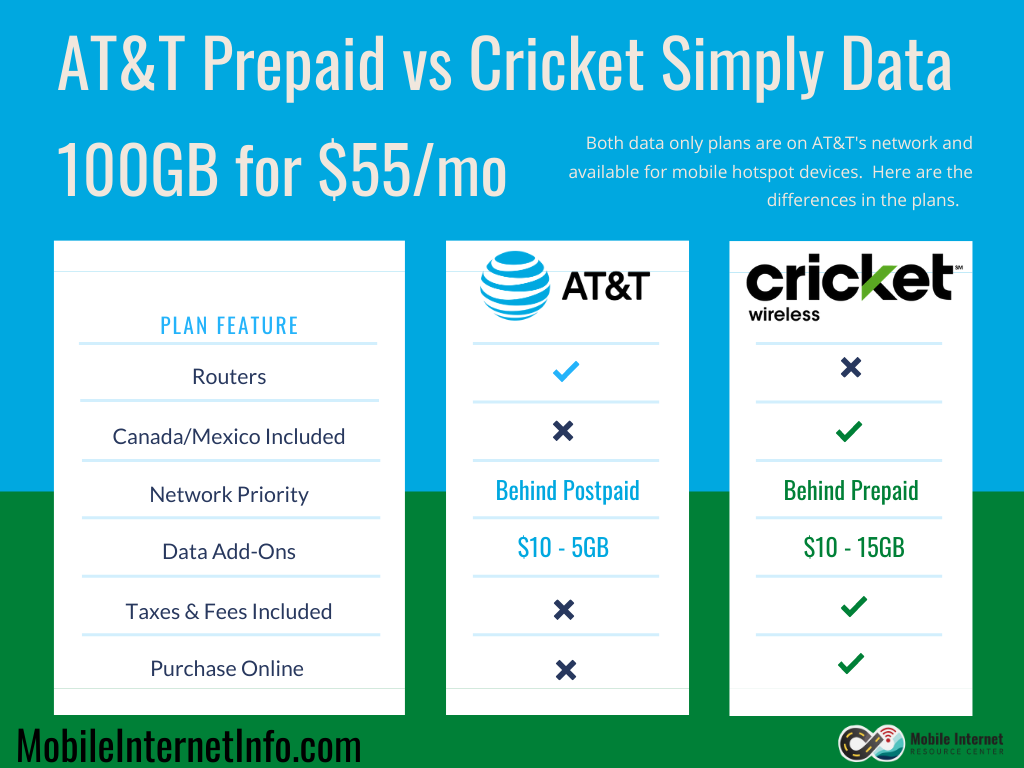 Both options are prepaid plans on the AT&T network, so they are both de-prioritized behind AT&T postpaid plan traffic. AT&T Prepaid will have a slightly higher priority over Cricket Wireless though since Cricket is a subsidiary. Cricket Wireless plans can be used in Canada and Mexico, but the AT&T Prepaid plan cannot.
The AT&T Prepaid plan can be used in a router, but the Cricket plan can no longer be used in a router, and can only be used in mobile hotspot devices and tablets.
On AT&T Prepaid, more data can be added at $10 for 5G of extra data. On Cricket add-on data is $5 for 5GB or $10 for 15GB.
On AT&T Prepaid, taxes and fees are not included - but on Cricket they are.
And for AT&T Prepaid you must go to an AT&T store to purchase and activate, but you can purchase Simply Data plans right on Cricket's website.
Both plans come with 5G access, but on Cricket, you must use a Cricket 5G device in order to get 5G service - you can not use another carrier's device. And at present time, there are no Cricket 5G hotspot devices.
Other Plan Changes
In addition to lowering the price on the 100GB plan, Cricket also removed one of their plans from their lineup: the 50GB/$40 plan is no longer available.
Their 20GB/$35 plan is still available for those with lower data needs - and you can switch to it on a month that you don't need as much data.
Summary
It's nice to see that Cricket matched AT&T Prepaid's pricing for their 100GB data plans. We already have reports of Cricket Simply Data customers who have noticed that their plan pricing has already been adjusted for their next billing period.
If Mexico and Canada usage are important to you, then the Cricket plan would have the advantage.
But if you want to use your plan in a router, or want the slightly higher priority level, then the AT&T Prepaid plan would be the better option.
We will monitor both Verizon and T-Mobile's plan offerings going forward to see if they make any moves to introduce a plan that would be competitive with these two plan offerings.
We consider both plans to be Top Pick Plans, in addition to the T-Mobile Mobile Internet plan offering 100GB for $50/month on a router or hotspot.
You can find all our current Top Pick Plans for all carriers here:
Guide to Current Top Pick Plans
Related News Stories

Related Guides: