Key Points:
New Turbo Hotspot replaces the Moxee hotspot at Cricket Wireless
It's a basic entry-level hotspot, but with an upgraded Cat-6 modem and support for both 2.4 and 5GHz Wi-Fi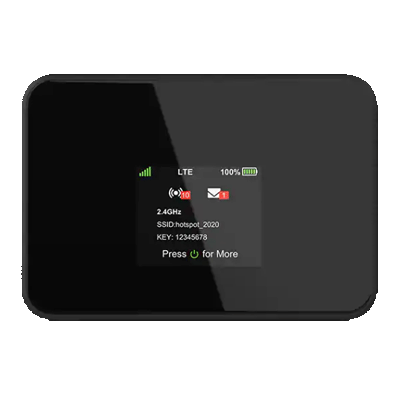 Cricket Wireless and AT&T Business are both offering a new entry-level mobile hotspot - the Turbo Hotspot 2 by Wingtech.
The Turbo Hotspot 2 is a basic hotspot device, with support for both 2.4 and 5GHz Wi-Fi.
As an entry-level device, it lacks some critical features for mobile internet road warriors - such as antenna ports for additional signal enhancing options. Also, the cellular bands supported by the hotspot are focused on the AT&T network - critical bands for other carriers are not supported which makes this device a poor choice for use on other networks.
We were unable to confirm for certain the LTE performance category for this hotspot, but we suspect is a Category-6 due to its support for the LTE carrier aggregation technology. This is a step up from most entry-level hotspots which are usually Category-4. Category-6 allows for higher peak speeds thanks to LTE-Advanced carrier aggregation which allows the device to connect to more than one cellular band at once.
This new device replaces the Moxee Hotspot as Cricket's entry-level mobile hotspot and will be offered at the same $79.99 price. We anticipate this device may also become available for consumer AT&T plans as well.
The Turbo Hotspot 2 is a step-up from the Moxee due to the faster modem, but it is still a poor choice for most nomads compared to alternatives such as the higher end Netgear Nighthawk.
Video Version:
Related News Stories

Related Guides: