Today T-Mobile announced a new unlimited plan - the 'Essentials' plan - offering a few less features than their previous plans - at a reduced price.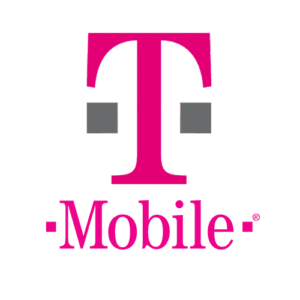 But of high interest to mobile consumers, T-Mobile has announced they are doubling the hotspot threshold on their Unlimited ONE+ Plans from 10GB to 20GB, with a price increase for single line accounts.
Both Essentials, and the new 20GB of hotspot data on ONE+ plans feature will begin on August 10th.
---
Video Version of this Story:
Enjoy Video? Subscribe to our YouTube Channel
---
The New T-Mobile Essentials Plan
Juxtaposing what we've seen the cellular industry do with their plans in the past few months, T-Mobile has announced that they will begin offering a stripped down unlimited plan beginning on August 10th.
T-Mobile has made it clear that they have no plans to raise prices on any of their unlimited plans - and their move to offer an even cheaper plan version backs their statements up.
T-Mobile CFO Braxton Carter said to CNET this week that T-Mo isn't "pursuing a monetization path." He added that "The benefits of creating more subscribers outweigh the shorter term benefit of tweaking (average revenue per user)."
The T-Mobile Essentials plan is designed for those who are looking for a more basic plan than T-Mobile's ONE plan line-up. The Essentials plan focues on unlimited talk, text and smartphone data - and cuts out many of the 'perks' of ONE plans - like high-speed international data, a free Netflix subscription, HD video, and hotspot data.
However, unlike all other T-Mobile plans, the new Essentials plan does NOT include taxes and fees - which can quickly eat into the savings.
Plan Details
Unlimited talk & text
Unlimited on device high-speed data in U.S.

Always prioritized behind other T-Mobile customers
Further deprioritization after 50GB are used

Unlimited hotspot data with speeds always capped to 3G speeds (512kbps), with option to add on 10GB of 4G hotspot for $10/month.
Video speeds capped to 480p (standard definition)
Taxes & Fees not included in pricing (which may negate most of the potential savings of this plan)
Unlimited talk, text, and 2G data in Mexico and Canada, plus unlimited texting and low flat rate calling at $0.25/minute in 210+ countries and destinations.
Pricing Details
Taxes & Fees not included in pricing
$60 for single line
$30 for second line
+$15 for lines 3 - 6
Advertised prices are with autopay discount - without autopay add +$5/line
T-Mobile Current Plans Comparison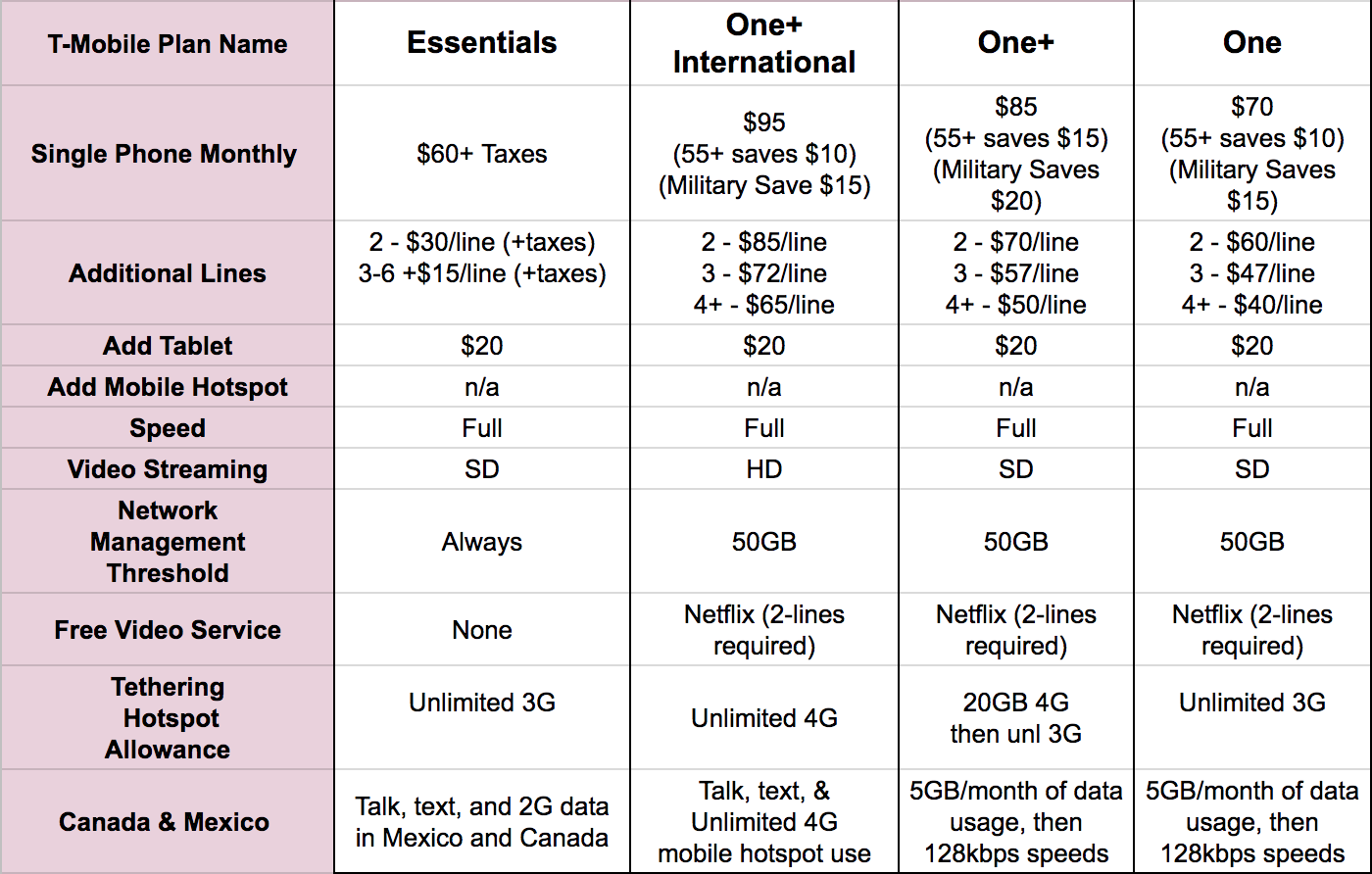 Increased High-Speed Hotspot Data on ONE+ Plan
In addition to the announcement of the new Essentials plan, T-Mobile is unceremoniously raising the high-speed hotspot data limit on their ONE+ plan to 20GB (previously 10GB).
However, for single line accounts the price is going up from $10/month to $15/month. Multiple line accounts will remain at $10/month per line, but only if you add the feature to all accounts on the plan - which then shifts you to a new plan called Family One+ (which can result in losing an promotions you have).
Those currently on ONE+ should be grandfathered in and be able to keep their 10GB hotspot cap, regardless if they have the feature for free, $5 or the current $10 pricing. If you want the 20GB cap, you'll need to opt in under the new terms.
Sneaky Move: +International RETIRING on 8/10
August 7 update: What T-Mobile didn't announce in their press release, but is now confirmed by representatives is that they are also retiring their +International Plan.
This is the plan that enables unlimited 4G mobile hotspot use - a desirable feature for mobile nomads. If you wanted in on this deal - the last unlimited hotspot option standing direct from a carrier - make sure you have this enabled on your account before August 10.
Check our news center for the full details (this is a breaking story).
What's Next for T-Mobile?
T-Mobile has announced that their next 'Uncarrier Announcement' will take place on August 15th.
Last time T-Mobile announced high earnings, we saw Verizon go a little crazy and announce big changes of their own - including a re-invented unlimited plan (as well as a new definition of 'unlimited').
We'll be watching closely to see what T-Mobile has in store - and how the other carriers respond.