As part of a large initiative designed to support US military personnel, veterans and their families and communities, T-Mobile announced today they are offering significant discounts on T-Mobile service for qualifying military personnel, Veterans and Gold Star family members.
The new option is called T-Mobile ONE Military. The most applicable portion of the initiative for mobile internet users is the discount offered on cellular service. The ONE Military option offers a substantial discount of 20% off the first line and 50% off up to five additional lines on a T-Mobile ONE plan.
One line is $55/month with Autopay (normally $70).
A second line adds $25/month.
Additional lines, up to three, are only an additional $10/month.
On a standard T-Mobile One plan, four lines would cost $160/month. With the military plan, the cost will be $100/month.
The discount also applies on up to 12 lines on business accounts, provided the business owner is eligible for the discount.
T-Mobile ONE Military will be available at T-Mobile stores nationwide – and on military bases – starting April 22.
Video Version of this Story:
Subscribe to our YouTube Channel
---
Plan Features
The T-Mobile ONE Military plan includes the same features as 'regular' ONE plan:
Unlimited (Almost) Everything: Talk, text, and on-device data are unlimited and there are no overage charges to worry about.

Network Management: Customers who are in the top 3% of heaviest users on T-Mobile (currently those using 50GB/mo) are subject to network management. Once they have crossed this monthly threshold, their ongoing usage could be slowed down relative to other T-Mobile customers when towers are congested.
Domestic Roaming Limits: After 200mb of domestic roaming data usage, T-Mobile cuts off roaming network usage until your next billing cycle, or until you're back in a native area.

Video Streaming: The plan only includes 480p video resolution (video streams are capped at 1.5Mbps).
Mobile Hotspot: Like the standard T-Mobile ONE plan, the military plan includes unlimited 3G (512kbps) mobile hotspot use.
Taxes & Fees Included: Like all other T-Mobile ONE plans, the military plan is flat priced and inclusive of taxes & fees.
T-Mobile Tuesdays: Every Tuesday T-Mobile customers get something free for logging in to a special website.
Gogo Inflight Wi-Fi: T-Mobile One plans include one hour per flight of free Gogo access to get a smartphone online.
Free Netflix: Receive Netflix Standard 2-screen (up to $10.99/mo. value).
International Use: Unlimited text and talk in Mexico & Canada, and up to 5GB of 4G LTE data (then limited to 128kbps)
And, because this is just a discount on the T-Moblie One plan, you can also additionally 'amp up' the plan with these optional features:
One+ (+$10/month): Includes the first 10GB of mobile hotspot use at full 4G speed per line, and then it drops to 3G speed afterward (512 kbps).
One+ International (+$25/month): Unlimited 4G mobile hotspot use and not subject to the Canada/Mexico 5GB/mo cap. However, the carrier reserves the right to de-prioritize mobile hotspot use under on device use, and high data users who are primarily using the plan for tethering may be contacted by the carrier to discuss options (this seems to be an issue if you consistently consume more than 50GB of total data per month and over 50% of your usage is mobile hotspot).
---
ONE Military versus ONE 55+
ONE Military is not the first 'special interest' initiative T-Mobile has undertaken. In summer of 2017, T-Mobile began offering customers who are 55 years or older a special discount on their ONE plans, called T-Mobile ONE 55+.
The 55+ plan currently offers two lines of ONE plan service for $70/month ($60/month if service was initiated before 3/18/18). This plan does not include T-Mobile's offer of 'free Netflix' and is not eligible for more than two lines on the plan.
While two lines on a ONE Military plan will cost $80, the ONE Military plan includes 'free Netflix' ($10.99 value). So, if you like Netflix, and are a 55+ Military member or a veteran looking for a two-line plan, then you will save $0.99 by switching to ONE Military. If you don't care for Netflix, then the 55+ plan is still cheaper. If you are 55+, eligible for the Military One plan, and would like more than two lines on your plan, then switching from 55+ to the Military plan makes great sense - as the Military plan allows for more than 2 lines.
ONE 55+ and ONE Military cannot be combined.
One Military and Previous Promotions
T-Mobile's FAQ states that you will lose any promotional lines if you switch to the Military plan. If you have existing promotional lines, you'll need to determine whether switching will result in savings or not. T-Mobiles states they will help customers compare options to get the best value.
The One Military plan is eligible for promotions for switching carriers, such as Carrier Freedom and #GetOutOfTheRed.
---
Eligibility
The discount is available to active duty military, veterans, members of the Reserve and National Guard, and also Gold Star families (immediate family members of military personnel who were killed in action).
Eligibility must be verified on T-Mobile's verification site or at a T-Mobile store within 45 days of signing up to get the discount.
T-Mobile states the verification usually takes less than 10 minutes. In some cases, customers will be asked to upload or show documentation to verify eligible military status. T-Mobile states that any document with the eligible person's first and last name, valid dates, and/or status that proves the account holder is serving or is a veteran with an honorable discharge, will be accepted. Examples include current (not expired) military ID cards for active duty, Guard, Reserve and retired members, and DD-214 discharge paperwork for veterans.
The eligible military member, veteran or Gold Star family member must be the account holder & account must maintain a valid military line to continue to receive the discount.

For military members who are deployed, T-Mobile will work with the member's spouse or family member to verify eligibility.

If eligibility is not verified within 45 days, the plan will revert to a standard T-Mobile ONE plan with no discount.
T-Mobile's standard credit approval and deposit policies apply.
This plan, like the standard ONE plan, is intended for US Residents only and is not intended for extensive international use. It is, therefore, not a good choice for deployments or for personnel stationed overseas.
---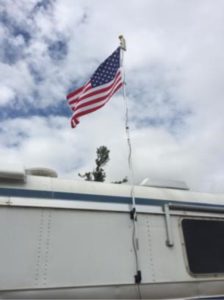 Other T-Mobile Military Support
In addition to the discount on mobile cellular service, T-Mobile also announced the following initiatives:
Pledging to hire 10,000 veterans and military spouses in the next five years
Funding veteran career readiness programs allowing veterans to enroll for free.
Improving LTE coverage on military bases and in military communities, including 5G coverage in the future.

Coverage on many large military bases is sometimes an issue. The details of this initiative aren't clear - for example, there's no indication that T-Mobile has special access to put additional cell towers on military installations. It's more likely that T-Mobile intends to expand its longer-range 600MHz network near military installations, which would provide better coverage, especially for large installations.

Limited time Samsung discount

Anyone on T-Mobile ONE Military can also get a Samsung Galaxy S9, S9+ or S8 Active at a 50% discount! Simply snag your new phone on an Equipment Installment Plan (EIP) by May 31st, 2018 and get your discount back via 24 monthly bill credits for up to three phones per account.
---
Summary
Overall, this is a substantial initiative that will provide a lot of benefits to the nation's 22 million veterans and military members. T-Mobile's discounts go far beyond the 15% discounts provided by AT&T and Verizon. In addition, the non-discount based initiatives will help veterans and their families in other important ways.
For those who are eligible for both ONE Military and ONE 55+, a deeper look at your needs (multiple lines, Netflix) will lead you to the best plan for your particular needs.
---
Related Info: