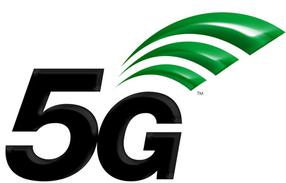 AT&T claimed bragging rights in 2018 when it delivered on its promise to launch the nation's first mobile 5G network - squeaking the debut in just under the wire before the end of the year.
But this was an extremely underwhelming launch - with 5G service offered on just a single compatible hotspot device in minuscule parts of just twelve cities, and regular AT&T customers couldn't even try it.
For most of last year - the super-fast (and super short range) network that AT&T called "5G+" was only made available to specially invited AT&T business customers.
It wasn't until December that AT&T began to offer real "5G" to regular consumers (see our story for the details).
But what AT&T was making available was a very different slower and longer range 5G technology - and the super-fast "5G+" continued to remain reserved for business customers only.
But as of last week - things have changed, and now at last all AT&T customers can tap into both the long-range "5G" and the super-fast "5G+" - but only if they happen to have a compatible plan, and the brand-new Galaxy S20+ or S20 Ultra.
Confused yet? You should be!
Video Version

Subscribe to our YouTube Channel
AT&T's Three Flavors of "5G"
AT&T is actually marketing three different flavors of "5G" service, one of which actually isn't even fifth-generation cellular at all.
5GE "Evolution" - Towards the end of 2018 AT&T started pushing out firmware updates to some high-end Android phones so that they would display "5GE" in their status bar when connected to towers that supported advanced 4G/LTE technologies like 4x4 MIMO and multi-band carrier aggregation. But despite the label, this was not a true 5G technology. AT&T was instead marketing "5G Evolution" to indicate devices and areas that were a step up from older 4G technologies - "evolving" towards 5G. Eventually, even Apple gave in, and now even LTE iPhones will often display 5GE when on AT&T. But don't be fooled by the label - what AT&T is calling 5GE is just the same LTE-Advanced technologies in use behind the scenes by all of the carriers.
5G+ - The original business-only 5G service that AT&T was offering throughout 2019 has now expanded to support consumers, and to have coverage in "parts of" 35 cities. This flavor of 5G technology uses extremely high-frequency mmWave (millimeter wave) cellular bands that are capable of insanely fast speeds, but which have extremely limited range. AT&T has chosen to dub this mmWave service as 5G+, and some people have reported seeing download speeds over 2Gbps when connected in compatible areas.
5G - 5G technologies are not limited to mmWave spectrum. Carriers can also deploy 5G onto lower frequency cellular bands that have greater range, but slower speeds. The term "Sub -6" or "low band" has become shorthand for the "lower than 6GHz" 5G cellular bands, to distinguish them from the very high mmWave spectrum that broadcasts at 24GHz or higher. This slower 5G is what AT&T launched to consumers in December, repurposing some excess 4G spectrum to the cause. But until AT&T devotes more airwaves to support this longer-range 5G technology, customers should expect performance more akin to "really good LTE" and not anything truly revolutionary.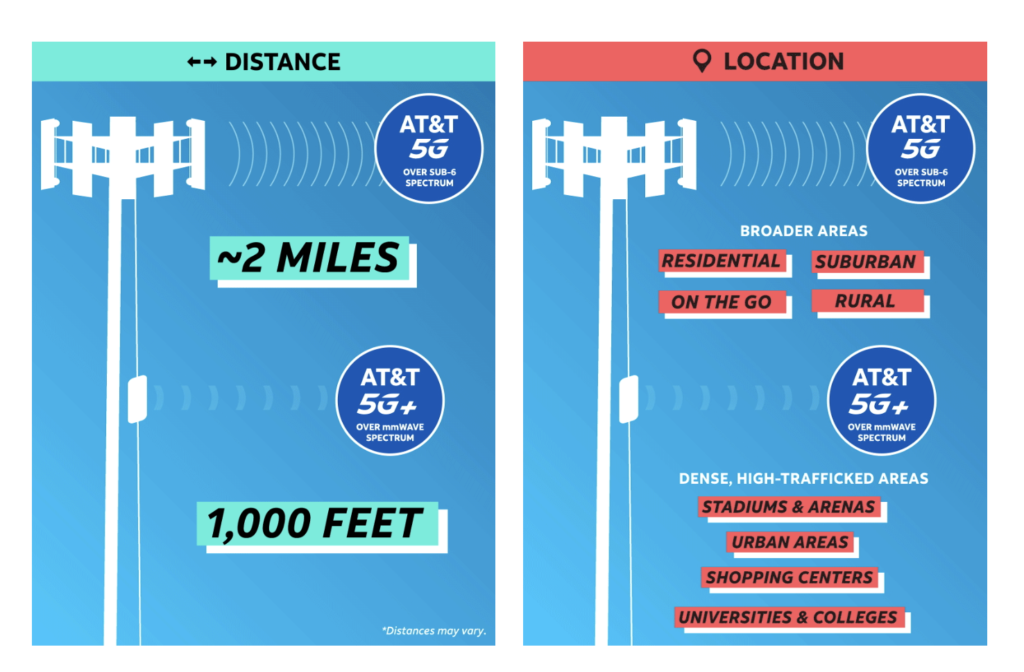 AT&T is aiming to offer this sub-6 "5G" using long-range spectrum that will in many areas equal the coverage available via 4G/LTE. But (especially at first) - it will also mostly equal the performance of 4G/LTE too.
AT&T has announced that this "5G" coverage is now blanketing 80 markets, including many major cities and even some rural areas.
And this is just the start - AT&T is claiming that it is still on track to offer "nationwide 5G" later in 2020 by overlaying 5G coverage on top of much of its existing 4G/LTE spectrum.
AT&T has even published predicated coverage maps of what its 5G network looks like as of February 2020 in many of the launch cities.
The great thing about this low band rollout is that it will allow AT&T to rapidly offer 5G coverage across entire urban areas by just upgrading existing towers. Meanwhile - the crazy fast 5G+ requires thousands of new tiny cellular transmitters to be placed on just about every street corner to provide coverage.
But people investing in a cutting edge "5G" phone expect more than a "really good LTE" experience - and many are already proving to be disappointed by just how underwhelming AT&T's broader 5G performance currently is.
For a real glimpse into the future, you will need to hunt down one of those tiny islands of 5G+ coverage.
First Of A New Breed: Galaxy S20+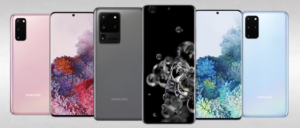 As we've covered repeatedly over the past year - the first generation of 5G devices could support either mmWave (AT&T's "5G+") or low-band (what AT&T calls "5G"), but not both.
The first generation chipsets were just not capable.
But the brand new Samsung Galaxy S20+ and S20 Ultra are the first two cellular devices to ship with the latest Qualcomm cellular modem and antennas that can do it all - connecting to both types of 5G signal.
These new Galaxy phones are just the start - and from here on out many new high-end flagship phones will come with support for both mmWave and low-band 5G.
By the end of 2020 - compatibility will be pretty common.
AT&T Plans that Support 5G
Now that there is actually a universally compatible device - AT&T is allowing usage of both types of 5G spectrum for anyone with their current consumer AT&T Unlimited Extra or Unlimited Elite plans, at no extra charge.
5G coverage is also supported on AT&T's business version of these plans.
Legacy and tiered data plans at present time will not support 5G service, however.
AT&T has also said that 5G support will be coming to its Cricket prepaid subsidiary "soon" too, when the Galaxy S20 rolls out on that carrier as well.
Conclusion: Is It Time To Try 5G Yet?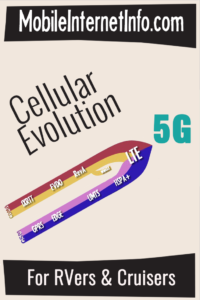 If you are on the market for a new Android flagship phone - the early reviews indicate that the Galaxy S20+ ($1,199+) and S20 Ultra ($1,399+) are legitimately great contenders, with fabulous cameras and solid all-around performance.
And thanks to their second-generation 5G cellular radios - unlike all preceding 5G devices, both should be relatively "future proof" for the next couple of years too.
The unlocked versions are even compatible with the 5G rollouts from Verizon, T-Mobile, and Sprint.
But it is still extremely early days when it comes to 5G devices.
There are essentially no cellular routers or hotspots ready for full 5G support yet, and at the moment these are only two 5G phone models at all worth considering.
You will have many more options, and especially more affordable options, by waiting until at least fall before jumping on the 5G train.
And though 5G will eventually matter to everyone (not just in core urban areas) - it will take time for the networks to mature to really deliver more than a "really good LTE" experience in most places, and cellular data plans haven't been released yet with more expansive plans designed with 5G in mind either.
In other words - there is still no need (other than bragging rights) to rush out to go 5G!
By next year - 5G support will be starting to go mainstream, and the networks will hopefully be evolved enough to really show the benefits. So unless you really want to be on the bleeding edge, don't feel pressured to jump now.
But the technology race is heating up - and it looks to be an exciting year ahead!
Related News
Related Guides