UPDATE: T-Mobile One+ Price Drop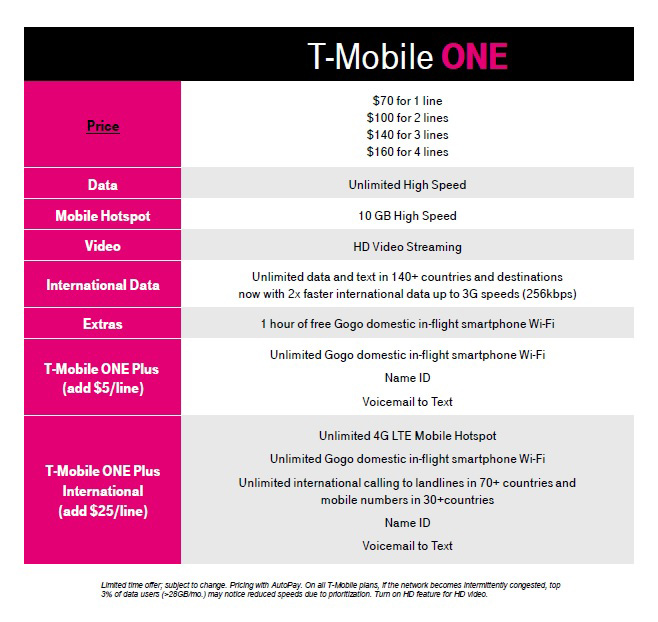 T-Mobile used to charge $15/mo to add on the "One Plus" features to a line of service - giving subscribers access to HD video streaming and faster international roaming data speeds along with a few other perks.
But the newly updated basic One plan now includes HD video streaming, and the faster 256kbps international roaming too - leaving One+ seeming rather superfluous.
Recognizing this, T-Mobile has dropped the One+ price down to just $5/mo.
The main perk remaining for this $5/mo is access unlimited Gogo Wi-Fi on domestic flights, though every T-Mobile plan gets an hour of Gogo per flight for free.
The One+ International line upgrades remains available for $25/mo. The main perk here is access to unlimited high-speed mobile hotspot usage, breaking free from the 10GB cap.
Our original story on the new changes to the T-Mobile One plan continues below.
---

Just hours after Verizon's bombshell announcement about the return of unlimited data plans, T-Mobile CEO John Legere took to Twitter to attempt to "One Up" Verizon by making some tweaks to the T-Mobile One unlimited data plan.
But rather than a dramatic one upping, he merely matched Verizon's key features.
With T-Mobile's plans being cheaper than Verizon's new equivalents - and with taxes and fees included in the price - this does represent a solid value, and an option definitely worth considering.
With competition heating up, everyone wins!
T-Mobile One: Now 10GB Tethering
T-Mobile's One plan previously included unlimited "3G speed" tethering data, or for an additional $25/mo you could get unlimited high-speed tethering by upgrading to the "One+ International" plan.
But now with Verizon including 10GB of high-speed tethering data per line, T-Mobile is matching that in the basic One plan.
And unlike Verizon, the fully unlimited tethering option remains available for those who want to pay $25/mo more.
T-Mobile One: HD Day Passes RIP
A core feature of T-Mobile's One plan was that it supported unlimited video streaming, but video was throttled down to 480p "DVD Quality" resolution.
To enable HD video, you could purchase a 24hr "HD Day Pass" to enable full-resolution video on a line, and subscribers of the $15/mo One+ or $25/mo One+ International add-ons received unlimited HD Day Passes to use for free.
But those free passes still needed to be manually activated every 24 hours, making true HD video T-Mobile annoying to get at.
But now with Verizon including HD video without any special hoops required, T-Mobile's Day Pass system looks pretty ridiculous.
So they are getting rid of it. Almost.
T-Mobile's media relations team confirmed to us that Day Passes are going away, but you still need to manually turn on HD - only now it is a monthly chore instead of daily:
"Day passes are going away, but customers will still have to turn on HD every 30 days."
This certainly will save T-Mobile a lot of data usage on its network since many customers will never notice the lack of HD on small phone screens, but this is still a very annoying manual chore - particularly compared to Verizon's HD everywhere policy.
UPDATE: We just heard back from T-Mobile's Media Relations team when we asked for more information about how to toggle the HD feature monthly:
"We're making it one and done with HD. We heard our customers! ... Day passes and month passes are gone, but existing customers who have T-Mobile ONE taxes and fees included do have to go into their accounts and accept the additions to the plan (HD and tethering). New customers will get those features automatically."
Getting T-Mobile's New Features

The changes to T-Mobile One are rolling out Friday, February 17th.
New customers will get the perks automatically - but T-Mobile tells us that existing customers will need to agree to the new terms and conditions:
"Existing customers with T-Mobile ONE taxes and fees included will automatically get the new benefits, but they do have to go into their accounts and accept them."
If you are a T-Mobile customer, be sure to log in after Friday to upgrade your account.
Also - if you are paying for the $15/mo One+ line upgrade, you may want to cancel it if your primary reason for One+ was to get access to HD Day Passes, which are going away. The $25/mo One+ International upgrade however remains a great way to get unlimited high-speed tethering, just be sure you know the limitations.
Promo Tip: To lure in new customers - T-Mobile is temporarily making a two-line One plan just $100/mo, a $20/mo discount from the normal two-line price.
Competition Heating Up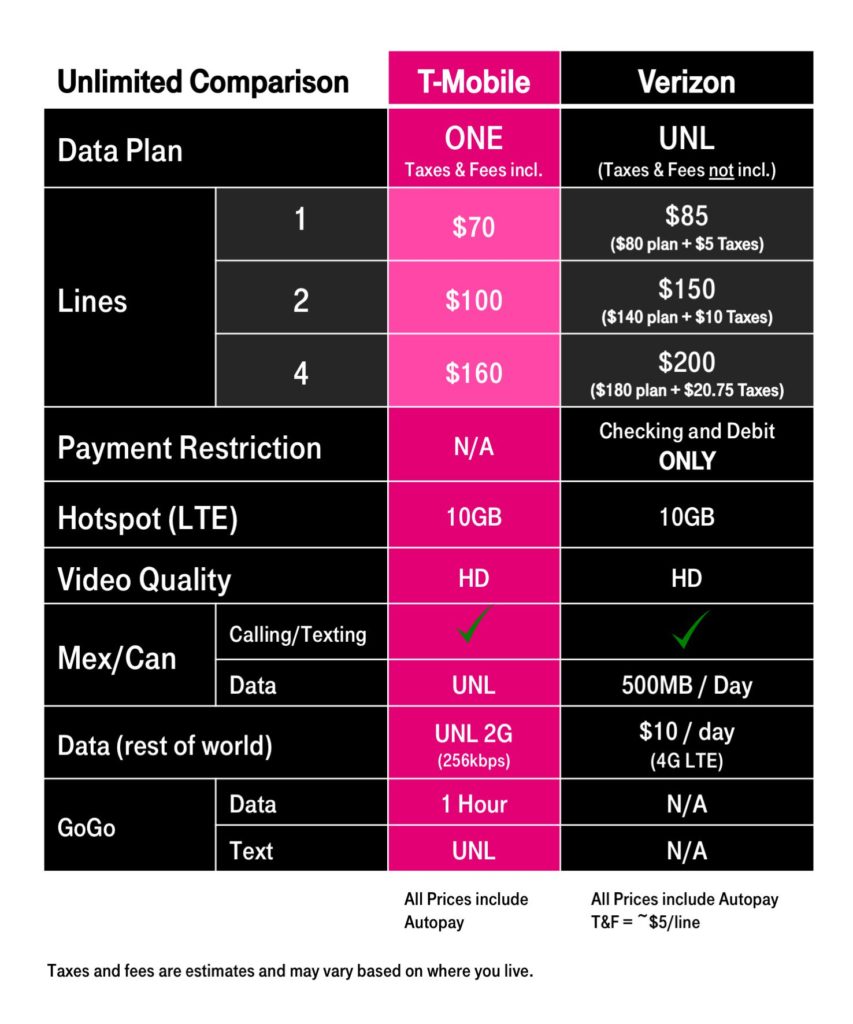 Despite all the dramatic progress T-Mobile has made over the past few years, from an RVers perspective Verizon is still the unrivaled king when it comes to coverage and reliability.
But T-Mobile has been closing the gap fast, and is indisputably setting the pace and raising the bar for the entire mobile industry.
If not for T-Mobile, we'd all be living in a world without unlimited data plans of any sort, and with two year contracts still standard.
This competitive heat from T-Mobile has been good for all of us, and has certainly pushed Verizon to deliver more value. And Sprint, sinking further into fourth place, has responded with increasingly desperate promotional offers.
AT&T on the other hand has been seemingly standing still - and now has the worst deals out there for heavy data users, particularly if you are not also a DirecTV customer.
We're eagerly awaiting to see if AT&T wakes up and responds to this latest news.
Increasing competition is a good thing!
Comparing Unlimited Data Plans
All of the major carriers now have an unlimited data option offered directly to new customers. Here's our quick grid (that will be kept up to date as the carriers continue to compete with each other), comparing the options:
Check the 'Alternative Unlimited Plans' for unlimited data plans we're tracking available from resellers or via obtaining grandfathered in older style plans. For RVers needing to replace a home internet connection, these new smartphone unlimited data plans offered by the carriers will rarely fit the bill. But some of the alternatives may play a strong role at the center of a mobile internet arsenal.
For more: Understanding Unlimited Cellular Data Plans: Network Management, Throttling & Mobile Hotspot Usage
Further Reading:
Confused by all of the Options?
Join us for our next live member webinar - where we'll be addressing how to put together different cellular data plans to best met your RVing traveling style. The webinar will be archived, and available exclusively to our premium members who fund everything we do here at RVMobileInternet.com.
[snippet slug = "video-schedule"]