Back in November, Sprint MVNO Karma announced their new unlimited plan for $50/month, but capped to speeds of 5 mbps (suitable for streaming.)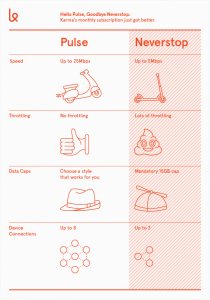 In January, they rescinded the plan, and capped it at 15 GB a month instead of unlimited - but still at slower speeds.
And this morning, a month later, they announced they're ditching Neverstop entirely, and replacing it with a new plan called Pulse.
With Pulse, you select how much higher speed data you want per month, and can share it with up to 8 devices at a time.
They put out a cute graphic trying to compare the new plans.
However, the new pricing isn't overly attractive: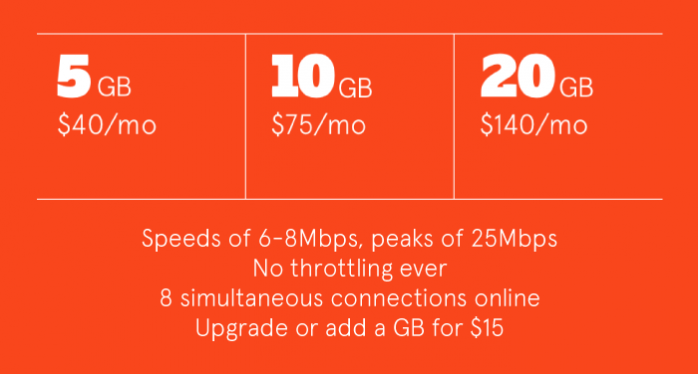 Directly with Sprint $135/month will get you 40GB per month with a smartphone plan or $110/month gets you a 30GB data only plan.
Of course, with Karma it's about flexibility. In the months you don't need Sprint based service, you can turn it off and use their 'Refuel' instead with unexpiring data allotments.
But the biggest disappointment comes from existing customers who purchased their proprietary $149 mobile hotspot device expecting access to unlimited data. And then were told they would be capped at 15GB/month. And now, being further restricted with these new plans.
From Karma's blog post this morning, their options for current Neverstop customers include:
You can pre-select a Pulse plan now, which will begin when your Neverstop billing cycle ends.
You can do nothing, and we'll automatically put you on the 5GB Pulse plan to make sure you don't lose service.
You can cancel your subscription entirely and move over to Refuel, our subscription-free, pay-as-you-go plan.
We certainly understand a new business struggling to find balance in this mobile internet addicted world. However, their handling of the Neverstop represents the problem with dealing with resellers and MVNO - the good deals don't seem to last. To much disappointment of those who jump on the deals.
Always remember.. that no contract thing goes BOTH ways.
For those desiring a truly unlimited Sprint plan, last we heard Unlimitedville is still able to sign up qualifying businesses on their never throttled $42.99/month plan with a 2-year contract. Which is the best deal we know of right now for Sprint.
However, as always - for most RVers, Sprint is not a recommended carrier with their limited coverage maps and anticipated disruptions in 2016.
For an overview of the carriers: The Four Major US Carriers – Which is Best for RVers?