Key Points:
The new MAX Transit Pro brings a major update in local area routing capability to the Peplink Transit line-up - featuring 1 Gbps router throughput and Wi-Fi 6.
The MAX Transit line-up will be focused on dual LTE modems - and the MAX Transit Pro will be available with Cat-7 and Cat-12 modems to balance maximum carrier coverage with performance.
The MAX BR1 Pro product series will be focused on higher-end LTE and 5G modems.
The Peplink Pepwave MAX Transit product line-up has been in a lot of flux over the past several months as supply shortages forced the early retirement of the original series and the introduction of an interim MAX Transit Pro E model.
However, Peplink is finally ready to reveal the next generation of the Pepwave MAX Transit series, their brand new MAX Transit Pro.
The new Pepwave MAX Transit Pro brings much faster router performance, dual LTE modems, and Wi-Fi 6 (802.11ax) to one of Peplink's most popular product lines for mobile prosumers.
Pepwave MAX Transit Pro Video First Look
Introducing the MAX Transit Pro
Much of the original Transit form factor is retained, but this refresh brings upgraded internals and prepares the product line-up to be more future-proof as cellular data speeds increase and other mobile internet WAN sources like Starlink become a reality.
The MAX Transit Pro is now available to pre-order at $1,199 - and should be shipping to consumers by mid-April.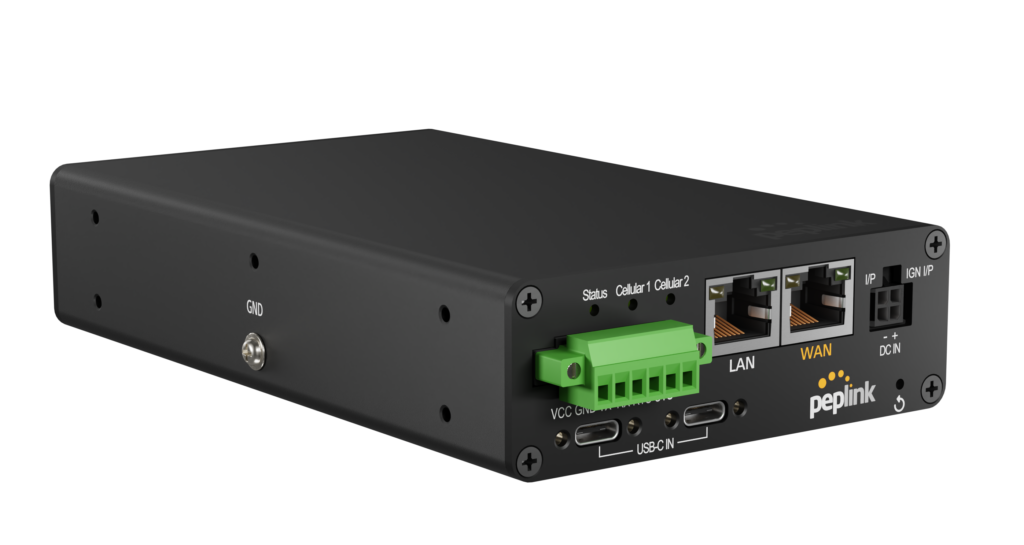 MAX Transit Pro New Features
The biggest new features of the MAX Transit Pro series include:
1 Gbps Router Throughput - The MAX Transit Pro has a much faster core CPU, capable of routing data at 1 Gbps. This is more than two times faster than the 400 Mbps claimed by the original Transit, and we frequently saw the original MAX Transit cap out at 150 Mbps in real-life usage.
400 Mbps PepVPN Throughput - The MAX Transit Pro's faster processor can also support faster speeds when using Peplink's VPN services like SpeedFusion. On the original MAX Transit, PepVPN throughput was maxed out at 100 Mbps unencrypted and 60 Mbps for encrypted connections. The Pro raises this to 400 Mbps and 200 Mbps respectively.
Wi-Fi 6 (802.11ax) - The MAX Transit Pro has a new dual-band Wi-Fi 6 (802.11ax) radio which is more advanced than the Wi-Fi 5 (802.11ac) in the original Transit. It does not, however, support the still rare and even newer Wi-Fi 6E standard, enabling 6 GHz Wi-Fi networking.
Dual LTE Modems - The MAX Transit Pro features dual LTE modems, one being Cat-7 and the other Cat-12. Like all Peplink routers, each modem offers dual SIM slots. The Transit Pro also supports the use of a SIM injector to add access to additional external SIM cards.
Redundant Power Inputs - The Max Transit Pro offers power input using a 4 pin Molex with ignition sensing, as well as the 12v terminal box, and dual redundant USB-C power inputs that can allow the router to be easily powered by USB battery banks.
Nano SIM, eSIM and SIM Injector - Like the MAX BR1 Pro, the Transit Pro is shifting from Mini SIM card sizes to Nano, which is the typical SIM card size of most smartphones, tablets, and hotspots on the market today. This will make swapping SIMs between data devices much easier but will require existing Peplink customers with larger SIMs in use to cut their SIM cards or get new ones. Peplink also lists eSIM and SIM injector technology, which indicates that this model will also support their Peplink Expands SpeedFusion Connect data plans.
For a comprehensive overview of the features, refer to our MAX Transit Review & Gear Center entry.
Cat-7 / Cat-12 Modem Combo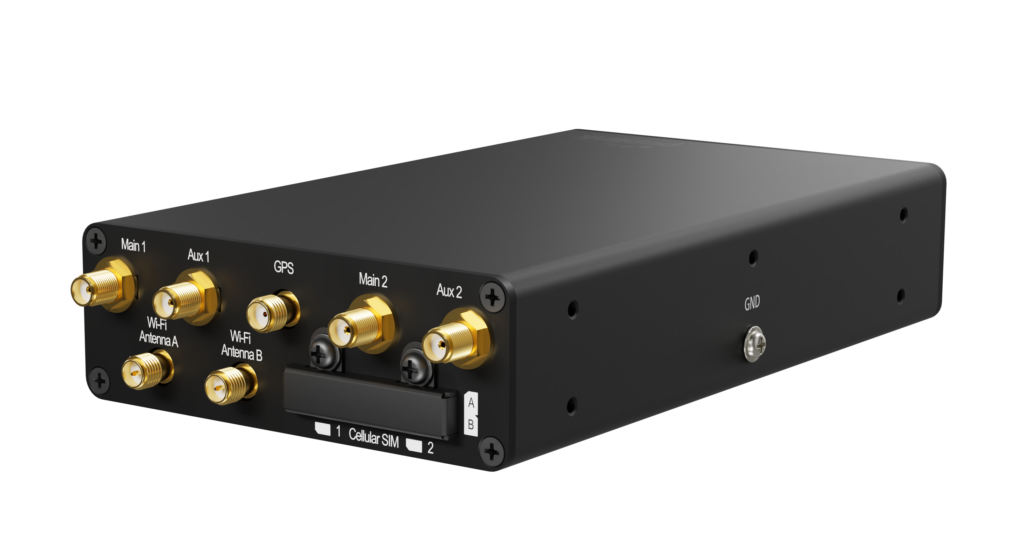 The MAX Transit Pro retains the same physical form factor of the previous models, which means there is only room for 4 cellular antenna ports. For dual modem, this restricts the modem choices to mid-level LTE modems that benefit from 2x2 MIMO antenna support. Higher end modems require four antennas each.
The selected combination of modems for the Transit Pro at first glance may seem like a downgrade from the dual Cat-12 offered in the previous MAX Transit models. But the combination of Cat-7 + Cat-12 is actually a well balanced approach to optimizing for carrier compatibility and performance:
Modem 1: Cat-7 (T-Mobile Optimized) - Cat-7 modems are a newer modem design that is a major improvement over the now fairly outdated Cat-6 that has become common in entry-level LTE devices. Cat-7 introduces 2x carrier aggregation on both download and upload, with a maximum theoretical speed of 300 Mbps down and 150 Mbps up. And also unlike their Cat-6 predecessor, the Cat-7 has support for newer frequency bands including Band 71 for long-range T-Mobile and Band 14 for AT&T's FirstNet. In additional to most major bands of the US carriers.

This modem supports the following LTE bands: B2, B4, B5, B7, B12, B13, B14, B25, B26, B41, B42, B43, B48, B66, B71

Modem 2: Cat-12 - Cat-12 modems have become the standard top-end modem for 2x2 cellular antenna support. It has faster potential performance with 3x carrier aggregation on download, with a maximum speed potential of 600 Mbps - and 2x carrier aggregation for upload for a maximum potential of 150 Mbps. Cat-12 modems support more global frequency bands overall, and most of the major bands for the US carriers - except T-Mobile's critically important Band 71 is missing.

This modem supports the following LTE bands: B1, B2, B3, B4, B5, B7, B8, B9, B12, B13, B14, B18, B19, B20, B26, B29, B30, B32, B41, B42, B43, B46, B48, B66
For optimal connectivity - Modem #1 should be used for T-Mobile in most locations.
Both modems are suitable for all of AT&T and Verizon's major LTE frequency bands, however Modem #2 is especially well suited for AT&T as they tend to use more combinations of frequency bands across the nation and can better benefit from the 3x carrier aggregation. And the Cat-12 modem also supports AT&T's Bands 29 and 30 - albeit these are lesser utilized in most markets.
Still No USB Port?!?
The MAX Transit Pro addresses many of our wish-list improvements, but Peplink has still not added a USB port to enable tethering to a third cellular device. It also only has two Ethernet ports, one of which can be used for an additional WAN input.
A USB port or additional Ethernet WAN would allow the addition of another cellular connection via the Pepwave MAX Adapter, a mobile hotspot, or a smartphone and would provide additional flexibility and redundancy.
The USB-C ports on the MAX Transit are wired to be used as a power supply only, and they are not capable of being used for any sort of data connection.
MAX Transit Pro vs Pro E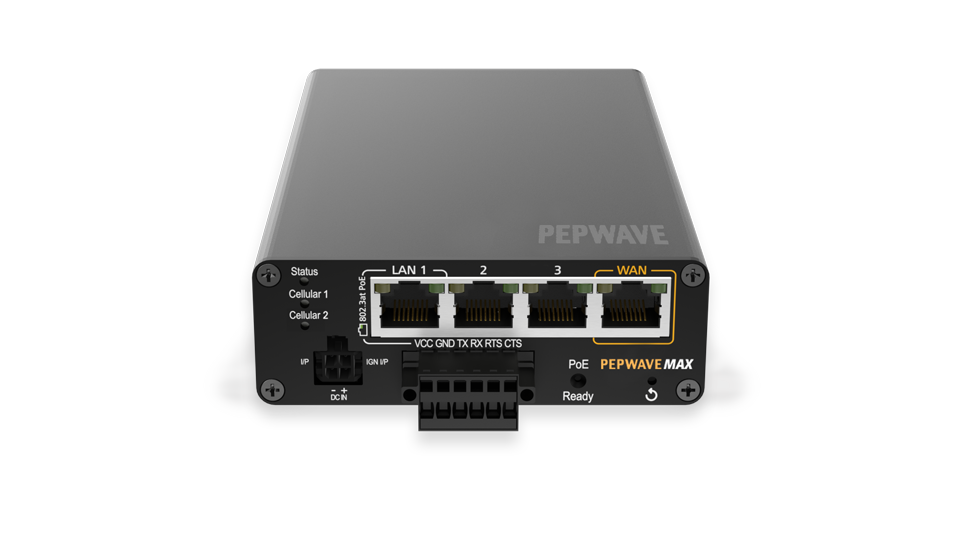 In late 2021, Peplink released the MAX Transit Pro E as an interim product between the discontinued Duo and this upcoming Pro release.
It is anticipated that the Pro E will remain in distribution channels at a price of $1,299 until supplies run out in a few months.
The Pro E is built on the last generation MAX Transit chassis with 400 Mbps router throughput and Wi-Fi 5. And it features dual Cat-12 modems.
However, the key advantage of the Pro E is that it offers a total of 4 Ethernet ports, including one that is POE - which does open up additional LAN flexibility.
Our MAX Transit Review & Gear Center and member exclusive section below has further analysis between the two models.
MAX Transit Pro vs MAX BR1 Pro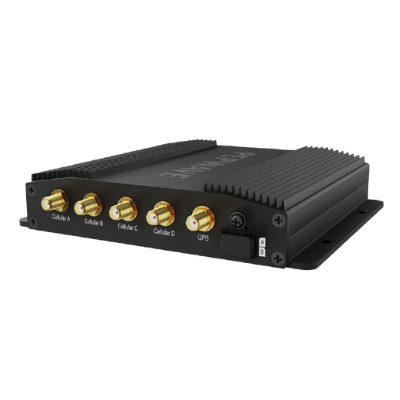 Peplink released their updated MAX BR1 Pro product line in late 2021, and now both product lines now sport similar LAN features that are far more future-proofed with Wi-Fi 6 and faster router throughput.
Going forward, the two product lines will be mostly differentiated by their modem choices.
The MAX BR1 Pro will be focused on higher-end LTE and 5G modems requiring 4x4 MIMO antennas. At present time there is a single modem 5G model available for $1,499 and a single modem LTE Cat-20 model available at $1,199.
The MAX Transit Pro will be focused on mid-level dual LTE modems, but limited to a total of 4 antenna ports. This means the MAX Transit product line is not likely to see modems above Cat-12. To keep the line differentiated from the BR1 Pro, the Transit Pro is unlikely to have single modem options in the future.
The other major differences will be the power choices, with the Transit being more portable with four redundant power supplies. The BR1 Pro features only the Molex connector option.
The choice between the two is a balance of weighing the benefits of built-in cellular redundancy of two modems versus maximizing single-modem potential performance. Our member exclusive section below has further analysis to help choosing between the two models.
Member Exclusives Below:
 Bonus Member Only Content Available!
We go extra for our premium members - who make this resource center possible (did you notice the lack of 3rd Party advertising?). We have included some additional information in this news article just for our members - analysis, guidance and/or insider tips.
If you're not yet a member, please consider joining us. Extra content like this is one of the many perks we offer - in-depth content, guidance, discounts, alerts, classroom and more.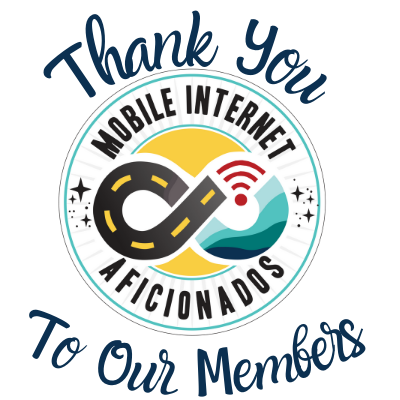 If you are already a member, please log in above to see the special content we have prepared for you.
Concluding Thoughts
We are pleased to see the popular MAX Transit product line advancing into next-generation hardware.
It's been an interesting shift to watch the MAX BR1 product line move into being their top-end prosumer option when it was previously positioned as an entry-level product with a Cat-6 modem with the MAX BR1 Mk2. Meanwhile, the MAX Transit is now focused on mid-level dual modem redundancy, giving consumers interesting and compelling options to consider.
We received a pre-production demo model of the MAX Transit Pro courtesy of Peplink and our friends at MobileMustHave (who also offer our members discounts and tech support in our forums). We already have it in active testing and our MIA premium members can follow our testing notes in our Testing in Progress Forum. Our members can also dive deeper into our gear center entries for years of hands on testing notes on this product line-up.
Related MIRC Content
Related News Stories