Key Points:
Peplink's new 8.4 firmware release is out - a more modest release than the massive 8.3 update earlier this year.
One of the signature new features is described as "Supercharged Starlink Integration" - but it is actually (currently) rather limited.
Other new features include eSIM support, enhanced QOS features, and more.
Today, cellular-connected router manufacturer Peplink released version 8.4 of the firmware that powers its lineup of connected routers.
We've been experimenting with the various beta releases of 8.4 for several months now - and while it is not nearly as feature-packed as firmware 8.3 which came out in February, it is still a solid release.
The headline-grabbing feature is "Supercharged Starlink Integration" - which sounds exciting indeed.
But the many features lurking further down in the release notes are actually more interesting for most.
Let's dive in!
Peplink 8.4 Firmware Video Overview
"Supercharged" Starlink Integration
Despite the hyped-up language, the new Starlink integration debuting in firmware 8.4 is pretty limited - especially for most nomadic users managing just a single, locally connected Starlink router.
Basically - the new capability lets you mark which Ethernet WAN ports you have wired directly up to a Starlink, and then the Peplink router will listen for and connect to any online Starlink system in pass-thru mode it detects on that Ethernet port.
Once it does this - the Peplink router displays "Connected via Starlink" and the "X" logo.
And if the Starlink is obstructed - it will display "Starlink Obstructed."
And that is pretty much the only change you will see on the router itself, as this screenshot shows: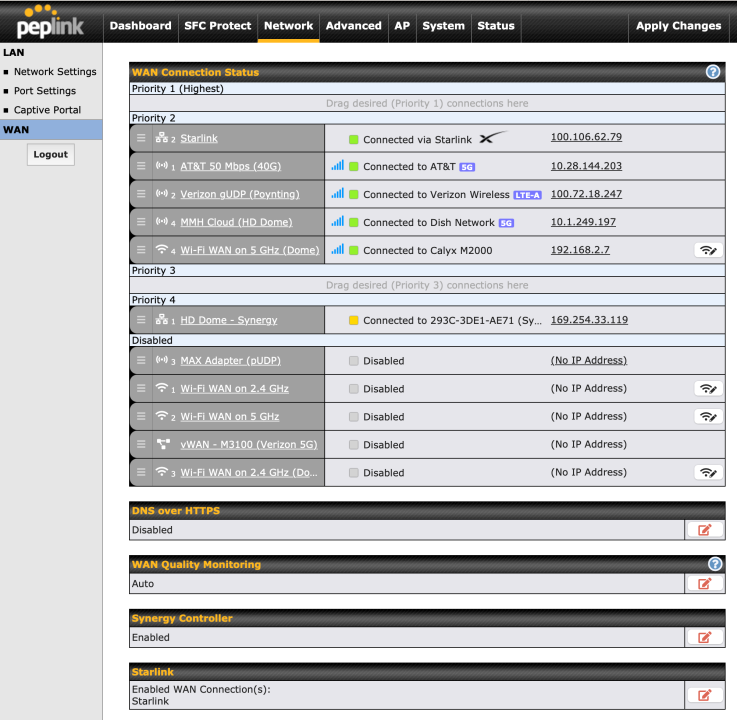 However, Peplink's enterprise-focused InControl web dashboard offers further capabilities and a more detailed Starlink-aware status panel. It includes information like an indicator when your Starlink is roaming or what percentage of the sky is obstructed.
And you can also remotely trigger Starlink functions like "Reboot," "Stow," and "Un-Stow" commands via InControl.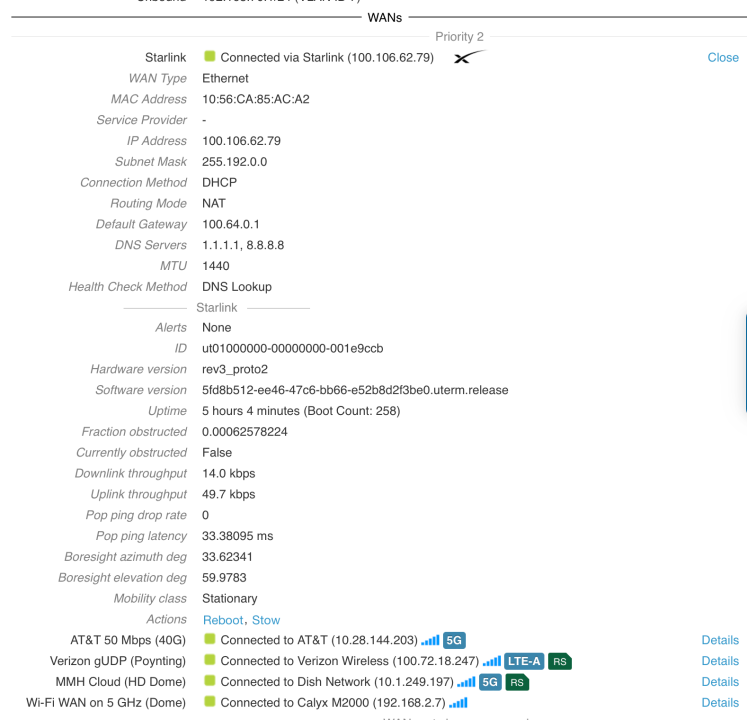 Managing your Starlink remotely like this is nice - but we think Peplink needs to support this via the local router interface, and not just via InControl.

InControl-only management can potentially cause issues. For example, if Starlink is your only online connection and you "Stow" the Starlink via InControl, the router will drop immediately offline and InControl will not be able to connect to it anymore.
The local Peplink Dashboard will conveniently say "Starlink Stowed," but there is no way within the UI to Un-Stow the Starlink to get back online.
To "Un-Stow" locally, in this case, requires using the Starlink app or power-cycling the Starlink completely.
The Stow & Reset commands should be buttons available in the local Peplink Dashboard UI - and Peplink should ideally also display the other status information available in InControl locally too.
Right now - without local control support - the current "Supercharged" integration feature is going to disappoint a lot of RVers and boaters who rely on Starlink and who often are in locations where it is their only way online.
Having troubleshooting features only accessible via InControl kind of defeats the point - if you are having trouble connecting, a cloud-based UI is not ideal at all.
Peplink product managers have told us that they understand that the current implementation is not ideal for most nomads, and they will try to expand this capability to work locally in the future.
Limited Router Compatibility
Despite the limited capabilities - the Starlink detection and integration is (currently) only supported on few newer Peplink router models - making this feature even less important for much of our audience.
Here is the compatibility list:
Balance: 310X, 380X, 580X, 310 5G/Fiber 5G, 305/380 or above
MAX: BR1 Pro 5G, BR1 Pro HW7, BR2 Pro, Transit 5G, HD1 Dome/Dome Pro, HD2/4 MBX
Popular models like the older MAX Transit Duo or Balance 20X are NOT supported.
New Starlink-Optimized Outbound Policy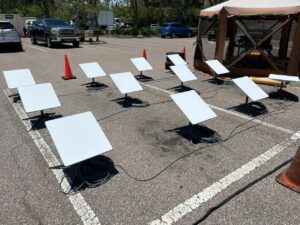 One other new feature in 8.4 was actually requested by Starlink engineers: a new variant of the "Least Used" outbound policy that routes traffic over the connection with the most available uplink capacity, rather than the prior behavior of exclusively focusing on downlink capacity.
This is very useful for combining multiple Starlink systems together where uplink performance is typically much more constrained than downlink.
But for most normal users who do not have multiple Starlinks bound together, this new feature has limited utility.
New eSIM Capabilities
The other new signature feature in firmware 8.4 is support for eSIM - allowing users to pair data plans with compatible routers without needing a physical SIM card issued by their carrier.
The catch, however, is this is also a feature exclusively managed via InControl, and you can not install and manage eSIM plans unless you have an active PrimeCare subscription and are using InControl to manage your router.
You can now install two eSIMs per modem via InControl, and once they are installed, it is as if each modem in your router has four SIM slots - two physical SIM cards and two eSIM profiles. You can switch between all four via the local web UI just the same way you currently can switch between physical SIM A and SIM B.
Having four data plans installed into a single modem is a great new capability, and this will become more useful as more carriers open eSIM data plans compatible with routers. But it does mean giving up the flexibility that comes from quickly swapping physical SIM cards around as needed.
Not all Peplink routes support eSIM, however - here are some of the compatible models of note:
BR Series: MAX BR1 Pro 5G, MAX BR1 Mini, MAX BR1 Mini Core, MAX BR2 Pro
X Series: Balance 310X, MAX MBX Mini, EPX, Balance 20X
HD Series: MAX HD2 MBX, MAX HD4 MBX 5G, MAX HD4 MBX, MAX HD1 Dome Pro, HD2 Dome Pro Duo, Dome Pro LR
PrimeCare Series: MAX Transit Duo Pro E, MAX Transit Duo Pro , UBR Plus
MAX Adapters: MAX Adapter LTEA, MAX Adapter 5G
FlexModule Plus/Mini: Flex Module Plus, FlexModule Mini.
Here is a video showcasing how to use the new InControl features to install and use an eSIM.
Polished Quality Of Service (QOS) Features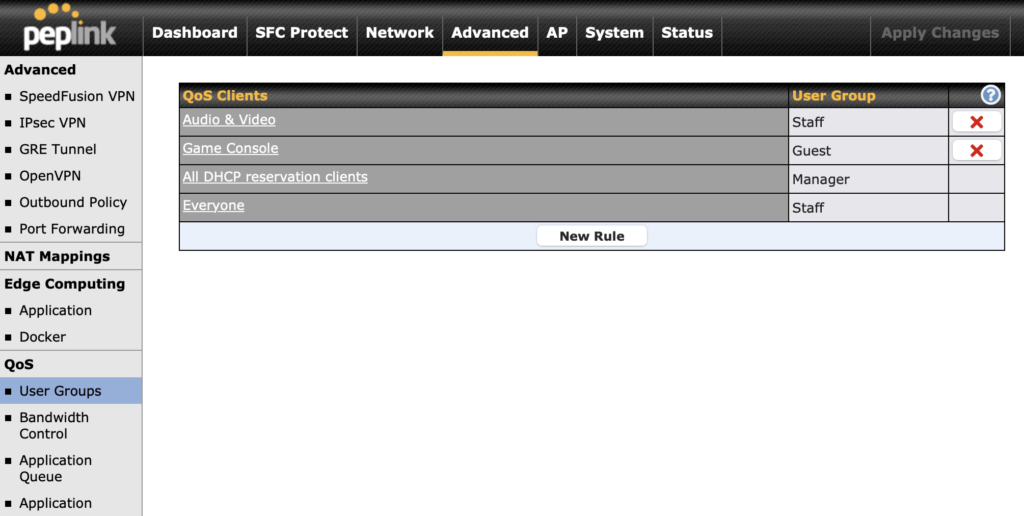 When we hosted a members-only webinar earlier this year showing off how to use Peplink's powerful QOS features to better manage traffic on a network, one of the frustrations we pointed out was that Peplink only allowed three hard-coded groups to build rules around.
Peplink firmware 8.4 addresses this limitation - increasing the number of QOS groups to 10, allowing for much more flexible rules, making managing your devices and data usage even easier.
The overall QOS features have been subtly polished in a few other ways - for example, the router can now detect and prioritize FaceTime or Google Meet traffic.
To better understand these complex (but powerful) features, see our guide in our Peplink resource center:
Peplink "Quality of Service" Features - User Groups & Bandwidth Limits
Peplink 8.4 Firmware - Additional Features
Despite the lack of many signature features that will excite most of our audience, there are still a lot of tweaks and improvements lurking in the 8.4 release worth mentioning.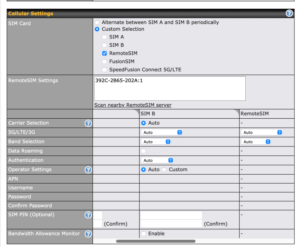 Here are some of the other improvements on our radar:
Synergy Mode over VLAN WAN - Synergy was the blockbuster feature that debuted in firmware 8.3 that allows users to "synergize" multiple Peplink routers to work together as one. You can now use Synergy mode to control Peplink routers connected to VLAN ports on your LAN, and not just directly connected to your primary router. This can make setting up Synergy even more flexible than before.
Better Access Point Support for SpeedFusion Connect Protect Routing - In firmware 8.4, you can now set up SSIDs that are automatically routed via SpeedFusion Connect Protect bonding even if you are using an external Access Point to host your Wi-Fi network. In the past, to do this required setting up VLANs - a more complicated process. TIP: You must also upgrade all Peplink Access Points to the new firmware release 3.9.3 to enable this capability.
RemoteSIM Band Selection Features - Peplink firmware 8.4, at last, enables you to set custom bands when using a RemoteSIM from a SIM Injector, but the feature is not obvious in the UI. You have to grab a sub-window in the Dashboard and scroll it to the left to expose the hidden settings for turning on custom band selection.
Bonding Comes to Basic Routers - Firmware 8.4 supports SpeedFusion bonding to some of Peplink's most basic routers - the MAX BR1 Mini HW3 and Transit Mini. These routers in the past supported SpeedFusion WAN Smoothing and instant failover, but now they can also bond multiple connections together.
Bonding Remains After PrimeCare Expires - With firmware 8.4 installed, some routers (including the MAX BR1 Pro 5G and BR2 Pro 5G) will now retain a license to use SpeedFusion bonding, even after PrimeCare expires. In the past, Peplink required that an active PrimeCare subscription be maintained to get access to this feature. This only matters if you are hosting your own SpeedFusion server - PrimeCare has never been required for SpeedFusion Connect Protect bonding service purchased directly from Peplink.
Relay Mode Expands to Five Peers - For those who leave a Peplink router in relay mode at a home location (see our guide to the topic for more), firmware 8.4 increases the number of inbound connections to five. You can also now better manage what devices are allowed to connect with new access control rules.
End Of The Line For Older Router Models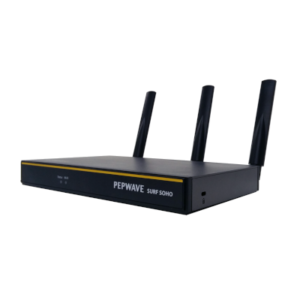 When firmware 8.3 was released, it was announced that it would be the final release for many older Peplink Routers.
And indeed - 8.4 has indeed dropped support for those older models.
These older models that were once popular with our audience will only have 8.3 going forward - though they will still get critical bug and security fixes:
MAX BR1 HW1 and HW2-3
Max BR1 MK2 HW1-3
MAX BR1 Mini HW1-2
MAX On-the-go HW2
Surf SOHO HW2
Surf SOHO Mk3 HW1
For the full list of devices that will not be upgradable to 8.4, see the release notes.
Concluding Thoughts

There are lots of other small changes, tweaks, UI improvements, geek-level features, and bug fixes lurking in 8.4 - and it has proven to be solid in our testing so far.
So, despite the lack of anything we consider worthy of being called "Supercharged" - we consider firmware 8.4 a nice solid release, establishing a solid foundation for Peplink to build on.
You can read the full geeky release notes and download the firmware files on Peplink's firmware portal when ready to upgrade.
MIA Exclusive Discounts & MMH Perks
Our MIA members (the awesome folks who provide the primary funding so we can create our advertising-free, in-depth content) enjoy exclusive discounts from trusted vendors like MobileMustHave, TechnoRV, and Onboard Wireless.
When shopping for high-end Peplink routers - this discount can add up, often exceeding the membership cost!
Our MIAs can visit our member-exclusive discounts page to get their discount codes of up to 10% off.
Our discounts are designed to pass along any affiliate kickback these vendors offer to our members. If you prefer to not become a member, you can still support our mission here at MIRC by using the affiliate links for these vendors that are in our Peplink Gear Center entries in the purchasing area.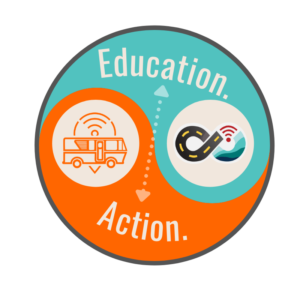 MobileMustHave.com is our exclusive Education & Action partner for our Peplink content.
Aside from collaborating on Peplink content and helping us keep on top of the industry, they offer the following perks to our MIAs:
Co-hosting of our Peplink Resource Center - our growing collection of in-depth guides to the Peplink product line and features.
Advanced Peplink tech support in our forums.
Hosting multiple webinars for MIAs each month. These include our Peplink Topical Series on the 3rd Thursday of each month, and a Peplink 101 Q&A on the 4th Tuesday of each month. See our MIRC Webinars & Events page for the full schedule and broadcast details.
Additionally, they offer their MMH Insider memberships that include membership to MIRC along with other features like free 2-day shipping, hassle-free advanced hardware replacement, exclusive monthly deals, and discounts on MobileMustHave data plans. If you're already a MIRC member, follow our Upgrade Path to MMH Membership to maximize these benefits and receive a pro-rated membership refund.
 Bonus Member Only Content Available!
We go extra for our premium members - who make this resource center possible (did you notice the lack of 3rd Party advertising?). We have included some additional information in this news article just for our members - analysis, guidance and/or insider tips.
If you're not yet a member, please consider joining us. Extra content like this is one of the many perks we offer - in-depth content, guidance, discounts, alerts, classroom and more.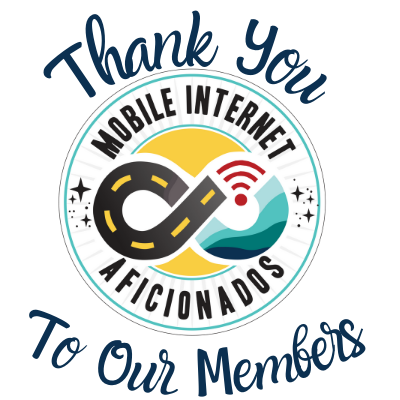 If you are already a member, please log in above to see the special content we have prepared for you.
Purchasing a Peplink Router
If you want to purchase any of our Top Pick Peplink routers, here are affiliate links for the abovementioned vendors. Using these links helps support MIRC's mission:
Balance 20X
MobileMustHave | Onboard Wireless
MAX Transit Duo Pro
MobileMustHave | TechnoRV | Onboard Wireless
MAX BR1 Pro 5G
MobileMustHave | TechnoRV | Onboard Wireless
MAX BR2 Pro 5G
MobileMustHave | TechnoRV | Onboard Wireless
If you're an MIA, please be logged in to use your vendor discounts instead - they pass along our affiliate kickbacks to you!
Related MIRC Content
Related News Stories