The WiFiRanger MicroLTE pack is a now obsolete device. We considered it less capable than the gear WiFiRanger is usually known for, but the $299 package price for roof-mounted cellular and Wi-Fi was very nice.
This device has been discontinued or we consider it obsolete. While current owners of this device may continue to find performance to be adequate for the foreseeable tech-future, we do not recommend upgrading to or purchasing this device.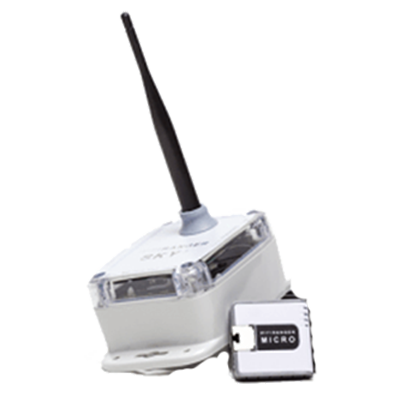 The MicroLTE pack took WiFiRanger's basic Sky3 (currently available to OEM's only) Wi-Fi receiver, and integrates in a Cat-4 LTE cellular modem with a Millenicom SIM installed - which provides service on T-Mobile's LTE network. This outdoor unit was paired with a very basic indoor WiFiRanger Micro router that creates a private indoor Wi-Fi network to share the distant cellular or Wi-Fi the roof unit is connected to.
And the Micro did indeed live up to its name. Here is how WiFiRanger CEO Kelly Hogan described the Micro:
"Every RV owner knows that space is at a premium in the RV, so we answered the request to make the indoor router as small as possible. We made it so small, that you may need your reading glasses to find it!!"
Small is indeed good - but in this case it came at a cost in features.
The Micro router lacks support for local ethernet ports or USB tethering - all it does is create a basic local Wi-Fi network and provide power to the roof unit over a POE-ethernet jack.
If you need a more capable indoor device (or want to also tether to a more traditional Wi-Fi mobile hotspot) - a WiFiRanger Core, GoAC, or competitive routers from Pepwave are better options. The additional downside of the MicroLTE package is that the 0.5 mile max theoretical Wi-Fi range of the Sky3 makes it a much less capable long-range Wi-Fi device than the roof-mounted SkyPro (1.5 miles) or WiFiRanger Elite (2 miles).
But...
The entire package cost just $299 - nearly $300 less than the announced price of the SkyPro LTE pack!
If you didn't need the extra range or capabilities - the MicroLTE pack had a lot to offer for not much more than the cost of a conventional portable mobile hotspot.
Specifications - WiFiRanger MicroLTE Pack
Wi-Fi Router: Yes

2.4GHz Wi-Fi:

5GHz Wi-Fi

: No
Wi-Fi Antenna:
Claimed Wi-Fi Range: 0.5mi
Guest Wi-Fi Network:

Integrated Cellular Modem: Yes

Cat 4
Optimized for use with T-Mobile - can be used on AT&T

Ethernet Ports: None

Special Features:

Power Source:

12V DC

Dimensions:

Outdoor Rated:

Yes

Retail Price:

$299
Millenicom Partnership
WiFiRanger is partnering with long-time RVer favorite Millenicom to offer easy-to-activate data plans that ride on top of T-Mobile's cellular network.
No contracts will be required - and you will be able to activate and deactivate a plan as needed via a web interface.
If T-Mobile isn't your network of choice, the SIM card in the MicroLTE is removable - and you can reportedly use an AT&T plan in this modem as well. The modem include in the MicroLTE however is NOT Verizon compatible.
Review & Testing Status
A unit caught up to us in late February, and we are includeding this unit in our latest round of testing (1st Quarter 2018). Our field testing results can be found here, for our members who want to follow along: Cellular Signal & Embedded Router Field Testing – IBR900 | MAX-BR1 | Drive Sleek | MIMO Antennas (1st Quarter 2018)
The Rest of this Review is:
Member Only Content
We are thrilled & honored to be primarily member & reader funded - allowing us to present unbiased content. The in-depth review section of this product listing is part of the premium membership benefits of joining. Members can also leave their own reviews on products.
If you're a member, please log in above to read the in-depth review for this product and/or leave your own review. If you've not joined yet, learn more about membership at:
Purchasing Options
WiFiRanger primarily sells direct online and at RV rallies.
Members: Be sure to check the Members Discount page for an exclusive discount code to use when ordering.
Related News Center Articles
WiFiRanger MicroLTE
Hardware

User Interface

Customer Service

Overall Performance
Quick Take
WiFiRanger's tiny, less capable roof-mounted combined cellular / WiFi package.
Comments Rating
( review)