WiFiMyLife.com sells a repackaged and rebranded Cradlepoint IBR 900 router at major RV retailers like Camping World and Gander RV & Outdoors. The device is also available directly through WiFiMyLife.com - if their links are working on any given day.
Cradlepoint is a well respected mobile router manufacturer focused on enterprise and fleet deployments. WiFiMyLife's rebranded Cradlepoint router is the LTE Category 6 version of the IBR 900, but it is priced significantly higher than devices with better specs and capabilities available directly through Cradlepoint.
WiFiMyLife Router Device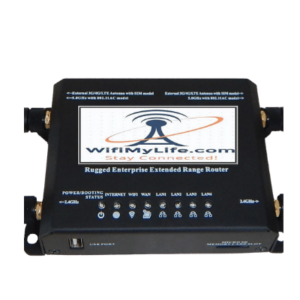 The WiFiMyLife Router is a Cat 6 rebranded IBR900.
Specifications
Model: N/A

Router Specs:

# of Connected Devices:

Up to 128
Wi-Fi Router: Yes

Wi-Fi Standard:

Wi-Fi 5 (802.11ac) - Simultaneous 2.4GHz & 5 GHZ

Wi-Fi Notes:

Wi-Fi 5 Wave 2 - MU-MIMO

Max Theoretical Wi-Fi Speed:

300 Mbps (2.4 GHz), 866 Mbps (5 GHz)
Wi-Fi Antenna: 2x RP-SMA/Female Antenna Ports (MU-MIMO)
Wi-Fi as WAN: Yes
Claimed Wi-Fi Range: Not specified
Guest Wi-Fi Network: Yes - 4 total SSIDs supported

Control Panel and Default Password: Not specified
USB Tethering Support: Yes - 1x USB Port (USB Modems only - no hotspots!)

Cellular Modem Specs:

Cellular Modem: Single 4G
Supported Networks and Bands: Verizon, AT&T, T-Mobile, Sprint
LTE Bands: 1, 2, 3, 4, 5, 7, 8, 12, 13, 17, 20, 25, 26, 29, 30, 41
4G/3G: WCDMA/DC-HSPA+
MIMO Support: 2x2
LTE Performance Category: Category 6 (Max Theoretical Speed: 300Mbps Down / 50 Mbps Up)
LTE-Advanced Carrier Aggregation: 2x Download
Cellular Antennas: 2x SMA male
SIM Slots: 2x Mini-SIM

Dimensions:

4.6" x 4.5" x 1.2"
Other Ports: 15-pin dock port for COR Extensibility Dock, 9-wire GPIO cable, or COR Extensibility Port to Serial Cable
Power Source: 9V - 33V Direct DC Input, 110V AC Adapter Optional
Outdoor Rated: No

Special Features:

Data Usage Tracking, Auto Failover, Load Balancing, Integrated GPS

Retail Price:

$1275.99
---
News, Videos & Status
We purchased a Cat-6 version of the Cradlepoint IBR900 in December 2017 for testing, which is functionally the same device as the WiFiMyLife Router.
Members have access to our in-depth review in our Cradlepoint IBR900 Gear Center entry.
Related News Articles
---
---
Purchasing Options