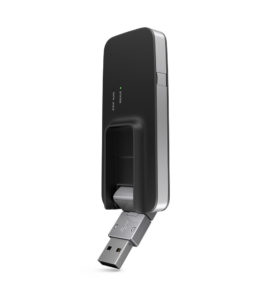 The Novatel Global Modem USB730L is a Verizon USB cellular modem, released in July 2017.
It replaced the Novatel Global USB U620L, which was released in July 2015.
The updated model is very similar but the USB730L has a Cat 6 cellular modem (max theoretical speed of 300Mbps) while the U620L had a Cat 4 modem (max theoretical speed of 150Mbps).
This potential speed doubling is exciting - but a substantial performance advantage will only really show up under ideal network conditions.
But the future headroom as Verizon evolves its network is certainly nice to have.
---
Specifications
Model #: 730L (MC730)
# of Connected Devices: Single device via USB
Control Panel and Default Password:
Control Panel: http://my.usb/ or http://192.168.1.1
Default Password: "admin"
USB Tethering Support: Yes
WifiRanger: Untested
Pepwave: Untested
Cradlepoint: Untested
Supported Networks and Bands:
Verizon LTE Bands: 2, 4, 5, 13Global Roaming on LTE Bands: 3, 4
4G/3G: HSPA+ 850/1900/2100MHz - Global roaming supported.
3G: Verizon CDMA EVDO Supported
2G: GSM EDGE - Quad band global roaming.
LTE-Advanced Carrier Aggregation: Yes (2x 20MHz channels)
MIMO Support: 2X2 internal
LTE Performance Category: Category 6
(Max Theoretical Speed: 300Mbps Down / 50Mbps Up)
Other Ports: N/A
Wi-Fi Technology / Frequencies: N/A
Claimed Battery Life: N/A - no battery
Can Be Powered Without a Battery: Yes

Dimensions:

3.27'' x 1.38'' x 0.45'' / 2.08 oz
SIM Card Type: 4FF / Nano SIM

Retail Price:

$249 (original price)
---
Review & Testing Status
Novatel sent us a review unit. Members can follow along with our testing here: Cellular Equipment Field Testing Results – Netgear Modems / USB730 (Late 2017)
Overall the unit works as advertised but a dedicated mobile hotspot device (Jetpack) will be more powerful, more useful and cheaper for the majority of users.
---
Unboxing Video & First Impressions
Here is our product unboxing video, and initial thoughts:

---
Potential Alternatives to Consider:
For other popular mobile hotspots on the market - here are our featured options:
---
This Review Contains Additional Member Exclusive Content!
We are Honored to be Member Funded!
No ads, no sponsors, no selling (but may contain affiliate links)
Our members fund our in-depth independent reviews.
This entry may contain additional member exclusive content such as testing notes, field testing data, user interface tours, comparisons to alternatives, analysis, tips, videos and discounts.
Members also get interactive guidance, alerts, classroom and more.
Purchasing Options
The USB730L is available directly from Verizon and third-party sellers like Ebay and Amazon.
The guides below have been hand-picked to help further your education about selecting mobile hotspots and best utilizing them in your mobile internet setup.