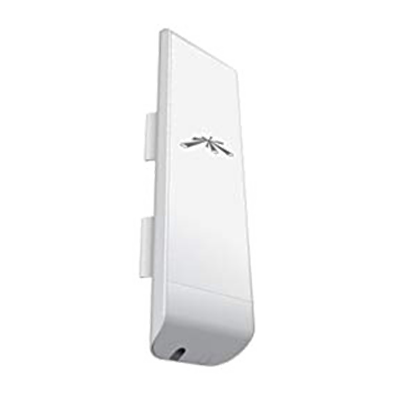 The Ubiquiti NanoStation M2 is a weather proof, long range, 802.11g/n directional outdoor WiFi access point. It combines the antenna and radio into one unit, and thus considered a CPE.
These are frequently used in professional networking installations, and can be used for both sending and receiving Wi-Fi signals. RVers and cruisers will often find this is the equipment used by the campground/marina as their distributed access points.
They are designed more for IT managers than consumers to be used as a component in a Wi-Fi network, so for those not comfortable with networking protocols this may not be an ideal choice.
Otherwise, these are highly regarded devices and can be used for receiving Wi-Fi from longer ranges - but you will need to configure them to a router.
David Bott of Outside our Bubble details how to set one of these up with Ubiquiti's airCube ISP router:
Build a Private RV Wi-Fi System For Under $100!
Specifications
Base Technology:

Wi-Fi Router: No
Integrated Cellular Modem: No
Ethernet Ports: 2

Special Features:

Power Source:

Passive power over ethernet
Dimensions: 6.31 x 1.22 x 3.15"

Outdoor Rated:

Yes
Mounting: Pole Mount (Kit included)

Retail Price:

$82.99
Testing Status: We have purchased one of these units, and utilize it when creating our 'mobile Wi-Fi network' for testing long range gear against. We have used prior versions of this product in our Wi-Fi signal enhancing solution as well. It's a solid solution, if you don't need customer support and are comfortable with system configuration.
More Information Available to our Members

We are honored to be able to present the above overview for free without 3rd party advertising.
In thanks for funding this resource center our members have access to any further notes, analysis, insider info, member experiences and/or our full in-depth review of this product or offering.
If you're a member, please log in above to read the review.
Purchasing Options