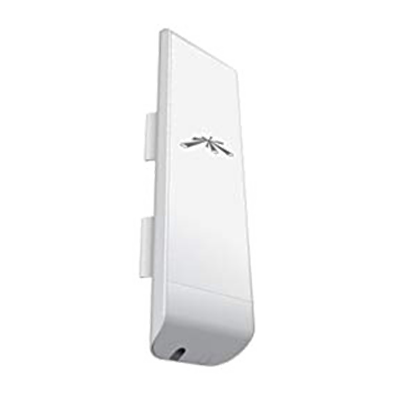 The Ubiquiti NanoStation M2 is a weather proof, long range, 802.11g/n directional outdoor WiFi access point. It combines the antenna and radio into one unit, and thus considered a CPE.
These are frequently used in professional networking installations, and can be used for both sending and receiving Wi-Fi signals. RVers and cruisers will often find this is the equipment used by the campground/marina as their distributed access points.
They are designed more for IT managers than consumers to be used as a component in a Wi-Fi network, so for those not comfortable with networking protocols this may not be an ideal choice.
Otherwise, these are highly regarded devices and can be used for receiving Wi-Fi from longer ranges - but you will need to configure them to a router.
David Bott of Outside our Bubble details how to set one of these up with Ubiquiti's airCube ISP router:
Build a Private RV Wi-Fi System For Under $100!
Specifications
Base Technology:

Wi-Fi Router: No
Integrated Cellular Modem: No
Ethernet Ports: 2

Special Features:

Power Source:

Passive power over ethernet
Dimensions: 6.31 x 1.22 x 3.15"

Outdoor Rated:

Yes
Mounting: Pole Mount (Kit included)

Retail Price:

$82.99
Testing Status: We have purchased one of these units, and utilize it when creating our 'mobile Wi-Fi network' for testing long range gear against. We have used prior versions of this product in our Wi-Fi signal enhancing solution as well. It's a solid solution, if you don't need customer support and are comfortable with system configuration.
The Rest of this Review is:
Member Only Content
We are thrilled & honored to be primarily member & reader funded - allowing us to present unbiased content. The in-depth review section of this product listing is part of the premium membership benefits of joining. Members can also leave their own reviews on products.
If you're a member, please log in above to read the in-depth review for this product and/or leave your own review. If you've not joined yet, learn more about membership at:
Purchasing Options
Ubiquiti NanoStation M2 Ratings
Hardware

User Interface

Customer Service

Overall Performance
Quick Take
A simple, pole mounted WiFi repeating device.
Comments Rating
( review)