Skyroam is an international service that provides a mobile hotspot and data plan for international travel.
While not suitable for our core audience of US-based nomads, Skyroam may be useful for those with occasional or hypermobile international excursions.
We track other Global SIM and international options in our Global SIM Gear Center entry.
Skyroam currently offers the Skyroam Solis Global Hotspot by Skyroam Limited.
Previously, they offered the Original Skyroam Hotspot, which is no longer available for purchase but continues to be supported.
Both are global mobile hotspots with international data plans that aim to make occasional international connectivity easy and affordable all around the world.
These hotspots include plans that work within the US on AT&T's network.
Skyroam does offer a 'pay by the GB' plan, called GoData, which prices high-speed data at $9/GB.
If you plan on spending more than a few days in a country, it'll be much more affordable to purchase a local SIM option or investigate your carrier's international roaming options.
We have tested and reviewed the most current Skyroam offerings - the Skyroam 3G+ Mate and the Solis.
---
In this Review
---
The Skyroam Solis System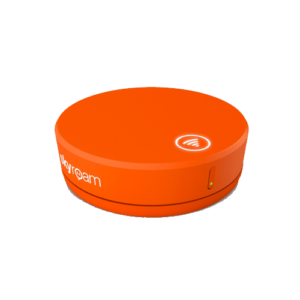 Solis is the latest travel WiFi hotspot from Skyroam. When you're abroad, you pay a single flat fee for 24 hours access or you can purchase a monthly data plan. Both are advertised as providing "unlimited data".
The device works in over 100 countries, including the US (on AT&T).
Solis is an upgrade from the original Skyroam 3G+ Mate hotspot in the Solis' capability for LTE internet, along with the added perk of being able to charge your other devices off of the Solis.
Unlike the original Skyroam 3G+ Mate, the Solis is a simpler product. There is no touchscreen or buttons. To manage the device, you connect to the Solis hotspot and you'll be taken to a capture page. Here, you can see how much battery life is left, how many day passes you've got left, and you can purchase more day passes.
"Unlimited Data"?
Skyroam offers unlimited day passes and monthly subscriptions. However, is it really unlimited?
Skyroam clearly states a Fair Use Policy that they do de-prioitize data - and you could get slower speeds due to a number of factors.

Prior to December 2018, that high-speed data cap was set at 500mb/day or 15GB/month - regardless of the location you used the hotspot in.

This fair use policy may be suitable - but unfortunately you won't know how much data you can reliably use in a 24-hour period at any particular location. And you can add GBs of data for $9/GB.
For domestic US usage, there are generally cheaper options (see our Guide to Unlimited Data Plans).
Plan Specifications
---
Potential Alternatives to Consider:
For other featured cellular data plans ideal for RVers and Crusiers - here's some other options to consider:
Learn More About Selecting Cellular Data Plans
---
Device Specifications
Review Status: We purchased the new Solis to take on an international trip in early 2018, and were not impressed with it - it completely failed to connect in multiple supported countries, day passes were redeemed anyways and customer service was lackluster.
We are also not impressed with the limited user interface of the control panel, lacking even basic options like changing the name of your Wi-Fi network and password (which is printed on the device). More in the member section below.
The 3G+ Mate Skyroam Hotspot - Retired
The proprietary Skyroam mobile hotspot supports global HSPA+ and 3G by way of a virtual SIM card that can connect to over 100 international carrier partners around the world.
When you're abroad, you pay a single flat fee for 24 hours' access.
Access is provided by purchasing a 24-hour day pass that includes unlimited data usage once redeemed, although high speed usage is capped to just 350MB per 24hr period, and video streaming is not officially supported.
This is an ideal option for those who need sporadic international connectivity without much fuss, such as while cruising or traveling through multiple countries.
Specifications
Battery Life:

8 hrs / 20 hrs stand-by

# of Connected Devices:

5 via Wi-Fi / Does Not Support USB Tethering
Web Control Panel: Not Supported
Default Password: Find on the screen by clicking the 'Home' button, or selecting 'Menu', 'WLAN Info'. Password and SSID can not be changed.
Networks supported:
LTE Bands: None
4G/3G: HSPA+ 850/900/1900/2100MHz - Global roaming supported
2G: GSM EDGE 850/900/1800/1900MHz

LTE-Advanced Carrier Aggregation:

None


LTE Performance Category:

None

Cellular Antenna Ports:

None

Wi-Fi Technology / Frequencies:

802.11 b/g/n - 2.4GHz

Dimensions:

4.2" x 2.3" x .8" / 4.9 oz

SIM Card Type:

eSIM
Review Status: We purchased a Skyroam in November 2016 to take with us on a Panama Canal cruise, and tested it head to head with T-Mobile and Sprint international roaming in Aruba, Curacao, Colombia, Panama, and Costa Rica. Overall, it performed well in the countries it claimed to support, with just some minor aggravations; we can recommend this as an option for occasional international usage. For extended time in a country, it'll likely be more affordable to purchase a local SIM option.
We have an extensive review for our members below, including a video tutorial.
More Information Available to our Members

We are honored to be able to present the above overview for free without 3rd party advertising.
In thanks for funding this resource center our members have access to any further notes, analysis, insider info, member experiences and/or our full in-depth review of this product or offering.
If you're a member, please log in above to read the review.
Purchasing Options
Selecting the right cellular data plan for your mobile internet needs is only one part of the equation. Here's some further guides on understanding the selection process as well as the additional gear you might need.