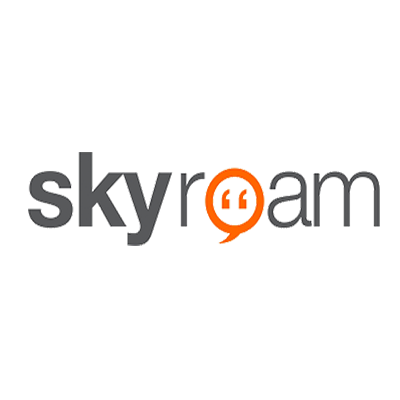 Skyroam is an international focused service that provides mobile hotspots and data plans geared towards international travel.
We track other Global SIMs and international options in our Global SIM Gear Center entry.
SkyRoam Plans & Products
Skyroam offers U.S. based data plans in addition to their international plans. It is unknown on which network or networks these plans operate, as Skyroam refuses to provide either customers or the media, with that information. Due to the unwillingness of the company to share network and throttle info, we urge caution before purchasing a device and plan.
Skyroam currently offers the Skyroam Solis, Solis Lite, and Solis X Global Hotspots. All three are global capable mobile hotspots which are paired with international or U.S. based data plans. These hotspots can only be used with Skyroam plans, and Syroam plans can only be used with these hotspots.
Skyroam offers daily, monthly and 'pay by the GB' (GoData) plans. They offer a VPN program for their Solis hotspots - at a fee.
Skyroam also provides the back-end connectivity for Simo Wireless (an app-based international data option for some Android smartphones with eSIMs), and offers SignalScan, which allows Skyroam hotspots to find the best local connection in your area. Again, Skyroam does not share their networks with the public, so we do not know what networks are being scanned.
Data Plans
Currently Available Plans
Pay-Per-GB GoData Subscription: 1GB - $6/month (additional data can be purchased)
USA Unlimited Data Subscription: 20GB - $49/month
Unlimited Global Daypass: Unlimited for 24 hours - $9/day
Plan Specifications
Carrier Networks Used: Unknown in U.S., Local carriers in International countries.
Carrier Relationship: MVNO
Plan Types Available: Data Only
Device Types Permitted: Hotspot
Unlimited: Yes, but subject to undefined network management ('Fair Use' policy)
High Speed Mobile Hotspot Use: Yes
Throttling: Yes after high speed data caps
Network Management:

Unlimited plans subject to network management, variable based on location
GoData (capped) plans are not subject to network management

Video Streaming Resolution: Unknown, but video throttling is suspected.
5G Access: No
Device Purchase Required: Yes - must purchase or rent Skyroam device
Plan Period: Monthly or daily
International Roaming: Yes
Domestic Roaming: Unknown
Data Roll Over: None
Overage Charges: Passes are pre-purchased - no overage, but can purchase more high-speed data by the GB
Lines permitted per account: Not specified
Extras: VPN available for additional fee.
"Unlimited Data"?
Skyroam offers unlimited day passes and monthly subscriptions. But, are these plans really unlimited? They clearly state a Fair Use Policy that they do de-prioritize data - and you could get slower speeds due to a number of factors.

When on their unlimited plan, Skyroam suggests that you avoid activities like video streaming, gaming, or activities that use large amount of data. In addition, we have noted that 'GoData' plans - which can come in large buckets of data, but are in capped buckets, are not subject to their 'Fair Use' (i.e. network management) policy.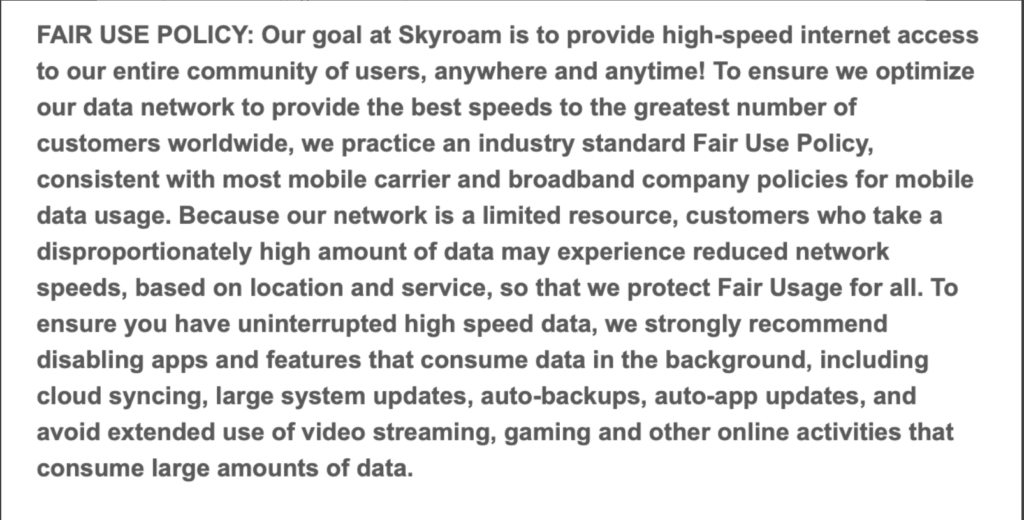 Due to this Fair Use policy, you unfortunately won't know how much data you can reliably use at any particular location. In our experience as recently as testing in April 2020 within the US, we experience severe slow downs on an unlimited day pass after just 2.5 hours of normal usage. We had similar experiences internationally in prior years.
You can add GBs of high-speed data for $9/GB though.
For domestic U.S. usage, there are generally cheaper options (see our Guide to Top Pick Data Plans).
Device: Solis X
Skyroam Solis X 'Smartspot'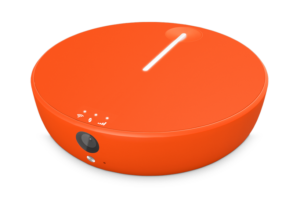 Announced in July 2019 (read our news story), the Skyroam Solis X "Smartspot" is an upgrade from the Skyroam Solis.
The Solis X, while remaining hockey puck in shape and size, is slightly smaller than the original Solis - and has a slightly smaller battery.
Whereas the original Solis supported 5 device sharing the connection, the Solis X shares data with up to 10 connected devices.
Those devices now have access to both 2.4Ghz and 5Ghz Wi-Fi bands. Additionally, the Solis X now covers 10 additional cellular bands - 25 on the Solis X rather than the original 15 of the Solis. The additional bands should allow for even more coverage options around the world - though SkyRoam does not officially share who their current roaming partnerships are with.
In the past Skyroam was known to use AT&T for coverage in the USA, but the Solis X specs reveal cellular bands also appropriate for Sprint and T-Mobile - so perhaps Skyroam is changing their roaming partner, or keeping open the option to do so in the future. Verizon's key LTE Band 13 however is notably missing.
The Solis X offers a built-in camera, a speaker, and two microphones in addition to device charging ports. Whether these prove to be actually useful or more of gimmick remains to be seen. It is also capable of storing 4GB of media.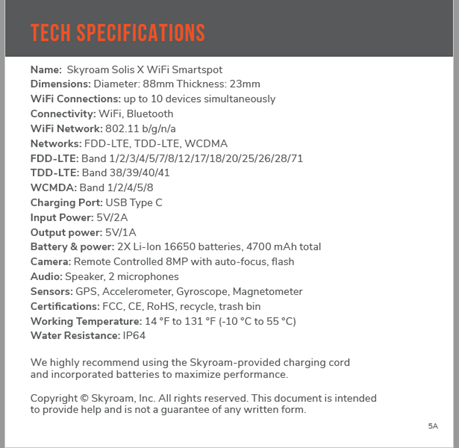 Specifications
Model #: Solis X
# of Connected Devices: 10 via Wi-Fi
Control Panel and Default Password: Printed on the device
USB Tethering Support: None
Supported Networks and Bands:
4G/ LTE Bands: 1, 2, 3, 4, 5, 7, 8, 12, 17, 18, 19, 20, 25, 26, 28, 38, 39, 40, 41, 71
3G: WCDMA - 1, 2, 4, 5, 8
LTE-Advanced Carrier Aggregation: Unknown
MIMO Support:
LTE Performance Category:
Other Ports: USB-C
Wi-Fi Technology / Frequencies: 2.4Ghz/5Ghz (802.11 b/g/n/a)
Battery:

Claimed Battery Life: 18 hours
Can Be Powered Without a Battery: Yes

Dimensions: 3.5(D)'' x 0.9 ''
SIM Card Type: Proprietary eSim
Retail Price:

$179.99 for the device (sometimes includes a free day pass)
Also available for rental at $9.95/day
Device: Solis Lite
Skyroam Solis Lite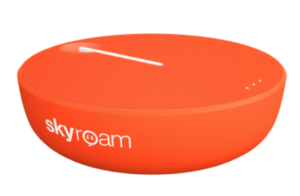 The Solis Lite has the same technical specification as the Solis X except that it lacks the integrated Camera.
The Solis Lite is a pretty simple product. There is no touchscreens, just one button on the top and a charging port. To manage the device, you can use the Skyroam app, or you connect to the Solis Lite hotspot and you'll be taken to a capture page. On the app or the capture page, you can see how much battery life is left, how many day passes you've got left, and you can purchase more day passes.
Specifications
Model #: Solis Lite
# of Connected Devices: 10 via Wi-Fi
Control Panel and Default Password: Printed on the device
USB Tethering Support: None

Supported Networks and Bands: AT&T in the US
4G/LTE Bands: 1, 2, 3, 4, 5, 7, 8, 12, 17, 18, 19, 20, 25, 26, 28, 38, 39, 40, 41, 71
3G: WCDMA - 1, 2, 4, 5, 8

LTE-Advanced Carrier Aggregation: Unkown
MIMO Support: No
LTE Performance Category: Unknown
Cellular Antenna Ports: None
Other Ports: USB-C (charging)
Wi-Fi Technology / Frequencies: 2.4Ghz/5Ghz (802.11 b/g/n/a)
Battery

Claimed Battery Life: 18 hrs
Can Be Powered Without a Battery: Yes, with purchase of additional Power Bank Kit

Dimensions: 3.5" x .9" / 5.5oz
SIM Card Type: eSim
Retail Price:

$119.99 for the device (sometimes includes several free day passes)
Also available for rental
---
News, Videos, & Status
Review Status:
While we have not tested the Solis Lite, we have tested the Solis. We purchased the Solis to take on an international trip in early 2018, and were not impressed with it - it completely failed to connect in multiple supported countries, day passes were redeemed anyways and customer service was lackluster.
In April 2020, we took another look with US use in mind.
We are also not impressed with the limited user interface of the control panel, lacking even basic options like changing the name of your Wi-Fi network and password (which is printed on the device). More on the Solis in the member section below.
Video overview of the Smartspot:
News Stories:
---
Potential Alternatives to Consider:
Some of our TOP PICK Cellular Data Plans to also consider:
Learn More About Selecting Cellular Data Plans Explore Our Comparative Pricing Grid
---
Table of Contents for Member-Only Content
This Review Contains Additional Member Exclusive Content!
We are Honored to be Member Funded!
No ads, no sponsors, no selling (but may contain affiliate links)
Our members fund our in-depth independent reviews.
This entry may contain additional member exclusive content such as testing notes, field testing data, user interface tours, comparisons to alternatives, analysis, tips, videos and discounts.
Members also get interactive guidance, alerts, classroom and more.
Purchasing Options
Links Provided for Convenience
We do not sell any gear or equipment. These links are provided to make your shopping easier, and we do not endorse any specific vendor. Unless otherwise disclosed, only Amazon links are affiliate links (see our disclaimer).
To remain unbiased as possible, our primary source of funding comes from our premium members, and we have negotiated higher discounts from some vendors instead of accepting affiliate relationships.
Finding the right plans for your needs is no easy task - quite simply mobile travelers using cellular data as their primary way online is not how most carriers have designed their plans. Many of us want plans that provide copious amounts of data.
Understanding the different plan terms (like network management, throttling, hotspot data, video resolution) is key to determining if a plan will meet your needs or not. You also need plans that are suitable for use in the device you want to use them in - such as smartphone, mobile hotspot device or cellular embedded router.
To learn more about shopping for dataplans, check out these key guides:
Here's a video going over the 'limits' on so-called 'unlimited' data plans:
But a data plan alone will not keep you online. For more education on assembling a cellular centric mobile internet setup, head on over to our collection of guides to help with selecting gear and your signal enhancing strategy: