Potential Current Option: This version of the Pepwave Surf SOHO sold out essentially everywhere online.
This entry in our review center is for the old version - for a review of the third generation Surf SOHO, click here.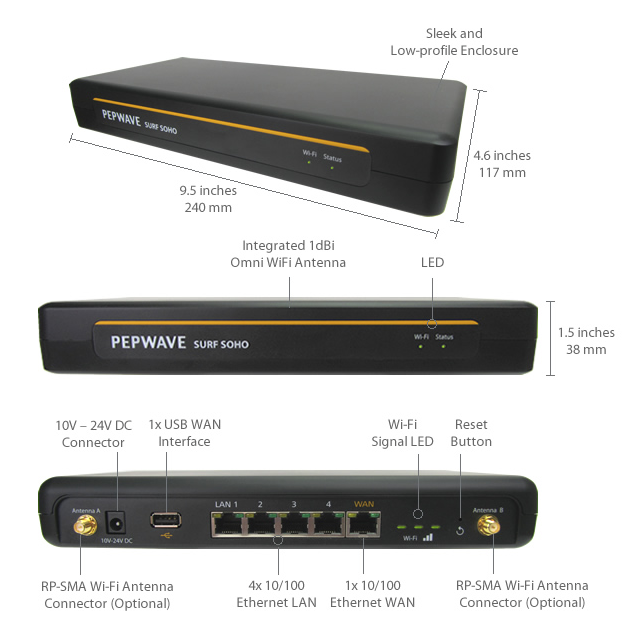 Peplink is a large and well respected company in the mobile networking space - primarily focused on high end applications covering everything from providing cellular connectivity to fleets of vehicles to enabling whole-building network installations for hotels and offices.
But Peplink has not forgotten about individual consumers, and some of the lower end offerings in the product line are very well suited to the RV market.
In particular, the Pepwave Surf SOHO (Small Office / Home Office) is very well suited to be the hub of an RV's network.
The Surf SOHO is a WiFi-as-WAN capable router with four downstream ethernet ports, an ethernet WAN port, and great support for tethering cellular modems and hotspots over USB.
Peplink has recently announced a list of their products that will no longer be receiving any major firmware updates after 8.3, including this model. While you may still find this product/model for sale, it's important to note that they will no longer be receiving these updates. The last firmware update will be 8.3. You may want to consider a more recent model.
Specifications - Pepwave Surf SOHO (Rev 2, Early 2015)
Wi-Fi Router:

Yes - Selectable Dual Band (Only One Band Active)

2.4GHz Wi-Fi:

802.11 b/g/n - 300Mbps Max (2x2 MIMO)

5GHz Wi-Fi

: 802.11 a/n - 300Mbps Max (2x2 MIMO)

Wi-Fi Antenna:

Internal, or External via 2x RP-SMA/Female Antenna Port

Wi-Fi as WAN:

Yes

Guest Wi-Fi Network:

Yes

Cellular Tethering via USB:

Yes - Most USB modems & hotspots supported.

Integrated Cellular Modem:

No

Ethernet Ports:

4x 1,000Mbps Gigabit Ethernet LAN, 1x Gigabit WAN

Special Features:

Data Usage Tracking, Auto Faillover

Power Source:

10V - 24V DC Input, 110V AC Adapter Included

Dimensions:

9.5" x 4.6" x 1.5"

Outdoor Rated:

No

Retail Price:

$179
Other Models & Variations
The original version of the Surf SOHO was essentially identical to this one, with the only significant difference being that it had 100Mbps fast ethernet ports rather than 1,000Mbps gigabit ethernet ports, which were added in a quiet product refresh in early 2015.
A new third version of the Pepwave Surf SOHO is due "Fall 2016", and will feature a major upgrade to 802.11ac and simultaneous dual-band Wi-Fi. This new version is featured in our review center here.
---
Review & Testing Status
We have had the Pepwave Surf SOHO as part of our testing arsenal for years, and have found it to be a solid performer.
We share some more detailed analysis and hands-on thoughts with our members below, as well as in our testing lab articles:
---
For other popular mobile routers on the market we are tracking - here are our featured options:
---
This Review Contains Additional Member Exclusive Content!
We are Honored to be Member Funded!
No ads, no sponsors, no selling (but may contain affiliate links)
Our members fund our in-depth independent reviews.
This entry may contain additional member exclusive content such as testing notes, field testing data, user interface tours, comparisons to alternatives, analysis, tips, videos and discounts.
Members also get interactive guidance, alerts, classroom and more. 
Purchasing Options
NOTE: This older version of the Surf SOHO is very hard to find.
For our deep look at and full review of the new third generation Surf SOHO, click here.
Related News Center Articles
Routers can serve as a central conductor of your local area network in your RV and boat. Mobile routers are different from residential routers in that they typically support multiple internet sources like cellular and Wi-Fi, can be powered off of 12v or AC and support external antenna for better receiving signal. 
But you might not need a router in your setup. Here's a quick video overview the variety that routers come in:
For more on learning about mobile routers and how they might fit in your setup, follow up with our educational resources: