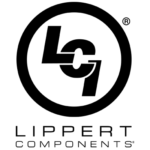 Lippert Components Smart RV system is called OneControl RV and comes in two flavors:
"Wireless" - the basic system with no built-in connectivity, instead it pairs to an iOS device to allow control of the RV systems from in or near the RV.
The ConnectAnywhere system is powered by a cellular gateway module that allows the sharing of a user-provided AT&T connection - you just need to provide an activated SIM card and data plan. The gateway only supports LTE Bands 2, 4 and 12/17, plus 3G bands 2, 4 and 5. The gateway is certified for use with AT&T but could be used with a T-Mobile data plans as well.
The ConnectAnywhere system also provides voice control via Amazon's Alexa.
Beginning in 2019, some higher-end Grand Design, Heartland and Forrest River RVs have the system either installed or prewired. Based on Lippert's track record, we expect other RV manufacturers will begin to offer this pre-wiring too.
To keep up the latest OneControl developments (and for a list of compatible RV models), check Lippert's web portal.
---
Hardware Specifications
Supported Cellular Carriers: AT&T or T-Mobile
# of Connected Devices: Not yet known
Network Bands Supported:
LTE Bands: 2, 4, 12/17
3G: Bands 2, 4, 5
LTE-Advanced Carrier Aggregation: Not yet known
LTE Performance Category: Not yet known
Integrated Cellular Antenna: 2x 4G LTE antennas
Wi-Fi Technology / Frequencies: 2.4GHz
SIM Card Type: Standard (includes an adapter for other sizes)
Retail Price: $557.95 for the cellular gateway kit only. Installation and wiring will be extra.
---
Cellular Plan Options
The system is designed to use AT&T's RV Dataconnect Packages. They also support data plans from Rogers in Canada.
---
Review & Testing Status
We do not intend to purchase a new RV to test this system.
This Review Contains Additional Member Exclusive Content!
We are Honored to be Member Funded!
No ads, no sponsors, no selling (but may contain affiliate links)
Our members fund our in-depth independent reviews.
This entry may contain additional member exclusive content such as testing notes, field testing data, user interface tours, comparisons to alternatives, analysis, tips, videos and discounts.
Members also get interactive guidance, alerts, classroom and more.
---
Purchasing Options
Only available on select new RV's. See the Lippert Website for a list of models.
Owners of prewired models can purchase an upgrade kit for $557.95