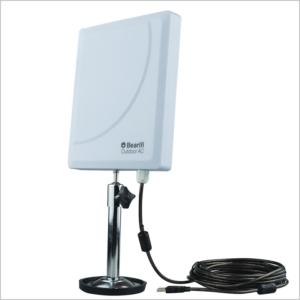 BeariFi, formerly known as BearExtender, offers a line of long-range Wi-Fi extenders & repeaters suitable for indoor or outdoor use. They have gear specifically for repeating 2.4GHz or newer AC gear for dual-band.
Most of their gear are adapters that plug into a PC or Mac (or a router), and some antennas include integrated radios for maximum Wi-Fi boosting.
Some of their gear is suitable for outdoor installation on RVs and boats.
Pricing ranges from $25-$70 for most of their Wi-Fi extending gear.
---
Specifications
Base Technology:
Wi-Fi Router:
Integrated Cellular Modem:
Ethernet Ports: No
Special Features: IP65 Certified water and dust enclosure
Power Source: Plugs into any USB 2.0 port
Dimensions: 7.5 x 4 inches
Outdoor Rated: Yes
Mounting: Tripod mount, velcro strap, or adjustable metal pole mounting band
Retail Price: $60
---
News, Videos, & Status
We do not intend to test this product line.
---
Potential Alternatives to Consider:
For other featured Long Range Wi-Fi extending gear on the market we are tracking - here are our featured options:
Learn More About Wi-Fi Extending Gear
---
Purchasing Options
Amazon: Outdoor AC | Outdoor RV & Marine | Indoor