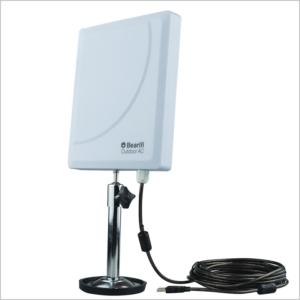 BeariFi, formerly known as BearExtender, offers a line of long-range Wi-Fi extenders & repeaters suitable for indoor or outdoor use. They have gear specifically for repeating 2.4GHz or newer AC gear for dual-band.
Most of their gear are adapters that plug into a PC or Mac (or a router), and some antennas include integrated radios for maximum Wi-Fi boosting.
Some of their gear is suitable for outdoor installation on RVs and boats.
Pricing ranges from $25-$70 for most of their Wi-Fi extending gear.
---
Specifications
Base Technology:
Wi-Fi Router:
Integrated Cellular Modem:
Ethernet Ports: No
Special Features: IP65 Certified water and dust enclosure
Power Source: Plugs into any USB 2.0 port
Dimensions: 7.5 x 4 inches
Outdoor Rated: Yes
Mounting: Tripod mount, velcro strap, or adjustable metal pole mounting band
Retail Price: $60
---
Review & Testing Status
We do not intend to test this product line.
---
Potential Alternatives to Consider:
For other featured Long Range Wi-Fi extending gear on the market we are tracking - here are our featured options:
Learn More About Wi-Fi Extending Gear
---
This Review Contains Additional Member Exclusive Content

We are honored to be able to present the above overview for free without 3rd party advertising or sponsorships. We are not paid by the manufacturer of this product to provide this listing or review, and nor are we selling this equipment or plan (purchasing links are provided below as a courtesy and some may be affiliates).
Our members have funded this resource center and any extensive hands on time
we have spent with the product to review it.
The in-depth portions of this review are made available to them which might contain: hands on testing notes, field testing data, user interface tour, product analysis, comparison to alternatives, setup tips, video tutorial, insider tips, vendor discounts and fellow member experiences.
If you're a member, please log in to continue with this review.
If you're not a member.. please consider joining us!
Purchasing Options
Amazon: Outdoor AC | Outdoor RV & Marine | Indoor
The guides below have been hand-picked to help further your education about selecting Wi-Fi extending gear - and even if this option makes sense for you.