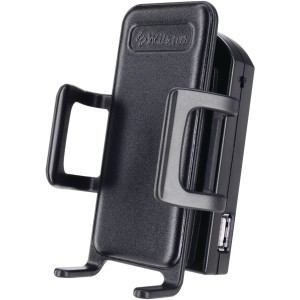 When Wilson Electronics rebranded as weBoost in 2015, they took the existing Sleek 4G cradle-style signal booster, changed the plastic casing a bit, and re-released it as the weBoost Drive 4G-S - retiring the "Sleek" brand in the process.
But now "Sleek" is back in the weBoost product line - with today's newly announced weBoost Drive Sleek.
And this isn't just a new plastic shell - but an entirely new booster design.
But is it something to get excited about?
What Is A Cradle Booster?
A "cradle style" booster supports boosting the cellular signal for just one single device (held in the cradle) at a time - unlike full-size boosters that can provide both a more substantial signal boost, a wider indoor coverage area, and support for multiple devices being boosted at once.
This is what sets the Drive Sleek apart from its bigger brothers - the weBoost Drive 4G-M, and our reigning top pick - the Drive 4G-X.
But for many people, a full size mobile booster is overkill - particularly considering that a complete booster and antenna setup can cost as much as $500, versus under $200 for a cradle booster.
And for some other mobile users - a small cradle booster in the tow vehicle becomes an on-the-go compliment to a full-size booster in the RV.
It is all about trade offs, and picking the gear that fits your particular needs.
A Sleek New Booster Design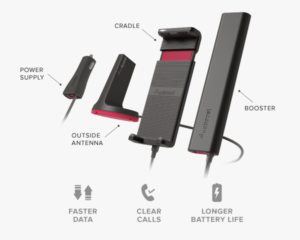 The old weBoost cradle boosters integrated the boosting electronics into the indoor antenna cradle - making for a simpler overall package, but it had a major downside - heat!
The old Sleek / Drive 4G-S was notorious for getting roasting hot enough to even prematurely age the batteries in devices left in the boosting cradle 24/7.
The new Drive Sleek design does away with the integrated booster / cradle antenna design - and now the boosting electronics are in a separate small box designed to tuck away under a seat.
This should keep the hot parts of the booster well away from your sensitive gadgets.
New Indoor Cradle Antenna
The indoor cradle is a completely new design, with spring-loaded jaws to easily grip and release almost any sized phone. The back of the cradle is magnetic, and it can grab onto the included vent clip which is designed to mount in most cars, or onto a range of other vehicle magnetic mounts.
You can also just keep the phone / cradle in a cup-holder - though weBoost warns that you should never hold a phone against your head while the booster is attached.
Hotspot Note: Though the jaws of the Drive Sleek can grip even large phones, we are concerned that it may not be well suited to grabbing many mobile hotspots- such as Jetpacks, MiFis and Mobleys. If this is your primary purpose for this booster, be sure to check for a good fit.
New Magnetic Roof Antenna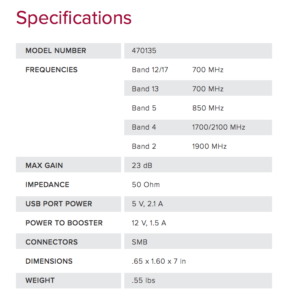 The outdoor antenna is a completely new design too - and it is a much "sleeker" looking design than the classic weBoost "Stubby" it is replacing.
But just like the stubby - the antenna DOES require a metal ground plane both for grip and best performance.
If you have a fiberglass roof, you will need to make sure to install a metal plate the antenna can grip to.
For both of the antennas included with the Drive Sleek, weBoost is using SMB antenna connectors - a connector style that we have not seen used with cellular boosters before.
This means that there is no (easy) way to use alternative antennas with the Drive Sleek.
Eventually there may be other antenna options or cable adapters available, but for now if alternative antennas matter to you the Drive Sleek is a poor choice.
The New Sleek: Worth A Look?
On paper - the new sleek has the same basic specifications as the older design, with the same cellular bands supported, and the same 23dB maximum system gain.
The complete package has a list price of $199, a small increase over the $179 list price of the old Drive 4G-S.
But under the hood - the overall design has changed a lot, and we are eager to get some hands-on time to see how this new design performs against the older design and the 4G-X (results will be shared in our Testing Lab with our premium members).
For those looking for a basic affordable booster, this new design is definitely worth a closer look.
We have received our review unit from weBoost, here is our Unboxing & First Impressions video:

Further Reading: