Wilson Electronics and its iconic blue boosters have been the default go-to cellular booster choice for RVers for years. We've actually heard "Wilson" used synonymously with "booster" a few times, the brand name has become so closely associated with cellular boosting.
So of course, Wilson Electronics has announced that they are going to rebrand and rename the company:
"Today, our smartphones and tablets are vital for staying connected to what's important to us – family, friends and work," said Bob Van Buskirk, president and CEO of weBoost. "At weBoost, our consumer and commercial products and technology provide seamless connectivity to benefit our customers' personal and professional lives."

The company will market its consumer product lines under the weBoost brand starting February 2nd.

"Rebranding is a major milestone in weBoost's transformational growth," Van Buskirk said.

The new brand name reflects the essential role and business purpose of the Wilson Electronics signal booster products and carries forward, through the inclusion of "we," both the legacy of many years of industry leadership by Wilson Electronics and a stronger connection with consumers through the implicit and shared meaning of "we." weBoost will be known as the brand with signal booster product solutions that underpin the value we bring to our global customers as reflected in the statement that "we boost connections."
Wilson is ditching the blue too - re-naming and re-releasing all of its current products with new black casing, but initially otherwise identical suggested pricing and specs. Alternative Wireless has put up a nice visual before and after guide showing the changes coming to the full Wilson product line: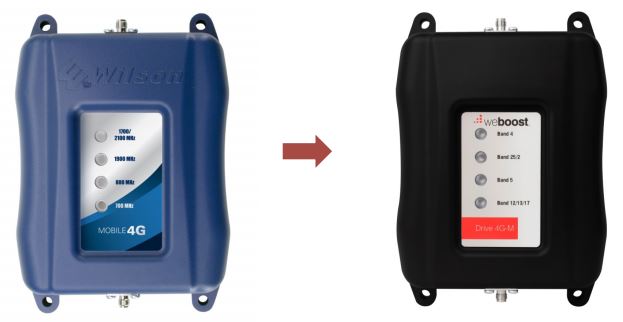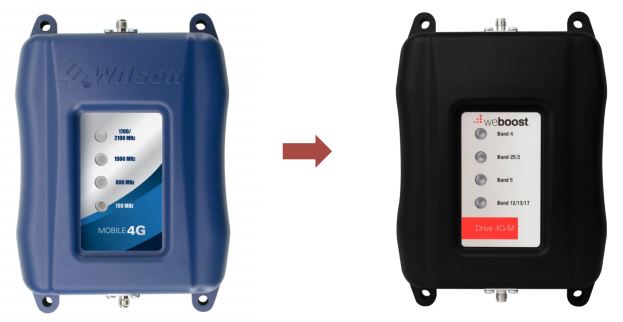 The new weBoost.com website is going live in 20 days, and products begin shipping in February.
In addition to the changed branding on existing boosters, there may be new products coming soon too. I notice that 3G Store has a teaser page for a "weBoost Drive 4G-X" with no technical specs or details listed, which seems to be different than the "weBoost Drive 4G-M" that replaces our current favorite Wilson Mobile 4G (full review - member only).
We have reached out to Wilson for more details - and will report as soon as we learn more.
UPDATE: Wilson support says that the 4G-X remains an un-announced product, and they have no details to share. 3G Store however told me this when I asked about the listing:
"the 4G-X full specs have not been made available yet, but it will have better output power so you can be further from the cell tower and still benefit - since the 4G-M is supposed to be available sometime next month and no more info is available on the -X yet, I'd guess the -X is several months out."
Speaking of the older Wilson Mobile 4G - now may be a good time to buy. Powerful Signal and Amazon both have great offerings right now as they presumably begin to clear out inventory before the newly branded products ship.
Related:
Comparison of Wilson's Cellular Boosters - Sleek vs Mobile 4G vs DT