Key Points:
New Shared Data Plans still offer small data buckets - now 5GB or 10GB only
Older plans are grandfathered if you wish to keep them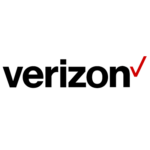 Verizon has updated their tiered data plans, where data can be shared amongst multiple devices - creatively named 'Shared Data Plans'.
It's important to note that these are 'old school' shared data plans, which means all devices on the plan share the same bucket of data. Unlike more modern-day plans where each device has its own individual set of allowances.
Video Version
Subscribe to our YouTube Channel
New Shared Data Plans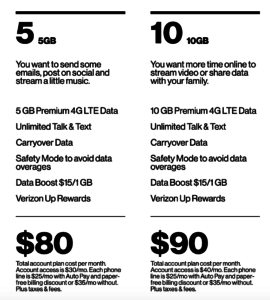 Verizon has slimmed down their tiered data offerings - a trend that we've noted with each new Verizon Shared Plan iteration since Verizon reintroduced Unlimited Plans back in February 2017.
As of June 29th, 2020, Verizon Postpaid now offers only two-tiered data phone plan options:
5GB for $55 (with autopay, $65 without)
10GB for $65 (with autopay $75 without)
Pricing does not include additional taxes and fees.
Each additional phone line on these plans tacks on $25 line access fee with autopay ($35/line without). Up to 10 phones can be added to a single shared data plan. The monthly line fee for smartwatches, tablets, Jetpacks, or routers is $10. Up to 20 connected devices can be added to a single shared data plan.
Streaming on these plans is at 720p HD, not that you'd want to use these plans for much video streaming.
Verizon's tiered data plans include the ability to turn on 'Safety Mode' to eliminate the risk of surprise overage charges for using too much data. With Safety Mode enabled, data is slowed down for the remainder of the month to 2G-speed (128 kbps) once the high-speed data is used up. If you do need more fast data, you can manually purchase a "Data Boost" for $15/GB as needed.
All data on these plans may be used via hotspot or for on device usage - it's all counted the same. These new plans offer carry-over of all data so you can tap into unused data the next month. And they also include Pop Data, which are 30 minute unlimited sessions for $2, which is a flexible way to manage variable high data needs.
Canada/Mexico or International use is not included with these plans, but is available with by buying a TravelPass for $5/day.
These plans are eligible for military, nurse, teacher, or first responder discounts as well as employer discounts.
Former Plans - S,M,L, 5GB Single Line
Previously, Verizon offered:
Small - 2GB - $35
Medium - 4GB - $50
Large - 8GB - $70
5GB "One Phone Plan"- 5GB - $40
These plans charged the first device added a $20 line access fee, with lines after 2 charged a $10 line access fee.
These plans are now retired, but those on them are able to maintain the plan so long as the account remains in good standing. Those who have even older XL and XXL plans with higher data buckets also remain grandfathered in on these options that retired years ago.
Quick Analysis
Verizon's Shared Data Plans offer pretty limited buckets of data for today's internet-connected world. A big perk of postpaid Shared Data Plans is the historical incidence of 'bonus data' offers, which are typically targeted to specific customers based on loyalty or the whims of a customer service representative.
We really consider these small bucket of data plans to be useful as a phone plan - or if you fairly regularly have low data needs. They can provide a short-term 'back up option' in pinch, especially with their non-restrained mobile hotspot use feature. However their postpaid unlimited smartphone plans start at just $70/month as well, which are worth comparing for your needs. And Verizon also offers attractive prepaid phone plans.
These plans are eligible for employer discounts, which are not currently applicable on other options, a reason that some folks choose to keep their pocket caller (phone) plan on these smaller data buckets.
If, however, you are seeking a mobile data source as a home internet replacement or even viable back-up source, you will likely want to look elsewhere.
Related News Stories

Related Guides: