Verizon today enabled a new feature accessible via the My Verizon app - the ability to purchase "PopData" sessions that at last provide a way to break free from your monthly data cap to score some truly unlimited data.
For up to an hour at a time, that is.
Verizon describes PopData this way:
"Introducing PopData. Now you can stream like there's no tomorrow.
Well, there is a tomorrow. But at least you'll have the gigs for it. Get 30- or 60-minute all-you-can-use 4G LTE data sessions when you want to go big without using up all your data—only with the My Verizon app."
Is this a great new feature, or a silly gimmick meant to distract from Verizon's lack of real unlimited data offerings?
The truth is somewhere in between.
Unlimited Data: $2,160/month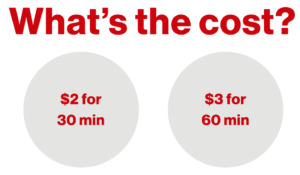 PopData sessions cost $2 for 30 minutes, or $3 for an hour.
If you do the math - that works out to $72/day or $2,160/month for always-on unlimited data.
But because PopData sessions must be purchased on demand an hour at a time, PopData is actually no substitute for a true unlimited data plan.
But it can be a very useful tool in certain circumstance.
With sessions limited to an hour, despite Verizon's marketing - PopData is actually not very well suited to streaming. Particularly if you want to watch a movie or binge-watch several TV episodes, PopData will likely run out long before your show does.
But if you want to purchase an entire season of a TV series to download for offline viewing later - PopData is a great way to let you suck down dozens of gigs without blowing your monthly data budget.
And if you have major OS updates to handle, or large file transfers queued up - PopData is actually a great new tool to have in the arsenal to get it all done affordably at once.
Getting PopData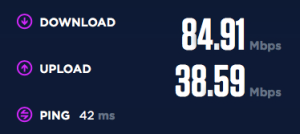 If you want to take advantage of a PopData session, first run a network speed test to make sure that the network will be fast enough to make it worthwhile.
Think about how much data you are hoping to transfer - 10Mbps download speeds will let you get 4.5GB in a hour, and a 50Mbps speed test means you can download closer to 22GB during your session.
At Verizon's usual $15/GB overage rate - that means that with PopData you might be scoring more than $300 worth of data for just $3!
If the network is fast enough for you - you can start a PopData session via the My Verizon app on Android, iPhone, or iPad. Follow these steps:
Tap Data Meter
Tap Get More Data
Tap PopData
From there, you should be able to purchase a session.
If a session is available, that is.
Verizon will only allow you to purchase a PopData session if you are on LTE, if you are in a compatible area (presumably not roaming onto a partner), and if the network is not already overloaded.
Verizon's FAQ describes it this way:
How does the network determine if a PopData session is available?
Before you can start a session, we'll analyze network activity, strength and expected capacity for the next 30 minutes at the location where you make the request.
Once the session is started, the timer starts ticking - so have all your transfers queued up and ready to go. You will get a notification when the session starts, when you have five minutes remaining, and when it ends.
At the end of your PopData session, the Verizon app may give you the option to purchase another one - but only if the network determines that another slot is available.
TIP: When a PopData session is active, ALL the lines sharing your Verizon data plan benefit from unlimited data - including hotspots and tablets! And the Personal Hotspot and tethering features on your phone or tablet benefits from the PopData session too, so you can get all your devices online for an hour of unlimited glory.
PopData: It Makes Some Sense
If you are craving unlimited data on Verizon, and you are not willing to jump through the hoops to get a grandfathered truly unlimited plan, taking advantage of PopData a few times a month can make a lot of sense.
It may seem like a silly gimmick - but if you are willing to batch up your big file transfers to best take advantage of it, PopData is actually pretty smart.
Further Reading: