Key Points:
The TCL Linkzone 5G UW is Verizon's newest 5G hotspot and features the Qualcomm X62 cellular modem.
The TCL Linkzone 5G UW supports all Verizon LTE and 5G cellular bands, including C-Band and millimeter wave frequencies.
The new hotspot also includes an Ethernet port providing a flexible LAN connection option.
The TCL Linkzone 5G UW does not have antenna ports, limiting its signal-enhancing options.
Verizon released a new 5G mobile hotspot device, the Linkzone 5G UW, by TCL. With the introduction of this hotspot, Verizon now offers four different 5G mobile hotspots for sale. The other models currently available are the Inseego MiFi X PRO 5G UW, the Inseego MiFi M2100 5G UW, and the Orbic Speed 5G UW.
This new hotspot by TCL offers similar features to the other 5G hotspots, so what is different about this one, and which one is best?
Linkzone 5G UW First Look Video
TCL Linkzone 5G UW Specifications
The cellular modem is the first consideration for any mobile hotspot device since it is the core component of any cellular data device and is critical to real-world data performance.
The modem in the TCL hotspot is the Qualcomm Snapdragon X62 - a modern and good-performing modem that is found in many flagship-level devices in 2022. The X62 is a "5G Phase 2" modem, which means it supports features and technologies that make it more future-proof than older designs like the X55.
Here are the cellular bands the MiFi supports:
Sub-6GHz 5G: n2, n5, n46, n48, n66, n77, n78
mmWave 5G: n260, n261, & n257(roaming)
4G/LTE (Cat-19): 1, 2, 3, 4, 5, 7, 12, 13, 20, 28, 46, 48, 66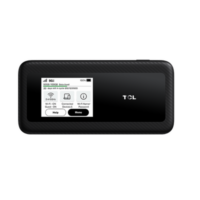 This includes all the native and major roaming bands Verizon uses, including Verizon's newest mid-band n77 spectrum.
Like most carrier-specific mobile hotspots, however, the TCL is optimized for Verizon's network and would not be a good choice to use on AT&T or T-Mobile.
Ethernet and USB Wired Connectivity
Ethernet ports are quickly becoming a common feature on 5G mobile hotspot devices, which we applaud, and the Linkzone 5G includes a gigabit Ethernet port. The Ethernet port allows much more flexibility for connecting to the hotspot, allowing it to be a WAN input for almost any router or as a direct connection to a PC or laptop.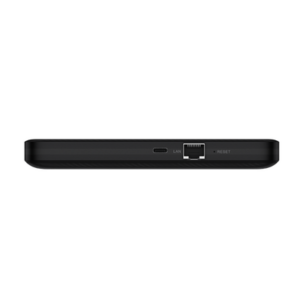 Additionally, like almost every mobile hotspot device, the Linkzone 5G UW also supports USB tethering. The USB-C 3.0 port provides a data connection as well as power.
Wi-Fi 6
The Linkzone, unsurprisingly, supports Wi-Fi 6 (802.11ax), which is the current standard for Wi-Fi support in 2022. It supports both 2.4GHz and 5GHz frequencies with a guest network for both. The Linkzone can support up to 32 Wi-Fi clients.
Battery and Charging Options
The TCL Linkzone has a 4500mAh removable battery with a claimed usage time of up to 8 hours and a standby time of 18 days.
TCL offers an optional (sold separately) On-The-Go reverse charging cable that allows the mobile hotspot to charge other mobile devices.
No Antenna Ports
The Linkzone 5G UW, like most modern 5G mobile hotspot devices, does not include external cellular antenna ports. For our audience of RVers, boaters, and nomads, antenna ports are a valuable feature that allows for the easy connection of a cellular antenna in areas with a weak signal.
Verizon 5G Hotspot Comparison
It's very unusual for a carrier to sell four flagship-level mobile hotspot devices at the same time. We suspect that some of the older models, especially the Inseego M2100, will likely be dropped.
The M2100 and Orbic Speed 5G UW both use older, previous-generation cellular modems, the Qualcomm X55. While this is a capable modem, it is not as future-proof as the X65 modem in the Inseego M3100 and the X62 in the TCL Linkzone 5G. Given there is no difference in price, it doesn't make much sense to purchase one of the X55 models if you are looking for a Verizon mobile hotspot device.
Here is a quick comparison of the currently-available models:
Getting the TCL Linkzone 5G UW
This new hotspot is currently only available directly from Verizon for $299.99 for either consumer or business customers. The part number or SKU# is TCL-MW513U on Verizon's website.
Member Exclusives Below:
 Bonus Member Only Content Available!
We go extra for our premium members - who make this resource center possible (did you notice the lack of 3rd Party advertising?). We have included some additional information in this news article just for our members - analysis, guidance and/or insider tips.
If you're not yet a member, please consider joining us. Extra content like this is one of the many perks we offer - in-depth content, guidance, discounts, alerts, classroom and more.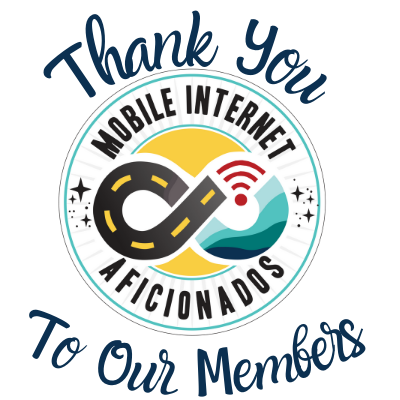 If you are already a member, please log in above to see the special content we have prepared for you.
Further Reading
Related News: