Key Points:
SpaceX has filed with the FCC seeking a blanket license to allow Starlink to be deployed on vehicles, boats, and aircraft - in the United States and in international waters.
Elon Musk says the R-word for the first time, tweeting: "This is for aircraft, ships, large trucks & RVs."
Starlink mobility is certainly (eventually!) coming - but it is not certain that the current generation of hardware and the $99/mo residential service plan will fully support taking Starlink on the road, or water.
Actual mobile-friendly Starlink service may still be a year (or more!) away.
SpaceX over the weekend filed with the FCC seeking permission to deploy Starlink service onto vehicles, boats, and aircraft - generating a huge new wave of excitement with nomads dreaming of fast internet service that works just about everywhere.
This bit of FCC paperwork is actually not unexpected - SpaceX announced in the Starlink press briefing we covered way back in May 2019 that the Starlink system was being designed to support mobility from the start, and they have confirmed (and we have reported) this detail multiple times since.
All that has happened this weekend is that SpaceX has finally filed the paperwork with the FCC asking permission to actually legally support mobile installations.
It is somewhat surprising that it has taken SpaceX this long to file this license request - since satellite industry analysts expect that it might take anywhere between several months and several years for this sort of request to be approved.
There are also likely to be a lot of competing companies who will be filing formal technical objections that SpaceX will have to reply to before the FCC can even consider ruling.
So this is just the start of what might prove to be a very long process to get mobility approved.
But it is indeed great news to once again have confirmation that SpaceX does intend to support mobile installations on boats and vehicles (especially RVs!), at least at some point in the future.
But keep in mind before ordering Starlink now and dreaming of taking it mobile - this is no guarantee that the currently available hardware and data plans will actually support this eventual mobile usage!
Video Story
Subscribe to our YouTube Channel
Starlink's Current Mobility Limitations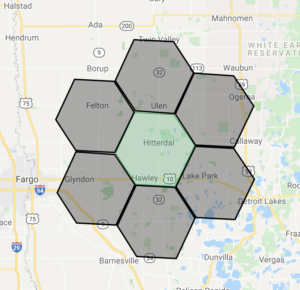 There has been a lot of confusion around whether or not Starlink's current rural residential service is "geolocked" or "geofenced" so that Starlink will only work at your registered home service address.
But SpaceX has been very upfront in the Starlink FAQ saying explicitly that there is NO "arbitrary geofencing".
It is a lot more complicated than that.
SpaceX goes on to explain:
Starlink satellites are scheduled to send internet down to all users within a designated area on the ground. This designated area is referred to as a cell.
Your Starlink is assigned to a single cell. If you move your Starlink outside of its assigned cell, a satellite will not be scheduled to serve your Starlink and you will not receive internet. This is constrained by geometry and is not arbitrary geofencing.
What this means is that Starlink is indeed NOT tied to your home service address.
Rather - every Starlink receiver is assigned to a single cell, based upon the location of the customer's home service address.
This means that you can travel and use Starlink anywhere inside your assigned cell - and there are many reports of people getting online successfully with Starlink 5, 10, or even 20 miles away from their service addresses.
But based on a lot of other online reports - Starlink will not work well (or for long) once you travel outside of your assigned cell. Performance drops as you travel beyond the boundaries, and eventually the receiver will no longer be able to connect at all.
SpaceX does not reveal the exact size or boundaries of the Starlink cells, but it is known that at least some cells are as little as 15 miles across. It is possible that cells in other parts of the country may be larger, or smaller, or in flux as the network is evolving.
Dividing the country into cells allows for SpaceX to limit the number of Starlink customers in a given area, managing capacity and avoiding congestion.
But it also dashes the dreams of many nomads who want to take Starlink on the road with them.
Moving Starlink: Relocating Service vs True Mobility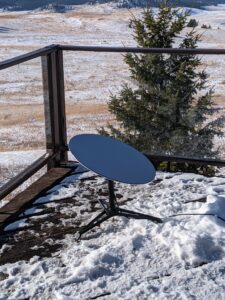 It is however possible to move Starlink service to a new cell.
Right now - to do so requires contacting Starlink customer service via email to give them your new service address. Then, after a several day wait, SpaceX will respond and reassign your receiver to the cell that covers that new address - assuming that there is coverage and available capacity in that location.
Waiting a few days to get connected after requesting a move might work fine for moving Starlink seasonally or permanently - but it is definitely NOT nomad friendly.
Starlink support has let some customers know that they are working on a self-serve address change portal so that changing your service address to a different location (as long as it has coverage and capacity available) can be done quickly and easily, without waiting days for a response to an email.
Once this feature is live, Starlink will be a lot more nomad friendly.
And maybe at some point in time - the entire process might be able to become fully automatic.
It is likely technically possible that the Starlink receiver could even negotiate a new cell assignment with the satellite automatically when it is first powered on.
For many RVers, this sort of portability will be sufficient enough - most don't need "always on" connectivity while driving, they just want to be able to get online once they are settled in to their next location.
For this type of mobility - Starlink may be suitable for land-based nomads later this year once coverage finishes rolling out over America.
True mobility that works automatically wherever you go, and even while in motion, is a LOT more complicated.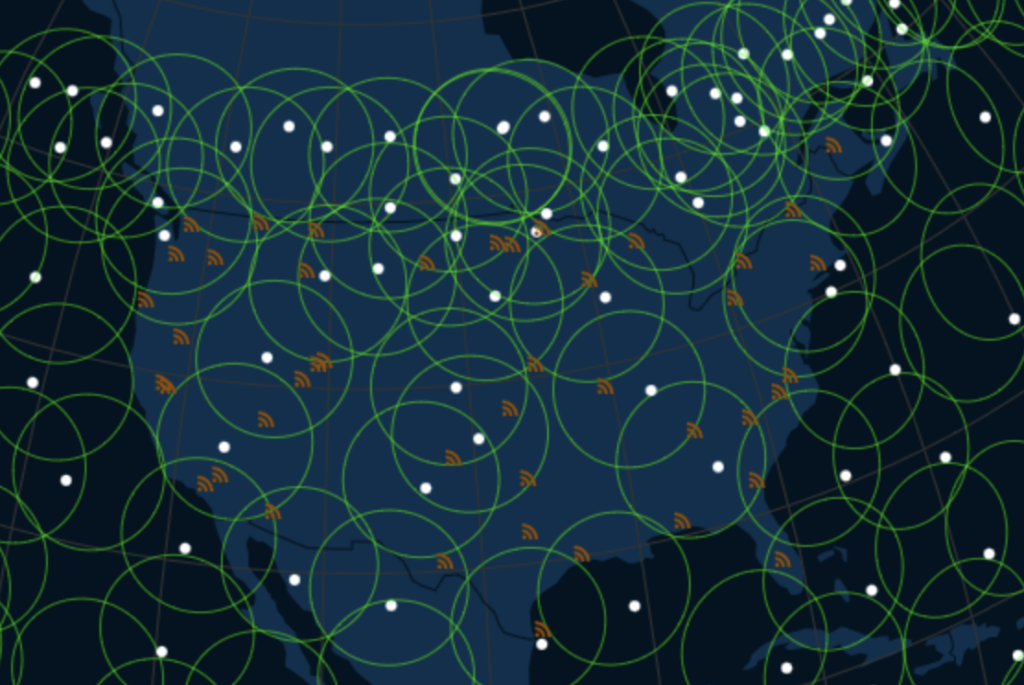 Mobility on Land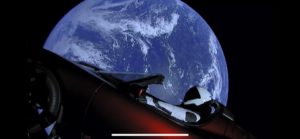 A lot of SpaceX fans have been dreaming of future Teslas that integrate Starlink - allowing for streaming Netflix or multiplayer gaming while cruising hands-free cross country on autopilot.
Elon Musk dashed those dreams Monday evening, tweeting out to correct an article about the FCC filing that assumed Starlink would naturally be coming to Teslas:
"Not connecting Tesla cars to Starlink, as our terminal is much too big. This is for aircraft, ships, large trucks & RVs."
And indeed - it is hard to imagine where a large 23 inch diameter "Dishy McFlatface" antenna that needs to be kept pointed north would ever fit onto a sleek Tesla sedan.
But on top of an RV or truck - it is easy to imagine space for a Starlink receiver to be mounted, potentially inside a conventional looking dome to protect it from the wind.
The same basic robotic systems that support in-motion satellite TV reception should be able to easily keep Starlink aimed, allowing for near constant connectivity across much of the country.
Assuming there aren't any obstructions in the way, that is...
Beware of Trees, Tall Buildings & Terrain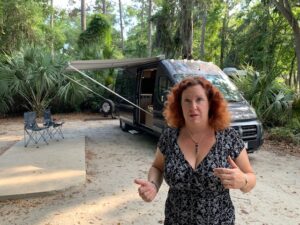 The one big catch though with Starlink mounted on the roof of an RV is getting a clear enough view of the sky for uninterrupted connectivity.
Starlink currently needs a massively clear view of the northern sky (in North America) to get connected. If there are trees, buildings, or any other obstructions (no matter how minor) - the connection will drop while the satellite passes behind.
These brief drops may not be a big deal for some types of usage, but for those who spend their days living the Zoom life even a brief disconnect could be disastrous.
Eventually Starlink systems may track multiple satellites at once through the sky, allowing for some redundancy to recover from brief drops.
But if you are camped anywhere that is "shady" or has obstructions to the sky - Starlink might prove to be fundamentally lacking when compared to terrestrial cellular.
Mobility on Water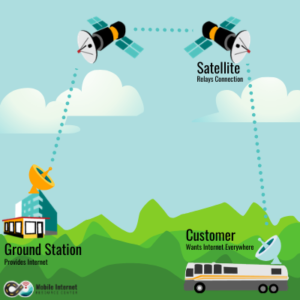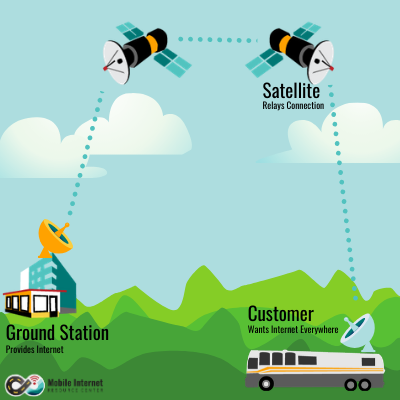 Trees and other obstructions (other than your own mast) tend to be a rarity on the water - making Starlink a natural fit for installation on boats.
And most typical coastal cruising grounds will be well within range of Starlink ground stations - likely allowing for coverage well offshore, further than cellular will ever be capable of.
But Starlink will still have some challenges keeping connected on ocean crossings, since the first generation of Starlink satellites will not have the ability to use lasers to relay connections between multiple satellites to reach a ground station.
This means that if there is no ground station within range - even if a Starlink satellite is passing overhead, there will be no connection.
SpaceX has said that starting in 2022 all Starlink satellites should launch with laser interconnect capability - but it will take time for enough of the next generation Starlink satellites to get deployed to make true trans-oceanic coverage a possibility.
Mobile Starlink Receivers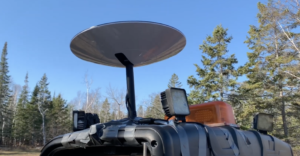 The Starlink FCC filing reveals that the antennas to be used for mobile Starlink installations will be the same size and electrically identical to the "Dishy McFlatface" antenna (yes- that is really what they call it!) used for the current fixed residential deployments.
But this does NOT mean that the current $499 Starlink systems will be supported for mobility.
Mobile Starlink hardware will likely have more complicated robotic aiming hardware to keep connected while in motion, and likely other enhancements to better handle the challenges of a marine or mobile environment.
But this does not mean that Starlink receivers will cost as much as the insanely expensive gyro-stabilized marine satellite broadband terminals that are currently on the market.
The Starlink phased array antenna does not need perfectly precise aim - so a cheaper robotic system focused on keeping the antenna roughly pointed in the right direction should be enough.
The SpaceX FCC filing says that it will ensure "qualified installers" are used for all mobile Starlink installations - yet more evidence that the self-installed residential Starlink system will not be offiically supported for mobility.
Overlooked Mobility Concern: Power Consumption
One thing to keep in mind when dreaming of taking Starlink on the go is the power the system will require.
The current first generation Starlink hardware burns between 90 and 110 watts of power while in use, a substantial amount to keep in mind for those who intend to rely on solar or battery power - particularly if you want a 24/7 connection.
This more than 10-20 times the power required for keeping connected over a cellular integrated router.
SpaceX has acknowledged this concern - and has said that lowering the power requirements is a key goal in future generations of the Starlink hardware and software.
Mobile Starlink Data Plans
SpaceX has said that it is aiming to bring its $99/mo residential broadband service worldwide - a price that is shockingly cheap in some markets, and overly expensive in others.
But this is the pricing for fixed residential service, which in many locations are actually supported by rural connectivity subsidies. SpaceX is also competing against local cable and DSL service, where there are already set pricing expectations.
With a fixed service address, Starlink has more control over capacity for a particular cell so that service doesn't get oversold.
Mobile consumers present a different challenge, they are moving between cells that may have varying capacity. To support mobility, Starlink will need to reserve some capacity on all cells for transient usage - and they may price the service accordingly.
It is likely that SpaceX might seek to price truly mobile service for RVs and boaters higher than $99/mo, perhaps substantially so.
Particularly when it comes to marine and global mobile satellite broadband, SpaceX will have very little competition - with incumbents needing to price data orders of magnitude higher than what SpaceX will be capable of.
Mobile Starlink - Reality Check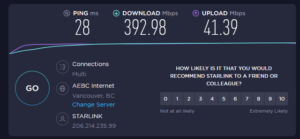 As exciting as Starlink is, RVers and cruisers should be hesitant to consider entirely ditching cellular for a Starlink-only connectivity solution.
Even Elon Musk has made it clear that Starlink is NOT appropriate in many places.
A recent quote from Elon spells it out:
"Important to note that cellular will always have the advantage in dense urban areas. Satellites are best for low to medium population density areas."
And even if your travels are primarily in remote areas - trees and terrain will always be a major issue.
But this doesn't mean that nomadic Starlink isn't worth getting excited over.
Starlink will likely become an absolutely amazing tool to have in mobile connectivity arsenals in the years ahead, and Starlink will actually be a great complement for an existing mobile cellular systems. You could even bond Starlink with cellular to have the ultimate in performance and redundancy.
Over time Starlink has the potential to be revolutionary for nomads - but just not yet.
So When Will Starlink Go Mobile?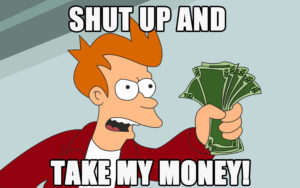 SpaceX has requested that the FCC move "expeditiously" to grant permission for Starlink mobile terminals to be released - but that is only a request, and there are likely going to be objections filed that the FCC and SpaceX will need to respond to before any approval is granted.
This is a process that some analysts think might drag out for months, or even years.
Once the FCC approves Starlink's mobile aspirations, we expect to learn a lot more about the hardware, plans, and pricing that will be required to take Starlink on the go.
SpaceX is moving at a tremendous pace rolling out an evolving Starlink, and it will be an absolutely thrilling next few years as all these moving pieces come together.
But for those primarily interested in Starlink for mobility - jumping in now to buy the first generation fixed residential service and hoping to take it on the go may just be a bit premature.
Just go in knowing that you might have an equipment upgrade in your future, as with most things technology.
For a deeper dive into the history and aspirations of Starlink, see our post (and video) from last June:
Satellite Internet Update: Starlink Is Exciting, But Reality Check Needed For RVers and Cruisers
And our major update from November 2020:
Starlink Update: SpaceX Talks Mobility, Data Caps, Geo-Locking, Space Lasers, and More…
And our look at the beta program as it stood last month:
Starlink Begins Global Pre-Orders for Satellite Internet Service – Beta Expands Again
Further Reading
And here is all of our recent satellite internet coverage: