Key Points:
SpaceX engineers took to Reddit over the weekend to answer questions about Starlink.
Currently Starlink service has no data caps, but it is locked to work only "near" the address that you sign up at.
The beta testing program is slated to expand substantially in late January to more customers over a much wider area.

Starlink's limited public beta has been generating an unprecedented amount of interest (our recent video with the beta program details has nearly 200k views!) - and as early testers have begun to share their experiences over the past few weeks the excitement generated by SpaceX's new satellite broadband constellation only continues to grow.
Over the weekend, Elon Musk tweeted out that some members of the Starlink engineering team would be hosting a Reddit "Ask Me Anything" (AMA) session for an hour on Saturday afternoon, and even before they started taking questions the thread had received over 2,700 comments and questions!
The team selected nearly two dozen questions to answer, and in the process revealed some interesting new details around the current Starlink beta testing, and what is coming next.
Here are the highlights...
Video Version
Subscribe to our YouTube Channel
Beta (And Coverage) Expanding In January
SpaceX has so far invited beta testers in Idaho, Maine, Michigan, Minnesota, Montana, North Dakota, Oregon, South Dakota, Washington, and Wisconsin - inviting a limited number of customers in each state with service addresses so far all located between 44.9°N to 51.1°N.
More recently - the beta has begun to roll out into southern Canada too.
This is a narrow slice of the globe where Starlink has the most extensive coverage so far.
But SpaceX has a lot more satellites that will be nearing their final orbits soon, and Elon Musk recently shared his expansion plans:
"As more satellites reach their target orbit, more planes come online. We should be at 36 planes with all faulty satellites replaced by spares by Jan. That will give us continuous coverage down to around 30 degrees.
By the end of next year, we hope to have full global coverage, including the poles."
The 30 degree latitude line is roughly the Florida / Georgia border - meaning that Florida, the Gulf Coast, and southern Texas will be out of 24/7 Starlink coverage until sometime later in 2021.
But as more satellites and ground stations come online, SpaceX shared this weekend that the beta will be expanding substantially early next year:
"Notably we're planning to move from a limited beta to a wider beta in late January, should give more users an opportunity to participate."
No Mobile Usage - Yet!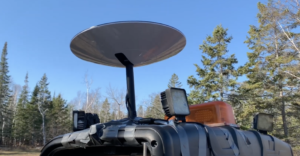 But just because the satellites have coverage, don't expect to be able to take a Starlink on the road (or water) just yet.
It seems that SpaceX is currently limiting customers to connecting only near the address that they initially signed up with.
"Right now, we can only deliver service at the address you sign up with on starlink.com
You might get lucky if you try to use Starlink in nearby locations, but service quality may be worse."
Starlink is likely assigning customers to spot beams targeting specific areas, and if you move a dish to an unauthorized location (even if there is coverage) the satellite network will just ignore it.
Mobile-friendly options are in the works - but will require software updates, and potentially new hardware too:
"Mobility options - including moving your Starlink to different service addresses (or places that don't even have addresses!) - is coming once we are able to increase our coverage by launching more satellites & rolling out new hardware and software."
We've had reports from beta testers who have experimented with moving and rocking a Starlink dish that the current Starlink setup will shut down when it detects motion (even the sort of gentle rocking a boat at anchor would experience) and that it requires a 3-5 minute reboot cycle to connect again after a motion-triggered shutdown.
No Data Caps - Yet!
SpaceX received many many questions asking about the potential for data caps on the Starlink service, and confirmed that there are at the moment NO usage limits at all.
For now.
But when pressed - SpaceX admitted that some limitations may eventually be necessary to prevent abuse:
"So we really don't want to implement restrictive data caps like people have encountered with satellite internet in the past. Right now we're still trying to figure a lot of stuff out--we might have to do something in the future to prevent abuse and just ensure that everyone else gets quality service."
No Space Lasers - Yet!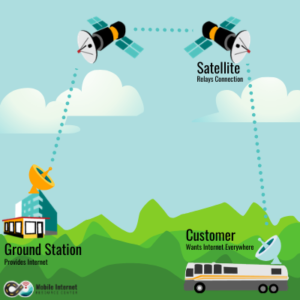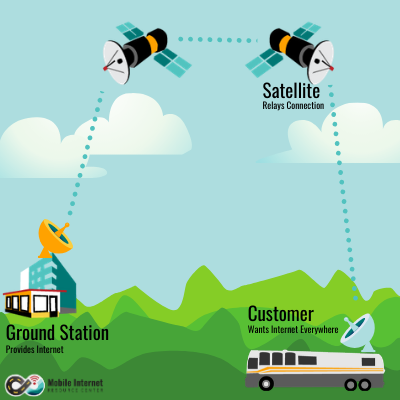 As we've reported on repeatedly, despite many early misconceptions - the current Starlink constellation does NOT support intra-satellite laser links - and the SpaceX engineers confirmed that so far only two satellites have been equipped with experimental laser links.
This means that (for now) all Starlink connections are bounced from the customer to a satellite overhead, and then down to a nearby ground station.
If there are no ground stations within range, there is no connectivity possible - even if a Starlink satellite is passing overhead.
"The speed of light is faster in vacuum than in fiber, so the space lasers have exciting potential for low latency links.
They will also allow us to serve users where the satellites can't see a terrestrial gateway antenna - for example, over the ocean and in regions badly connected by fiber.
We did have an exciting flight test earlier this year with prototype space lasers on two Starlink satellites that managed to transmit gigabytes of data. But bringing down the cost of the space lasers and producing a lot of them fast is a really hard problem that the team is still working on."
Space lasers are still planned to be a key part of Starlink's future - and indeed will be necessary for coverage in the most remote locations.
But trans-oceanic sailors shouldn't be getting too excited about streaming Netflix in 4K in the middle of the Pacific, at least not yet.
Fortunately, the United States looks likely to be very well covered by Starlink ground station (see this map).
The Starlink Dish Gets Hot (Intentionally)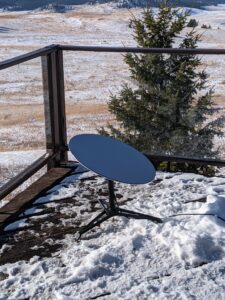 One other fun tidbit - the Starlink dish has a built in heater designed to melt off snow:
"The Starlink does have self-heating capabilities to deal with a variety of weather conditions. In fact, we'll be deploying a software update in a few weeks to upgrade our snow melting ability with continued improvements planned for the months ahead."
But even without the heater engaged, Starlink is currently a power hog - which is proving to be a concern for off-grid users.
When asked about the constant 100+ watt power draw - Starlink engineers explained that they hope to see significant improvements over time:
"We have a couple of items in progress to further reduce power consumption. We are working on software and network updates to allow your Starlink to go into a deeper power savings mode to drop power consumption while still remaining connected to the network. Power reductions are a key item we are focusing on for the future."
Remember: This Is Beta!
Starlink beta testers have been sharing performance online - seeing widely variable speeds ranging from 15-150 Mbps down, 5-40 Mbps up, and excellent (for satellite) ping times ranging from 20ms - 40ms.
But the biggest concern reported is frequent brief outages - which SpaceX has warned are to be expected during the beta testing period.
Even slight obstructions to the dishes view of the sky can cause an outage as the satellite passes behind, but SpaceX notes that this will get better in time:
"We're working on some software features that are going to make this much better and, long term, the clearance you'll need is going to shrink as the constellation grows. So this will get much better!"
It remains to be seen just how long it will take for SpaceX to be able to deliver service that is truly reliable everywhere.
But if SpaceX can manage to continue the rapid pace it has been on (there is another Starlink launch scheduled this evening!) it might not be long before a truly next generation satellite system is an option for those who need fast connectivity in places it has only ever been barely possible before.
For a deeper dive into the history and aspirations of Starlink, see our post (and video) from June:
Satellite Internet Update: Starlink Is Exciting, But Reality Check Needed For RVers and Cruisers
Further Reading
And here is all of our recent satellite internet coverage: