Key Points:
Starlink for RVs monthly charge is going up $15 - from $135 to $150/month.
Starlink Residential Service increases $10/month for limited capacity locations but drops $20/month for excess capacity areas. Now it is $90-$120/month, depending on your location.
Portability is removed as an option for Starlink Residential Customers in the US only, forcing many nomads to Starlink for RVs Service at the increased price if they regularly travel with their Starlink.
Existing customers won't see a price change until April 2023, while new customers will see the new price immediately.
Starlink is, once again, shaking things up, but not in a good way for most nomads.
Starlink's website was changed late last evening to reflect new pricing for Starlink for RVs and Residential services. And they sent out emails to most US Starlink customers alerting them of a price increase for their service, a little less than a year since the last price increase on March 22, 2022.
Starlink Changes Video Overview
Starlink For RVs Monthly Price Is Going Up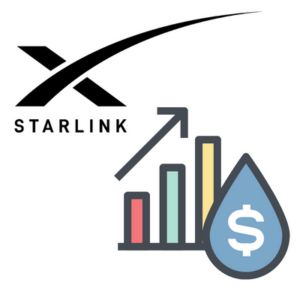 All Starlink for RVs service users in the US have received an email alerting them that their monthly service cost is going up $15/month - from $135/month to $150/month. This price change will take effect on April 24th, 2023.
The new pricing for RV service is already effective immediately for new customers as of last evening.
Starlink for RVs was officially launched in May 2022 as a service targeted at RV users and other nomads frequently on the move. The price for this service, at the time of launch, was $135/month.
Users on the RV plan can expect deprioritized 'best effort' service wherever they used it - which can often result in slow speeds in congested markets. But there are benefits, including being able to order it anywhere, use it anywhere in your home continent and pause service when not using it.
As of now, the Starlink website describes Starlink for RVs as follows:
Immediately access unlimited high-speed, low-latency internet on an as-needed basis at any destination where Starlink provides active coverage. $150/month with a one-time cost of $599 for portable hardware, or $2,500 for in-motion hardware.
Starlink for RVs service is available for portable use with the Standard Dish at $599, and also supports official in-motion use with the optional flat HP dish at $2,500.
Starlink Residential Service Price is Changing Based On Capacity
Starlink Residential customers also received an email notifying them of a price change that will occur on April 24th, 2023, but this time the price could go up or down depending on the network capacity in their service area.
Customers who are in a limited capacity area will see their service increase by $10/month to $120/month.
Customers who are in an excess capacity area will see their service decrease by $20/month to $90/month.
So depending on the area where your service address is located, you could see a price increase or decrease.
While the price decrease will be nice for some customers, it is probably more likely that most residential users are in a limited capacity area, and will therefore be seeing a price increase on their service.
The majority of the eastern half of the US is a limited capacity area, along with large portions of CA, WA, OR, AZ & CO. The areas of the US with excess capacity are generally lower population areas.
The Starlink FAQ notes that the service plan cost is subject to change dependent on service location.
This seems to suggest if customers move their service address to areas with excess or limited capacity, their monthly cost will change accordingly. And if your service area changes from one capacity to the other, you can potentially expect your monthly cost to change also.
Those in excess capacity areas enjoying a price cut now could still see their prices go up if their areas become limited capacity in the future.
We also noted that the limited capacity $120/month price isn't just for areas that show waitlisted on the map. We checked some addresses where Starlink is available now and the price is still $120/month, so we aren't quite sure what metrics they are using to determine excess capacity areas that receive the lower price.
This price change also comes with the implementation of the delayed 1TB priority fair use policy data cap on residential service, which is now slated to go into effect in April.
Portability for Starlink Residential Users is Gone
One of the most surprising and disappointing changes to be noted in this big shakeup is that portability, or the option to roam from your service address, is no longer allowed on US-based Residential Starlink accounts. This wasn't communicated to users over email, but rather updated in the FAQ.
Note: Portability is not available for Residential service in the US. You may change your service address or change your service plan to RV through your Starlink account.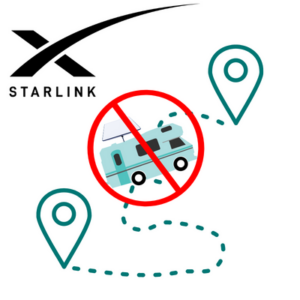 This suggests that portability will still be allowed in other countries, but not permitted on US-based residential accounts.
This is a very abrupt and unfavorable policy change.
We previously recommended that full-time nomads choose the residential service over Starlink for RVs to have priority service at your "home" service address. This also gave the option to move your service address to open locations you visit to get priority service. But this policy change means that option is no longer available.
Unfortunately, this means many full-time nomads will have to give up their Starlink Residential priority service and change to Starlink For RVs - simply because if the location they want to go next doesn't have available capacity for a service address change, the Residential service won't work at all.
This also makes Starlink much less useful in congested areas that experience heavy depriotization during peak times on the RV plan.
Residential users that wish to change to RV service can do so right on their account page. They will have to agree to the policy changes and acknowledge that they can't go back to Residential service. Returning the Residential service requires new equipment and starting a new plan, assuming there is available capacity.
What If You Have Portability Enabled Now?
For current Residential Starlink users traveling with active portability, it's not quite clear what will happen next for these users. At this time, it appears portability is still working if you were lucky enough to have it enabled before this change took effect. But how long that will last remains to be seen.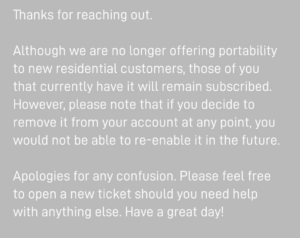 Will these users be able to ride out portability indefinitely until they select to remove it or will it stop abruptly before that?
Users with portability are kind of stuck at the moment, not knowing what is next for them, and parts of Starlink's FAQ still have outdated information at press time. This change was not communicated over email, so we have limited info on what is next for current users with portability enabled.
Some Starlink customers have already received responses from customer service indicating that they can keep portability turned on until they turn it off. Hopefully, this will continue to be the case.
However, customers should be aware that Starlink could at any point decide to sunset portability on Residential plans and force either changing your service address, or switching to Starlink for RVs.
If you don't want to give up your Starlink Residential plan and service address, you should start figuring out your other options so you are prepared when that change comes.
Portability Already Gone if Not Enabled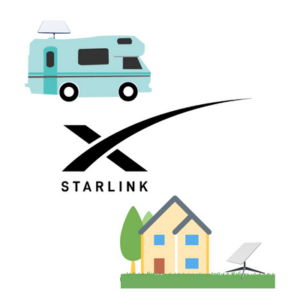 Residential Starlink Customers who currently have portability turned off might be shocked to notice that the portability option has already been removed from their account page, and they can no longer add it. If you were hoping you could slide in under the radar for a grace period, it's already too late.
This means if you want to travel with your Starlink and can't move your service address, you have no choice but to convert your existing Starlink to RV service. Which means when you return to your fixed home base location, you'll still be at best effort service without the ability to switch back to Residential.
If you have a permanent residence where you depend on Starlink residential service and don't want to be deprioritized on the RV service, then your only option is to purchase a 2nd Starlink for RVs kit that you'll travel with. This option means at times, you'll be paying for two Starlink services which can get expensive, especially with the price increases.
Overall we expect many part-time RVers that depend on Starlink at their residence to find this new policy change a pretty big slap in the face.
Starlink has for the past year made it clear that users who use Starlink at home could enjoy use outside their service address by enabling portability while they were traveling.
They just took that away from every one of these users, with no warning at all.
Starlink Should Not Be Your Only Internet Source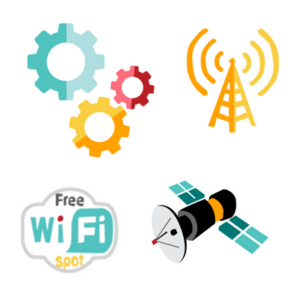 We see many reports from nomads on how well Starlink is working for them, and that they are considering giving up one or more cellular plans - sometimes some very coveted plans that can no longer be purchased.
We have always recommended that Starlink should be thought of as a complement to cellular versus a replacement.
Starlink is a great option to keep connected where cellular signal doesn't exist or in places without congestion. And it comes with other downsides like higher power usage and constantly shifting costs and terms.
If mobile internet is an important part of your lifestyle, having multiple option is usually key to a reliable connection. Assembling a solution that combines cellular, Wi-Fi and cellular has advantages - but certainly has costs and complexities.
Each of us has to determine how much redundancy we need in our setup to meet our unique mobile internet needs. Which is our focus here at MIRC - start exploring around with our Getting Started collection.
Hang On To Those Unlimited Cellular Data Plans
In particular - if you have certain legacy unlimited data plans from the carriers, it's worthwhile keeping them in active service.
Once you give up those sweet unlimited cellular plans, you can never get them back.
Unlike Starlink's shifts - many cellular plans tend to remain grandfathered in as long as you keep paying the bill.
For all of our latest Top Pick cellular plan options, see our guide:
The Best Cellular Data Plans for RVers & Cruisers
No Contracts Mean Things Can and Will Change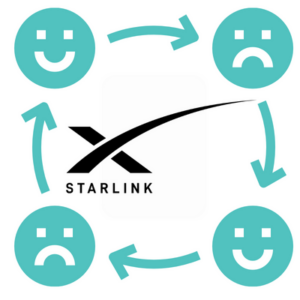 While it's nice in some ways that Starlink doesn't make you sign a contract, allowing you to stop service when you want - it's also becoming quite obvious that SpaceX has no loyalty to existing customers.
No contract goes both ways - Starlink can change the terms of its offerings at any time.
These latest price changes and plan changes are just more examples of how Starlink has abruptly changed over its rather short two-year run. For those with any history following SpaceX, this should not come as a surprise.
Starlink is proving once again that while it is revolutionary for what it has done for mobile internet, it can and will change at any time.
Option To Cancel Service If You Don't Agree With The Changes
In the email customers received notifying them of the price changes which varied based on your plan and location, it was also noted that if you did not want to continue service, you have the option to cancel since there is no contract.
If you were within your original 30 days of purchase, you have the option for a full equipment refund. If you are outside your 30 days, but still within 12 months since you purchased, you can get a partial refund of $250 for your equipment.
Up to this point used dishy terminals were generally bringing more than $250 on the private market, but with these new changes, there could be a flood of used equipment for sale driving the price down, so it's up to you to decide which path is best for you if you decide to cancel service.
The good news is that transfers are now available on the website as a self-service option and it has really simplified the process. See our story on Starlink Adds Self-Service Transfers.
Concluding Thoughts
We dislike sharing big negative changes like this with our audience, especially for full-time nomads using Starlink Residential with portability and part-time RVers that depend on Starlink at their residence, but still travel with it occasionally.
We know this is a huge disappointment.
Your Starlink terms of service are not locked in. With such a young company, with lots of demand, offering a niche service not offered by any other company, and their business growing at an incredible rate - what you have today may look drastically different tomorrow.
Nomads depending on mobile internet should always have redundancy in their arsenal of internet tools and Starlink is proving that for us once again.
The one bit of good news is that existing Starlink For RVers customers are only seeing a slight increase in cost. However, at a price point of $150/month now, it may become an unapproachable option for those who need to also account for building in redundancy of other options into their setup to keep connected wherever they roam.
With two price increases in less than a year, what is the next big change that Starlink will surprise us with?
Unfortunately, we will have to wait and see.
Related Content at the Mobile Internet Resource Center:
Related News Stories