Starlink is a satellite broadband division of SpaceX, an Elon Musk founded company. Unlike previous satellite internet systems, Starlink utilizes a constellation of low-earth-orbit (LEO) satellites that is intended to provide redundant, high-speed, low-latency, global internet coverage in the future.
The Starlink system is still being launched into orbit and is not yet available to consumers, but is in private beta by invitation only. A public beta-test is planned for late 2020 for northern areas, with consumer available service possibily beginning in 2021.
Starlink Consumer Hardware & Service Plans
There aren't details yet on the service plans or equipment for consumer Starlink, and no information yet on availability for mobile use in RVs or boats.
In a 2019 interview, SpaceX President Gwynne Shotwell teased a few details about what Starlink is planning for the consumer experience. It seems Starlink intends to sell directly to consumers the same way that Elon Musk's Tesla company sells cars by bypassing partners and dealers.
There is still no word on what potential pricing Starlink is targeting, but in the same interview Shotwell pointed out that millions of people in the U.S. pay $80 per month to get "crappy service" so we can only hope that Starlink is targeting either better performance or better pricing, or hopefully both.
RVer & Boater Reality Check!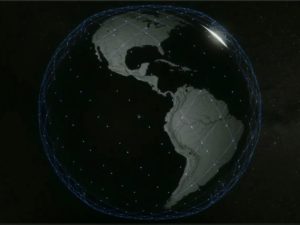 Some RVers and cruisers are already dreaming of ditching their cellular plans, hoping that Starlink will be able to deliver on the dream of global coverage, gigabit speeds, and low-latency connections.
But will Starlink really be able to eliminate the need for cellular data plans?
Starlink is an LEO satellite constellation more ambitious than any that has ever been constructed before.
The advantage of having satellites at lower orbits is that they are physically close enough to users on the ground to provide fast low-latency communications rivaling 4G - and even 5G - cellular.
However there will be challenges for RVers and boaters using Starlink, at least initially. Including equipment, coverage, clear line of site and potential congestion issues. All of these mean that replacing other mobile internet options with Starlink is likely to not be realistic except for those who primarily stick to open terrain remote areas.
Here is a video version of a SpaceX Starlink Reality Check for RVers and Boaters:
Additional Reading
Related Articles
Related Guides
---
Review & Testing Status
We hope to have access to a Starlink unit when available to consumers. No one on our team is likely to qualify for the public beta.
---
Potential Alternatives to Consider:
For other featured mobile satellite options:
Learn More About Mobile Satellite Options
---
This Review Contains Additional Member Exclusive Content

We are honored to be able to present the above overview for free without 3rd party advertising or sponsorships. We are not paid by the manufacturer of this product to provide this listing or review, and nor are we selling this equipment or plan (purchasing links are provided below as a courtesy and some may be affiliates).
Our members have funded this resource center and any extensive hands on time
we have spent with the product to review it.
The in-depth portions of this review are made available to them which might contain: hands on testing notes, field testing data, user interface tour, product analysis, comparison to alternatives, setup tips, video tutorial, insider tips, vendor discounts and fellow member experiences.
If you're a member, please log in to continue with this review.
If you're not a member.. please consider joining us!
---
Purchasing Options
Starlink (sign up for availability in your area)
The guides below have been hand-picked to help further your education about mobile satellite: