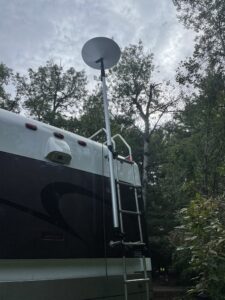 Starlink is the massively ambitious satellite internet constellation being constructed by SpaceX, the rocket company founded by Elon Musk.
Unlike most previous satellite internet systems that rely on just a handful of massive satellites in fixed geostationary orbit 22,236 miles over the equator, Starlink is designed to utilizes a constellation of thousands small low-earth-orbit (LEO) satellites capable of higher speeds and much lower latencies than traditional satellites are capable of.
SpaceX launched the first two prototype Starlink satellites in February 2018, launched sixty "near final" satellites in May 2019, and ever since has been on a rapid pace of launching batches of as many as sixty satellites as often as twice a month.
In October 2020, Starlink had enough satellites in orbit to begin public, invitation-only beta testing for residential customers - and this beta was expanded several times in 2020 and 2021 to serve more people in more areas as more satellites and ground stations were deployed.
The Starlink beta ended in November 2021 with the introduction of a new second generation "Dishy" receiver that should be easier and cheaper to mass product.
But as of the end of 2021, the promised Starlink "nationwide rollout" has not yet arrived and many areas are seemingly still not slated for service until late in 2022, or even 2023.
Because of the limited hardware availability and lack of nationwide coverage, Starlink is NOT yet well suited for mobile usage by RVers or Cruisers - but many RVers have had some success taking Starlink systems on the road.
Looking ahead - "High Performance" Starlink hardware designed for mobility is in the works, and Elon Musk has even claimed that global maritime coverage should be possible by mid-2022 as more satellites are deployed.
Starlink Consumer Hardware & Service Plans
Starlink pricing has remained consistent since the beta service first rolled out in October 2020.
The Starlink "Dishy" user terminal, now in its second generation, includes a basic tripod mount and a companion indoor Wi-Fi router and costs $499.
The Starlink monthly subscription costs $99/mo - and data is (currently) both unlimited and unthrottled.
Starlink service is presently intended for fixed locations only, and the Starlink receiver will only connect within roughly 15 miles or so of your registered service address.
Starlink has made it relatively easily to manually change your service address as you travel - but you can only change your address to an area that has active service, and which is not already "at capacity".
Truly mobile-friendly Starlink is known to be in the works - but this capability may ultimately require different hardware and service plans than what is currently available.
RVer & Boater Reality Check!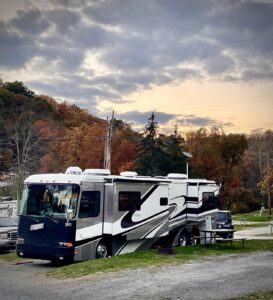 Starlink is currently primarily intended for fixed-location residential installations.
The Starlink hardware is not designed for use while in motion, and customers are assigned to a "cell" based on the registered service address. Outside of this cell, Starlink service will not work and the dish won't even connect to the satellite system.
In the Spring of 2021, Starlink added the option to change the registered service address online, but capacity and service limitations can make changing locations difficult.
Despite these limitations - some nomadic dwellers have had success with the Starlink system - especially when using it as another tool in a mobile internet arsenal that also includes cellular data plans.
When you can secure a spot on an open Starlink cell and get a clear view of the sky for your system, you can experience blazing-fast data speeds in some locations where cellular may be subpar - or unavailable.
But service availability and the reality of obstacles being present in many places RVers want to get connected make Starlink unsustainable to use as a primary source of connectivity at this time.
---
News, Videos, & Status
Testing Status
Members of the Mobile Internet Resource Center team have had extensive hands-on testing with the Starlink service since the very beginning of the beta period.
We have shared about our experience in our frequent Starlink news stories and videos (linked below). MIA members have access to further details of our testing and usage experience in our testing forum:
Got questions? Feedback? Members, please join our official Discussion Thread on Starlink:
Our Featured Starlink Videos
Other Starlink Videos:
Additional Reading
Related Articles
Related Guides
---
---
---
Purchasing Options
Starlink (sign up for availability in your area)