Key Points:
SpaceX has now officially launched "Starlink for RVs" - a new service offering targeting the RV market.
RV service is always deprioritized, and speeds may be especially impacted in areas that are marked as waitlisted on the Starlink service map.
Starlink for RVs service can be paused when you do not need it.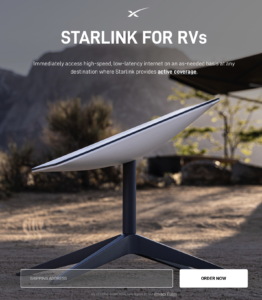 Earlier this month Starlink officially debuted a new Portability feature that allows residential Starlink service to be used while traveling away from your home service address - suddenly making Starlink vastly more appealing to RVers and Cruisers.
Perhaps recognizing the resultant flood of demand, SpaceX has today come out with a new service offering based upon the Portability feature, but now intended specifically for RVers.
SpaceX describes the benefit of Starlink for RVs this way:
"Starlink for RVs is ideal for customers traveling to locations where connectivity has been unreliable or completely unavailable. Users can expect high speed, low latency internet in areas marked "Available", and notably slower speeds during hours of peak usage in areas marked as "Waitlist" or during events with many collocated users."
Starlink for RVs service costs $135/mo, the same price as residential Starlink service ($110/mo) with Portability ($25/mo) enabled.
But unlike normal Starlink service, Starlink for RVs service can be paused as needed - allowing you to turn off service during months that you will not be traveling.
But - Starlink for RVs does have some important new downsides and catches to keep in mind too that might actually make residential service with Portability a better choice for many RVers.
In some ways - SpaceX has managed to take something that was simple, and make it more confusing than it needs to be.
And before anyone gets too excited - in motion usage is still not supported, and as we covered earlier this month - using Starlink while in motion voids your warranty, and is called out in the terms of service as being grounds for having your service canceled!
Starlink for RVs Video Re-Cap
Starlink For RVs vs Starlink Portability
The biggest obstacles that kept many nomads from originally embracing SpaceX's Starlink satellite broadband service was that Starlink at first would only connect when you were within around a dozen miles of your registered service address, and changing your service address manually as you traveled was cumbersome and often impossible.
But when the Portability feature officially debuted a few weeks ago, for a $25/mo fee Starlink customers could enable Portability on their account to open the door to traveling with Starlink across the entire continent.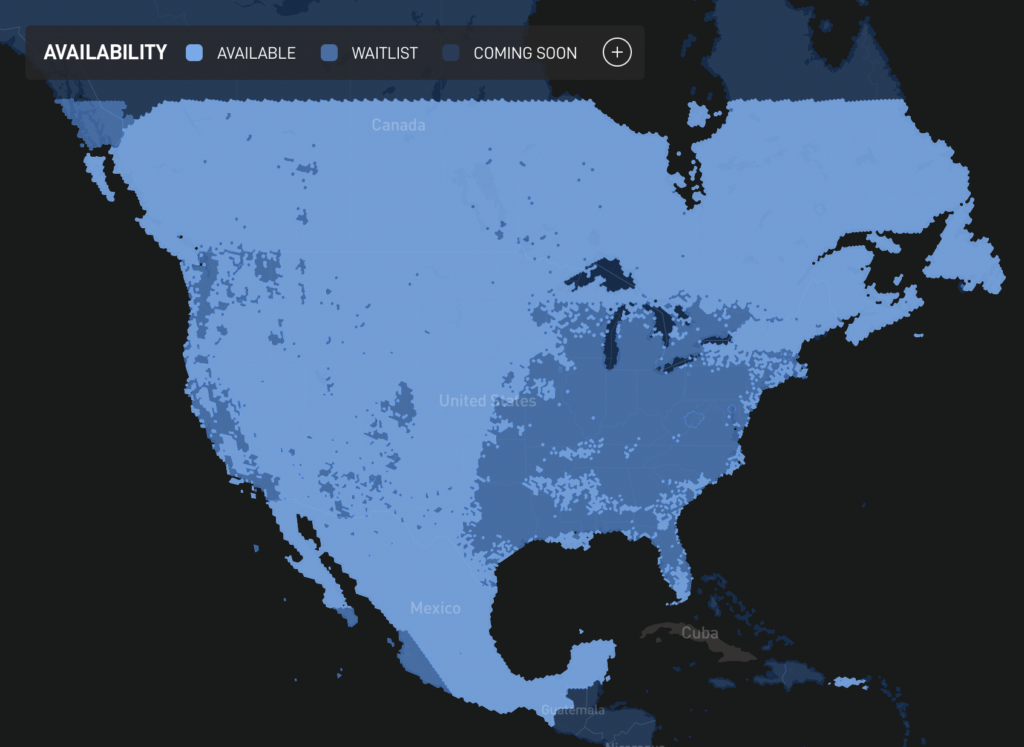 Signing up for Starlink service with Portability enabled still requires finding a service address that is not waitlisted - but a lot of nomads gamed the system and ordered Starlink with service at random addresses, with the shipping address set to have Dishy rendezvous with them on the road.
ALERT: SpaceX is might now be closing that loophole - they now state that you might need to connect your Starlink service first from your registered service address before taking advantage of the Portability feature to travel.
But Starlink for RVs can be ordered immediately no matter where you are - without needing a registered home service address at all.
The catch is - Starlink for RVs is ALWAYS running at a lower priority on the Starlink network.
Here is what SpaceX says to expect:
"Best Effort Service: Network resources are always de-prioritized for Starlink for RVs users compared to other Starlink services, resulting in degraded service and slower speeds in congested areas and during peak hours. Stated speeds and uninterrupted use of the service are not guaranteed. Service degradation will be most extreme in "Waitlist" areas on the Starlink Availability Map during peak hours."
On the other hand - residential customers with Portability have at least one location, that they can change to other available cells, where they are guaranteed premium service:
"Prioritized Service Address: Starlink prioritizes network resources for users at their registered Service Address. The Service Address on your account will receive priority whether Portability is enabled or not. When you bring your Starlink to a new location with Portability, this prioritization may result in degraded service, particularly at times of peak usage or network congestion."
And as long as an area is not wait listed - Starlink residential customers with Portability can still change their Service Address as needed, potentially allowing them to keep priority access on the network. Starlink for RVs customers on the other hand will always be at a lower priority.
Updated Starlink Performance Estimates
With the release of Starlink for RVs, SpaceX has published new performance estimates letting customers know what they should expect from Starlink: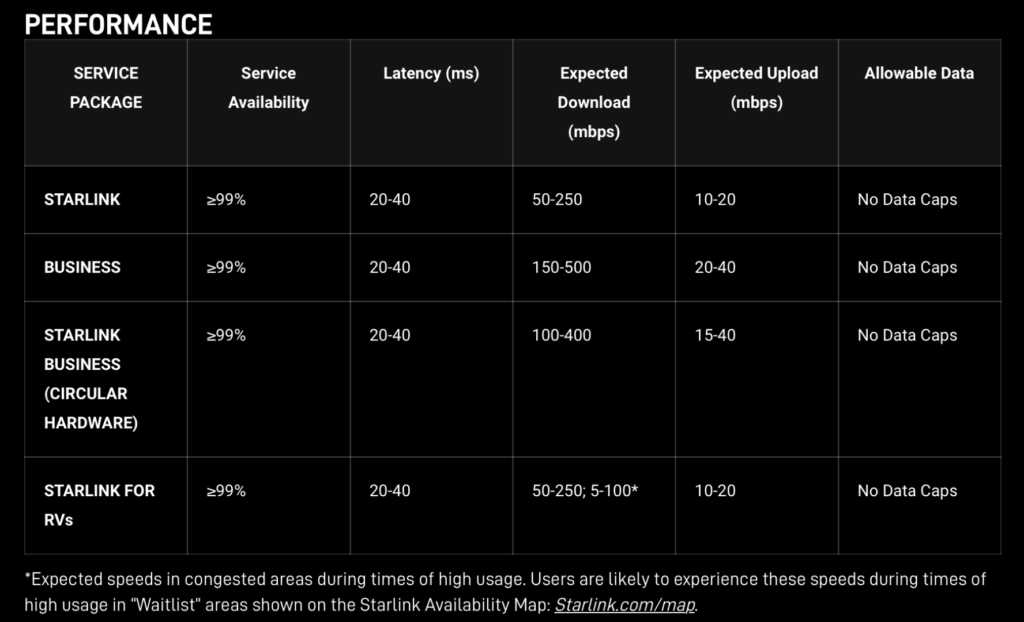 Starlink for RVs users in congested areas are warned that they might experience download speeds dropping to as low as 5 Mbps, speeds which can begin to feel painfully slow.
This is all a matter of balancing resources - and this seems to be SpaceX's way of ensuring that mobile users do not overly impact fixed residential service.
It's also interesting to note that there are now two Business level services listed, but yet no additional information could be found at time of publishing.
Getting Starlink For RVs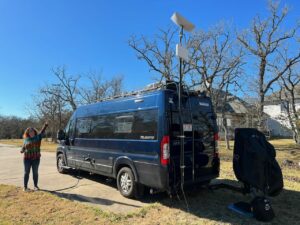 Starlink for RVs is available to order as of today, directly from SpaceX.
Hardware pricing is the same as Starlink residential service - $599 for the Dishy and indoor router, and $50 shipping and handling.
The hardware is identical too - this is not a special ruggedized or mobile version of Dishy.
Starlink for RVs allows for travel throughout North America - roaming into Canada and Mexico and eventually beyond - subject to the same 2 month maximum out of country stay without adjustments.
Pausing Service
Starlink for RVs service will auto-renew every month until it is manually paused. Once service is paused, you can re-activate it again at any time you need it. It remains to be seen how instantaneous re-activating service is.
Service is billed in monthly increments - so even though you can pause service at any time, there are no pro-rated refunds for any remainders of a billing month that are not needed.
Changing Existing Service to Starlink for RVs
Even though the hardware is the same, SpaceX is currently not allowing existing Starlink customers to change their service over to Starlink for RVs. Or Starlink for RVs service to switch to Residential service.
If you already have Starlink and want the ability to pause service as needed - you right now need to order an entirely new Dishy and service plan.
SpaceX customer support says that hopefully in the future SpaceX will make it possible for people to change their service plan between residential and RV service as required.
Or SpaceX could have just kept it simple by enabling residential customers to pause service?
So Which Should You Get?
Now nomads who want to travel with Starlink have two options - Residential + Portability or Starlink for RVs.
Which should you get?
Here are some considerations:
Starlink for RVs - If you only travel part of the year and do NOT need Starlink at a normal home address, the ability to suspend service will prove to be very worthwhile. Also - ordering Starlink for RVs makes it possible to get Starlink service immediately without playing any games trying to hunt down a valid service address to place a residential service order. Making Starlink for RVers for full time RVers who don't generally stay in one place for any length of time ideal.
Residential Starlink + Portability - If you have a primary home address you want to use service at, or you stay in a given location seasonally- getting normal Starlink service with Portability is likely optimal. This way, you will always have priority service in the places you can switch your service address for priority service and turn off portability - saving $25/mo.
We suspect that SpaceX might try to dissuade people from trying to avoid paying extra for Starlink for RVs or Starlink Portability by eventually instituting a charge or limitations for changing your registered service address. But for right now - if you are traveling in places that aren't wait listed, manually moving your address around remains an option.
Snow Birds Take Note: SpaceX says that "Starlink can only be used within the same continent as the registered Service Address. If you use Starlink in a foreign country for more than two months, you will be required to move your registered service address to your new location or purchase an additional Starlink to maintain service." This may become an issue for people who spend an entire season in Canada, Mexico, or the USA.
Starlink for RVs is Exciting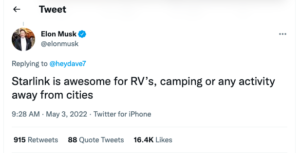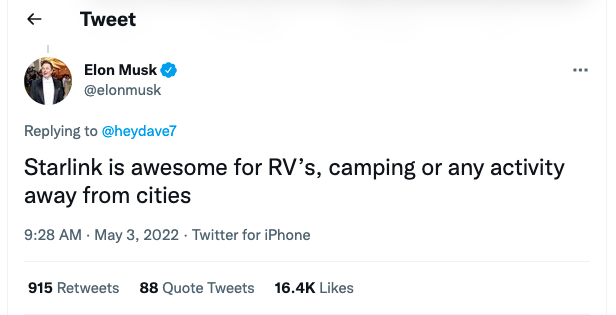 It is great to see SpaceX officially going after the RV market - but the confused overlap between Portability and RV service leaves us feeling that this new offering might have been rushed to market.
But rushed or not, it is still nice that RVers have an officially endorsed way to buy Starlink immediately - adding a great new connectivity option to mobile arsenals just in time for the summer travel season.
But the big question remains - just how much of an issue will congestion prove to be?
In urban areas or areas frequented by nomads - Starlink may remain at a significant disadvantage compared to 5G cellular when the network demands are high.
We suspect that having a blended arsenal that combines Starlink and cellular is going to be key.
Further Reading
And here is all of our recent Starlink coverage: