Key Points:
Skyroam now offers a pay-by-the-GB data plan that does not expire for both USA and Global plans.
Skyroam plans can only be used through their proprietary devices.
Skyroam does not share the carriers they use in the U.S.
Skyroam, a virtual SIM data provider that offers mobile hotspots and data plans originally geared towards international travel, has added a new U.S.-based data option.
Skyroam's new never-expiring data option is $8/GB, with some light discounting for set data buckets of 5GB and more.
Skyroam data plans are tied to a proprietary hotspot device and cannot be used with other devices. Skyroam has never been forthcoming about the carriers they utilize in the U.S.
Video Story
Subscribe to our YouTube Channel
Skyroam Data Plans
Skyroam offers both Global style and U.S.-only data plans.
U.S. Data Plans
Skyroam currently offers three U.S.-based data-only plans.
Their newest plan, the USA Pay-per-GB plan, offers Skyroam customers data that never expires. Data is priced by the GB. While the first few GBs will cost $8/GB, those who wish to prepurchase 5GB, 10GB, or 20GB of data can do so at a $1, $2, or $3 per GB discount, respectively. A 20GB bucket of data will cost $100 upfront, to be used anytime. USA Pay-per-GB data is only available through the Skyroam app.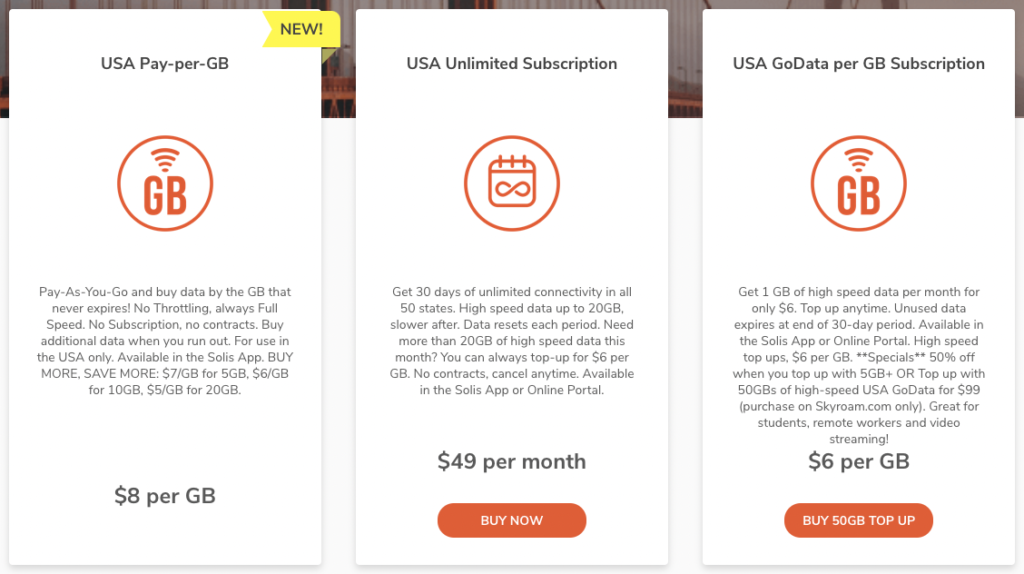 Skyroam also offers a USA GoData per GB Subscription plan which costs $6/GB or $99 for 50GB. Unused data on this plan expires every 30-day billing period.
For $49/month, Skyroam's Unlimited plan offers customers 20GB of high-speed data with unlimited data throttled at 512 kbps afterward. Unused high-speed data on this plan expires and resets every 30-days.
Global Data Plan Options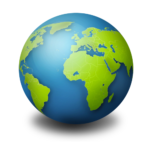 Skyroam, historically, has focused on global data options. Until recently (the past few years), they did not offer any U.S.-only data options. While their advertisements to the U.S.-based audience is heavily focused on their current U.S.-based plans, noted above, Skyroam continues to offer Global data plans as well.
A Global Pay-per-GB plan is available, where for $9-11/GB (pricing is dependent on quantity purchased), you have access to never expiring globally available data.
You can purchase a Global Pay-Per-GB GoData Subscription as well, with data priced at $9/GB. This plan's data expires monthly.
Skyroam also offers a Global Unlimited Data Subscription for $99/month, offering 20GB of data per month at high speed. Unused high-speed data expires at the end of the month.
A Global Daypass is available for $9/day, which offers users unlimited data for 24-hrs - subject to a fair use policy. The fair use policy indicates that users will generally will see slower speeds after 2-3 hours of moderate usage.
Skyroam Devices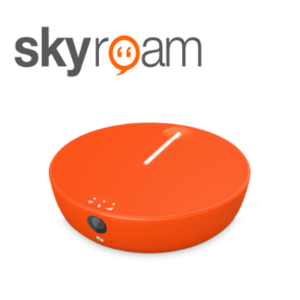 Skyroam plans are tied to their proprietary devices, currently the Solis X and the Solis Lite.
Both of these hotspots are lower-end LTE devices with limited configuration options, and Skyroam has not responded to requests for more information regarding the category of the modems.
Neither device offers antenna ports for getting a better signal.
To use Skyroam data service, you must either purchase or rent a Skyroam device. Pricing for the Solis X is $179.99 or $8.99/day. The Solis Lite costs $119.99.
Conclusion
The new per GB plan option introduces an often sought-after flexible option allowing you to purchase non-expiring data, instead of data that expires at the end of a month. For those that have inconsistent needs or just need some back-up data at their disposal, it may present an option to consider.
The option comes with the downside of only being usable in a low end device, and of offering no indication of which carriers in the USA the plan uses. Due to the virtual SIM nature of Skyroam, they could theoretically assign customers to the best carrier they have available at the time a customer needs service.
Related Stories
Related Guides