Peplink last week officially released firmware 8.1.1, a free update compatible with most Pepwave and Peplink routers.
This is a minor evolution of the 8.1 firmware released last August (our in-depth story) that added simplified connection bonding support via Peplink's SpeedFusion Cloud service.
In addition to a raft of minor bug fixes and enterprise focused features, 8.1.1 also brings forth a few interesting new features that might be of interest to some nomadic users.
In particular:
Cloud Application Optimization - A new SpeedFusion Cloud setting makes it easy to route certain applications over the more reliable bonded cloud connection. In particular, Zoom and Microsoft Teams calls can be prioritized and routed over a bonded connection to make them more resilient to network glitches - a valuable feature for those working over unreliable cellular connections.
Wi-Fi Mesh Support - Peplink routers and access points with 802.11ac or 802.11ax radios can now work in a mesh mode, allowing you to extend the Wi-Fi network coverage without needing to run ethernet cables.
OpenVPN Client Support - Peplink routers can now create a WAN connection upstream to an OpenVPN server - letting you route traffic through many common commercial VPN providers. This is a paid feature, which costs $20 to enabled and unlock.
These are all rather advanced features and not of interest to everyone, but for the types of users drawn to higher-end gear like the Pepwave MAX Transit Duo these ongoing updates and improvements to the core Peplink software are always welcome.

For more information on firmware 8.1.1, check these links: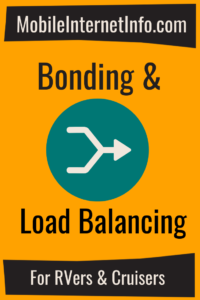 Geek Alert!
Bonding and load balancing are complicated topics - and these techniques are not for everyone!
For a better understanding of the fundamentals, and to understand just what is possible (and what doesn't work at all!) when you combine multiple connections together, see our featured member guide:
Combining Connections: Bonding & Load Balancing
Related News Stories
Related Guides & Gear