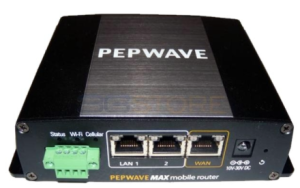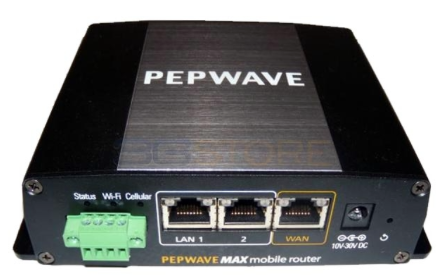 We've been eagerly waiting for mobile router manufacturer Peplink to embrace LTE-Advanced technology in their cellular-integrated Pepwave routers - and at last Peplink has announced this long delayed and often teased update across the bulk of their product line!
Peplink describes the advantages of the upgraded models this way:
LTE-A also supports newer region and carrier specific bands. These are often much faster than the legacy bands that can become oversaturated. For the US market, LTE-A enabled models support band 41 (2500 MHz) and band 26 (850 Mhz) for Sprint and band 12 (700 MHz) for T-Mobile.
In addition, LTE-A routers can use Signal Carrier Aggregation (SCA) to simultaneously connect multiple signal channels for up to twice your current connection speed.
But despite the substantial update in integrated modem capability - the Pepwave routers overall are NOT (yet) being updated across the board with advanced dual-band 802.11ac Wi-Fi, or with faster internal processors.
And the basic MAX BR1 ($549), the relatively affordable Peplink router model most often appropriate for RV usage (see our review), seems to have had its update pushed back until later in the year - missing out on the LTE-A train entirely for now.
Though many who have been patiently waiting for a MAX BR1 update will be disappointed, some of the new models are appropriate for RVers with the most demanding needs - and the budgets to match.
All-In-One Goodness: Verizon, AT&T, T-Mobile, Sprint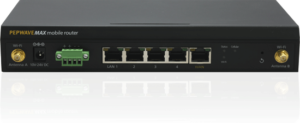 We first fell in love with the Pepwave MAX BR1 in 2015 when it was updated to have a "universal" cellular radio that supported all the major carriers with one device - making building redundancy into a connectivity arsenal a lot easier than juggling multiple carrier-specific consumer hotspots.
And with the dual-SIM slots, you could even keep two different carriers set up for easily (and even automatically) switching between them.
Peplink's LTE-A update adds support for even more LTE bands, making this universal support even better.
The new LTE-A models support the following LTE bands:
B1, B2, B3, B4, B5, B7, B8, B12/17, B13, B20, B25, B26, B29, B30, B41
This includes pretty much every band currently in use by all four major US carriers, including T-Mobile's "Extended Range LTE" on LTE Band 12, and AT&T's newest deployments on LTE Band 30.
The downside of this new advanced modem is that it drops support for Verizon and Sprint 3G CDMA EVDO networks - so if you regularly run into remote legacy areas that have not been upgraded to LTE coverage you may want to keep a backup way online on hand.
There is one other catch too - Peplink reports that the new routers are "certified for use on AT&T and T-Mobile, Sprint and Verizon certification coming soon". This certification is expected to come sometime in April.
TIP: Though you can't activate new service on a device until it has been certified, if you have an active Verizon SIM you should be fine transplanting it into a Pepwave LTE-A router and it will just work. Sprint's network on the other hand will generally not allow uncertified devices to connect at all.
Peplink's LTE-A Product Line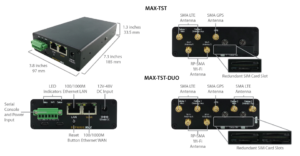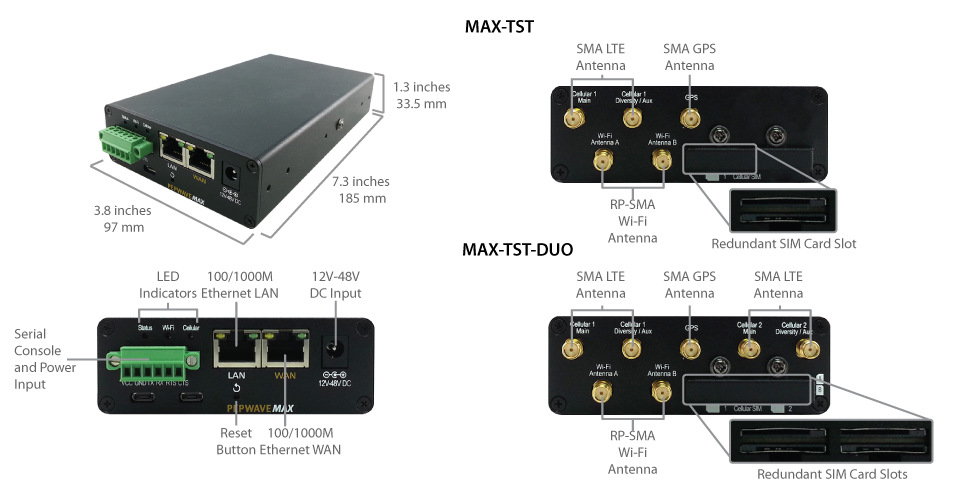 Here is Peplink's newly updated LTE-A product line:
Pepwave MAX BR1 Pro ($799) - The "Pro" version of the BR1 is designed for "enterprise branch networks", and features 4x gigabit LAN ports, and 300Mbps Wi-Fi with support for 2.4GHz or 5GHz 802.11n (one or the other - not both). Though it has gigabit ethernet ports, without 802.11ac it will be lacking for demanding local networks.
Pepwave MAX BR1 ENT ($799) - The same small size as the basic BR1, the BR1 ENT has three gigabit ethernet ports and adds a USB port for tethering a USB cellular hotspot or modem. BUT - the BR1 ENT has no built in Wi-Fi capabilities at all, making it of limited use for many installations unless you pair it with a more capable local router.
Pepwave MAX Transit ($999) - Pepwave's Transit product line is designed to help commuter buses and trains keep passengers connected, but they can do the job on an RV too. They are the only relatively affordablte option in Pepwave's current lineup for simultaneous dual-band WiFi and 802.11ac support.
Pepwave MAX Transit Duo ($1899) - With two cellular modems and two dual SIM slots, the Transit Duo allows up to four different cellular providers to be ready to switch between.
Pepwave MAX HD2 ($2899) - Similar in size to the BR1 Pro, but with 802.11ac and dual independent cellular modems for redundancy. Also supports tethering to a hotspot via USB.
Pepwave MAX HD2 Mini ($2699) - Combines the dual cellular modems of the HD2 with the small size and total lack of Wi-Fi of the BR1 ENT.
Pepwave MAX HD4 ($5999) - If you have a need (and budget) for extreme redundancy, the HD4 combines four independent cellular modems, USB tethering, and eight gigabit ethernet LAN ports together into a box that is likely overkill for very nearly everyone. But even this monster of a device lacks 802.11ac.
Peplink Balance 30 LTE ($699) - Similar to the MAX BR1 ENT, the Balance 30 lacks any built in Wi-Fi capability but It could function as a companion to a more capable downstream Wi-Fi router.
The older non LTE-A versions of all these products remain available - make sure that you specify the LTE-A models if you seek to purchase any of these.
As you can see - the costs rise substantially as you add redundancy. In many ways the MAX Transit line is the most appealing option overall, but it is expensive and yet still compromised in some unfortunate ways.
MAX BR1 Mini: The LTE-A Lite Alternative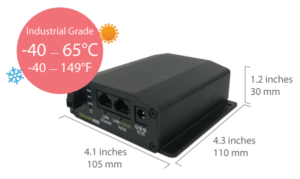 There is one other new LTE-A device in Peplink's arsenal - the affordable MAX BR1 Mini LTE-A that costs just $399, seemingly currently available exclusively via 3G Store.
This is a smaller version of the BR1 that has just two ethernet ports, and WiFi-as-WAN for connecting to a remote Wi-Fi network (such as to a campground network) is disabled - though a license code to re-enable WiFi-as-WAN and failover features costs $100, making for a total package cost of $499. There is no gigabit ethernet or 802.11ac Wi-Fi, but if you were to pair the BR1 Mini with a more capable local router that might not matter.
The catch with the LTE-A capability on the BR1 Mini is that it falls short of Verizon's specifications, and carrier aggregation is thus disabled on Verizon. Officially only AT&T and T-Mobile are fully supported, and full Sprint certification is still pending.
TIP: You can actually use a Verizon SIM card in the BR1 Mini, but the lack of carrier aggregation is apparently a hardware limitation and will not be remedied. But if you are OK with this, the BR1 Mini is a worthwhile alternative to traditional standalone hotspots and is worth considering.
UPDATE (May 2017): Readers have reported that the BR1 Mini has been sited showing LTE-A Carrier Aggregation support enabled on Verizon, so even though Verizon is still not "officially" supported, unofficially it is working great.
Evolving Slowly - A Good Thing?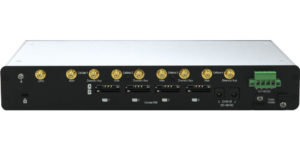 The latest flagship mobile hotspots from Verizon (Jetpack 7730L) and AT&T (Unite Explore) are LTE Cat-9 devices that support three channels carrier aggregation and a max theoretical speed of 450Mbps, making them a technological generation ahead of the two-channel 300Mbps Cat-6 modems inside of Peplink's newest updates. And flagship consumer smartphones later this year will be pushing even further towards supporting gigabit-LTE technology, a jump even further ahead than Peplink's latest.
But lagging behind the bleeding edge is just the nature of high-end enterprise-focused hardware - it evolves slower, and is (theoretically) focused on stability and reliability.
Mobile routers in this niche like the Pepwave Max Transit or the competitive Cradlepoint COR IBR900 are a substantial investment, but they can become the foundation of a very capable connectivity arsenal.
But for many people these are likely to be an expensive overkill that will be creeping towards obsolescence long before most even begin to tap into what they are capable of.
But if you are looking for this sort of power and capability and redundancy, it is certainly great to at last have some new LTE-A options.
If only the basic MAX BR-1 update was ready now as well - that would strike a balance between features and cost and capabilities that would better appeal to RVers.
But for now, we'll just have to wait.
Further Reading:
Related Articles: