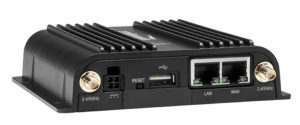 High-end mobile router manufacturer Cradlepoint has announced a new flagship mobile router with a very impressive feature set - the brand new COR IBR900.
On paper at least, this is the most advanced cellular integrated mobile router we have yet seen.
Cradlepoint describes it this way:
"With an embedded Category 6 modem for LTE Advanced, 802.11ac Wave 2 support, and a quad core processor, the IBR900 series is designed for the most demanding in-vehicle and M2M/IoT applications that require near-Gigabit speeds for both Ethernet and WiFi."
The catch is the cost - the COR IBR900 starts at $869, without any antennas included!
But for those looking to have just about everything integrated into a single (expensive) industrial-strength device, the COR IBR900 may be very well worth taking a close look at.
TIP: If you're not sure if you should even consider adding a mobile router to your tech arsenal, read our in-depth guide to understand the features and capabilities found in this category of products: Selecting a Mobile Router
The COR IBR900: Small but Mighty
The COR IBR900 has the following impressive features:
Integrated Cat 6 LTE-Advanced Modem - Support for all four major carriers.
LTE Bands: 1-5, 7, 8, 12, 13, 17, 20, 25, 26, 29, 30, 41
Dual-SIM Slots - Easily switch between two carriers via control panel.
2.4GHz & 5GHz WiFI - 802.11ac "Wave 2" Technology
Support for Wi-Fi as WAN to connect to upstream Wi-Fi networks.
2x Gigabit Ethernet Ports
USB port for tethering to a hotspot or USB modem.
COR Extensibility Dock - Can actually add a second integrated cellular modem in the future.
Ruggedized for mobile use, supports 12V vehicle power supply.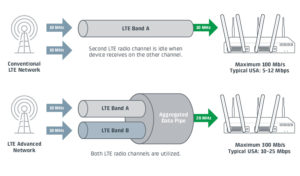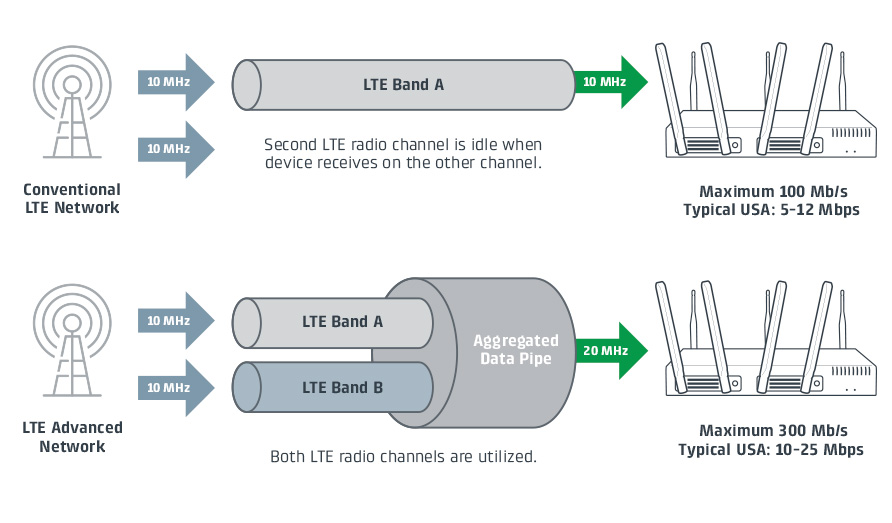 Cradlepoint's LTE-Advanced cellular-integrated routers support an impressive 16 LTE bands, including pretty much every band currently in use by all four major US carriers.
This includes T-Mobile's "Extended Range LTE" on LTE Band 12, and AT&T's Newest deployments on LTE Band 30.
To change carriers, just swap to a different SIM. And since you can keep two SIM cards installed (but only one active) it is easy to switch between your primary and backup network via the IBR900 control panel.
And with LTE Advanced Carrier Aggregation capabilities, the IBR900 can connect to various combinations of two LTE bands simultaneously to turbo-charge download speeds in supported areas.
Future Proofing Cellular Standards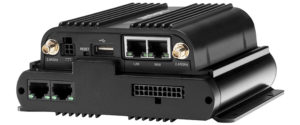 Do keep in mind that the COR IBR900 is a Cat 6 LTE device, limited to two channels of carrier aggregation and a peak theoretical download speed of 300Mbps.
Cat 6 LTE is awesome, but the newest high-end smartphones and consumer-grade flagship hotspots are now supporting Cat 9 LTE technology, with three channel carrier aggregation and support for peak theoretical speeds of 450Mbps.
Commercial gear always lags a tech generation behind mass-market hardware.
Another downside for some - the IBR900 has no support for 2G cellular technologies, or Verizon/Sprint 3G fallback. This is hardly an issue in most places, but in some remote areas with old legacy cellular networks the IBR900 may be left hunting for signal. The IBR900 does however support fallback to T-Mobile and AT&T's 4G HSPA+ networks.
Fortunately the COR IBR900 has a USB port and can tether to many consumer hotspots - giving you a fallback option to support older technologies, and an upgrade path to support newer.
What is 802.11ac "Wave 2" All About?


Cradlepoint boasts that the COR IBR900 series is the:
"First LTE routers in the world to offer the latest generation "Wave 2" gigabit WiFi (802.11ac)"
Wave 2 is the clever marketing name for the next generation of 802.11ac products that support a few key advancements to the original 802.11ac standard.
Most importantly is support for MU-MIMO (multi-user MIMO), which uses advanced signal processing to allow the router to talk to multiple client devices at exactly the same time, rather than having them rapidly take turns.
Think of it like having two mouths and being able to hold two conversations at once.
Theoretically this can double speeds on your local Wi-Fi network since devices do not have to share the router's attention and two independent devices can be streaming away at once without any interference.
But... In practice MU-MIMO only works if the clients are in different directions from the router so that the router can aim different beams on the same channel in opposite directions.
And - MU-MIMO only works if BOTH the router and the client support Wave 2 802.11ac. And so far very few laptops, tablets, smart TVs, or smartphones do so.
And finally - in an RV the speed of the local 802.11ac network is very likely never going to be a limiting factor unless you are trying to keep an entire classroom (or commuter bus) full of bandwidth hungry streamers happy.
In other words, though Wave 2 sounds like a big deal, for most RVers there really isn't anything to get too excited about here.
But having the latest and greatest technology baked in certainly never hurts.
Should You Consider an IBR900?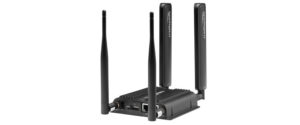 The COR IBR900 costs $899 with basic antennas included, or $869 without.
This is a substantial investment to make in connectivity, and for most RVers the IBR900 is likely substantial overkill.
But if you have complex mobile networking needs, and you need the reliability (and complexity) of a fully integrated solution, the Cradlepoint COR IBR900 is definitely worth a close look.
And unlike Pepwave's MAX BR1 integrated cellular router, the COR IBR900 has support for USB tethering to use affordable consumer-grade hotspots to upgrade the cellular capabilities in the future.
The COR IBR900 is not yet shipping - but it should be available soon. 3G Store expects stock "in early 2017", and will likely be the first place that the IBR900 is available for sale.
If the IBR900 excites you, also worth a look in the same product category is the Pepwave MAX Transit, and we expect a next generation Pepwave MAX BR1 to be announced soon as well.
Things are getting more and more interesting on the high-end of the mobile router market - stay tuned here for all the latest details!
Further Reading: