Key Points:
Satellite internet providers OneWeb and Eutelsat have announced a merger, valuing OneWeb at $3.4 billion.
The merged company will combine Eutelsat's geostationary (GEO) satellites with OneWeb's low-earth-orbit (LEO) constellation.
The merger is not expected to close until sometime in 2023, likely further delaying OneWeb's overall ambitions.

When we last shared an update on OneWeb in March, things were looking grim for the seemingly cursed satellite internet company that years ago briefly looked capable of beating SpaceX's Starlink to market with a next generation low-earth-orbit (LEO) satellite constellation.
But ever since - it has been nothing but bad news for OneWeb.
As we reported on in March - with just a few launches remaining before having enough satellites in orbit to enable commercial service and global coverage, OneWeb was derailed by Russia's invasion of Ukraine.
This unexpected plot twist resulted in a permanent end to cooperation between the UK-based OneWeb and Russia's Roscosmos, which had been scheduled to launch the remainder of the OneWeb constellation into orbit.
With no other launch options available - OneWeb was forced to contract with competitor SpaceX for launch services, a process that will not likely begin until late in 2022, pushing the launch of OneWeb service even further back.
In a positive twist, OneWeb at last has some potentially good news to report - last week announcing that it has signed an agreement to merge with European satellite industry leader Eutelsat - which operates a fleet of 36 geostationary satellites.
Will the combine LEO + GEO capabilities of OneWeb and Eutelsat enable a "European competitor to Starlink" like some analysts predict - or is this move just a sign of desperation as the rapidly evolving satellite industry becomes increasingly competitive?
OneWeb EutelSat Merger Video
OneWeb's Rocky Road To Orbit
We've been tracking satellite internet provider OneWeb's mission to bring Internet to everyone, everywhere on Earth since 2015 - and briefly in 2019 it even seemed that OneWeb might beat SpaceX to be the first of the next-generation constellations to begin signing up real customers.
When the Pandemic hit in 2020, this was a major setback halting launches and engineering progress, leading OneWeb to file for Chapter 11 bankruptcy.
But just before OneWeb was sold off at auction for parts, the UK government stepped in to lead a global consortium to save OneWeb and fund a full restart of its launches and business operations.
Throughout 2021 - OneWeb was back to a monthly launch cadence, rapidly building towards being able to begin offering service in 2022.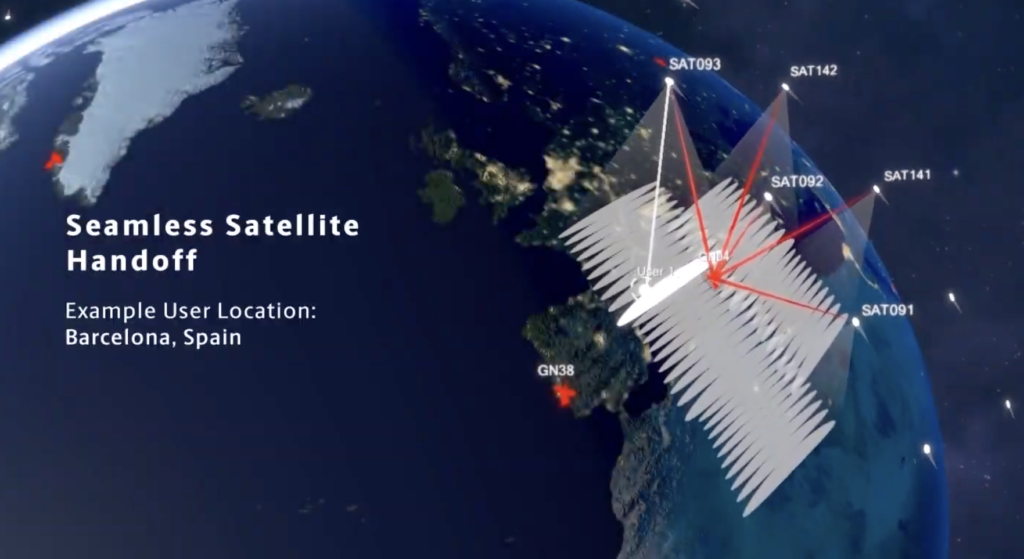 However, with only 222 satellites left to launch (out of 648 required for global coverage) - OneWeb hit a wall once again when Russia's war left OneWeb's next batch of satellites literally stranded on the launch pad - with all future launches cancelled.
To make the launch cancelations even more painful, OneWeb had pre-paid for all of its remaining launches - and Russia was not issuing refunds.
With no alternative, OneWeb announced that it will be turning to competitor SpaceX to provide the remaining launches needed to get OneWeb ready to deploy. But redesigning OneWeb's systems to launch on a Falcon 9 instead of a Soyuz takes time, pushing OneWeb's next launch towards the end of 2022.
Throughout all of these changes - OneWeb's initial focus on enabling affordable service for underserved consumer markets has shifted more towards serving the enterprise market. OneWeb was even moving to be a backhaul provider for cellular networks (they already have a deal signed with AT&T), helping to connect remote 5G towers.
With constant delays and more looming well funded competitors (like Amazon's Project Kuiper) - OneWeb seemed to be running out of steam once again - until Eutelsat stepped in.
Combining LEO and GEO?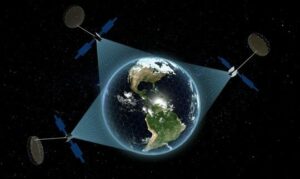 Eutelsat and OneWeb have announced intentions to combine Eutelsat's 36-strong fleet of geostationary satellites with OneWeb's planned constellation of 648 low Earth orbit satellites, of which 428 are currently in orbit.
The combined network promises the "high throughput of GEO with the low latency and ubiquity of LEO" - and it does have some potential technical advantages.
But announcing a merger is a lot easier than integrating such vastly different technologies.
OneWeb promises this integration is in the works:
"A clear roadmap has been designed to develop over time a complementary GEO/LEO service including a common platform, hybrid terminals and a fully mutualized network creating a one-stop shop solution for customers, providing them with a unique offering and a seamless user experience."
However, it is unclear just how long it will take to deliver on this promise - or how expensive these hybrid ground terminals might end up being.
The merger is not even forecast to fully close until sometime in the first half of 2023.
If OneWeb stumbles in this strategy shift, it will only give SpaceX even more runway to pull further ahead.
And SpaceX isn't the only competitor OneWeb needs to worry about. As we reported earlier this year, ViaSat has acquired marine satellite leader Inmarsat and is also planning a hybrid LEO / GEO network in the years ahead - with the massive ViaSat-3 geostationary satellite now on track for an early 2023 launch.
Concluding Thoughts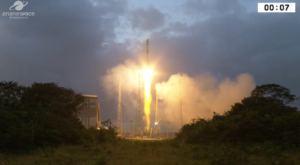 Eutelsat has a lot of legacy satellite customers - and a next-generation LEO roadmap built on top of OneWeb will likely be appealing to many of them.
It will left to be seen just how many new customers will be drawn to the combined Eutelsat + OneWeb, unless they are being driven to needing a European-based provider for political reasons.
Indeed - the press release even notes that the new commercial partnership is initially focused on "addressing mainly the European and global cruise markets" - leaving little to excite the North American RV or residential customers.
The most promising consumer future for OneWeb seems to be in the "Leisure & Yachting" market, an area that OneWeb and Eutelsat remain focused - and where their hybrid system might have some unique advantages.
Maybe, if things go smoothly, a year from now OneWeb and Eutelsat will at last have something interesting to show the world.
At least, as long as nothing else unexpectedly bad happens along the way....
Further Reading
And here is all of our recent satellite internet coverage: