Canadian router manufacturer MoFi first came onto our radar last summer, and we became especially intrigued when MoFi launched the MoFi 4500 line in August of 2015, with an optional integrated cellular radio.
Similar to a WiFiRanger Go or the Pepwave Surf SOHO, the MoFi routers provide a local Wi-Fi and ethernet LAN network, and support tethering to a cellular hotspot or USB modem to share your cellular connection.
MoFi also supports direct USB tethering to Android phones, and was the first router to support direct iOS smartphone tethering (a feature now matched by WiFiRanger).
Or with the optional addition of an integrated cellular radio, the tiny MoFi box can do away with the need for a separate cellular hotspot entirely.
This packs a ton of capability into a small metal shell - with a price substantially less than the seemingly somewhat similar Pepwave MAX BR1.
On paper at least - the MoFi 4500 looked to be a great central hub of a mobile connectivity arsenal, especially for advanced users who can take advantage of the very rich feature set that includes everything from acting as a print server to sharing files from an SD card or USB hard drive.
The MoFi 4500 Evolves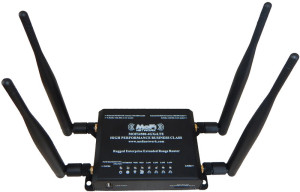 One of the biggest disappointments of last year's cellular-integrated MoFi 4500 was that you were forced to pick between a Verizon compatible router, or a model designed for AT&T and T-Mobile (but without T-Mobile's "Extended Range" LTE Band 12).
If you wanted to easily switch between carriers just by swapping a SIM card, you were out of luck.
Worse - MoFi was never able to get the Verizon version of the MoFi 4500 certified and shipped, leaving the cellular integrated capability of little interest for all the many nomads who rely on Verizon as a primary network.
But things are about to change with the newly announced "MOFI4500-4GXeLTE-SIM4 V2" model, which is due to ship by the end of April 2016 with support for "all providers" right out the gate.
This new MoFi will be the first cellular-integrated router that we are aware of to support essentially every LTE cellular band in use by the four major carriers in the USA.
The MoFi SIM4 will support the following key LTE bands:
B12 (700MHz) - T-Mobile's "Extended Range LTE"
B17 (700MHz) - AT&T's Primary LTE
B29 (700MHz) - AT&T's Future "Download Only" LTE Expansion
B13 (700MHz) - Verizon's Primary LTE
B26 (850Mhz) - Sprint's Long-Range LTE
B5 (850MHz) - Verizon & AT&T Future LTE Expansion
B4 (1700/2100MHz) - Verizon (XLTE), AT&T, and T-Mobile LTE
B2 (1900MHz) - Verizon, AT&T, T-Mobile LTE
B25 (1900MHz) - Sprint's Mid-Range LTE
B30 (2300MHz) - AT&T's Newest LTE Band
B41 (2500MHz) - Sprint's Short-Range LTE
The SIM4 MoFi also supports international LTE bands B1, B3, B7 (important in Canada!), B8, and B20. That's nearly as much raw LTE band support as Apple's flagship iPhone 6S, and is more than we've seen baked into any other cellular-integrated router.
MoFi describes the capabilities this way:
The (SIM4) router is recommend for anyone that wants the latest and best in technology since this model supports all bands in North America and Europe and will work on all providers including Verizon, Sprint, AT&T, T-Mobile, Bell, Rogers, Telus and much more. Check the LTE bands if you want to use this elsewhere around the world and not sure if it is compatible. Note that Sprint is not supported as of yet but will soon be after it has been authorized by the Sprint labs so if you are looking to use this with Sprint, please call us first before purchase. Verizon and other providers will work fine.
Carrier Aggregation Too

The MoFi SIM4 also supports Carrier Aggregation, a key feature of the emerging LTE Advanced standard that allows for a device to connect to multiple LTE bands simultaneously (assuming the tower also has been upgraded to support this), potentially doubling speeds all the way up to a maximum theoretical 300Mbps peak.
Several flagship phones and mobile hotspots have supported carrier aggregation (like the Verizon AC791L or the AT&T Unite Pro) for a while now, but we've never seen this capability in a cellular-integrated router - making this potentially the most future proof and cross-carrier compatible dedicated cellular internet option currently available.
LTE Band Locking
As anyone who has been following along with our cellular antenna testing might have noticed, it is a frustratingly common occurrence for cellular hotspots to lock onto a less than ideal LTE band, such as getting stuck on Verizon's usually slower B13 rather than the typically faster B4.
Though eventually carrier aggregation will make this less of an issue since the hotspot or router will be able to stay connected to two bands at once, until this capability is widely deployed it would be nice to be able to manually override your connection on occasion.
Some commercial grade gear (such as the Pepwave MAX BR1) has this capability - letting you manually lock onto a specified LTE band, avoiding this frustration at the expense of more manual tweaking being required.
MoFi has added this feature too in the currently shipping MoFi 4500 SIM3 model, and the upcoming SIM4 flavor of the MoFi 4500 will support this as well - a fabulous capability for advanced power users.
MoFi's Achilles Heal: No Gigabit Ethernet or 802.11ac, Poor UX


For such a technologically advanced product - two features are conspicuously lacking on the MoFi SIM4 spec sheet.
Weakness #1: The ethernet ports are still capped at 100Mbps "fast ethernet" speed without gigabit ethernet support, meaning that local connections between wired computers or to network storage drives will run at a relative crawl.
Weakness #2: The local Wi-Fi network generated by the MoFi is only supported on the often congested and relatively slow 2.4GHz 802.11n Wi-Fi bands - with support for 5GHz Wi-Fi and the newer super-fast 802.11ac standard lacking.
This actually means that the cellular radio inside the MoFi has the theoretical potential to go faster than any of the ethernet or Wi-Fi connections that the MoFi will be sharing this connection over - a glaring oversight that will hopefully be improved upon in a future model.
Weakness #3: The other MoFi achilles heel has in the past been the notoriously overly-complex and cryptic user interface that has proven to be a poor match for less advanced users. New updated software will be coming along with the SIM4 model - we are eager to see if any of the most glaring issues have been addressed.
Getting MoFi: SIM4 or Bust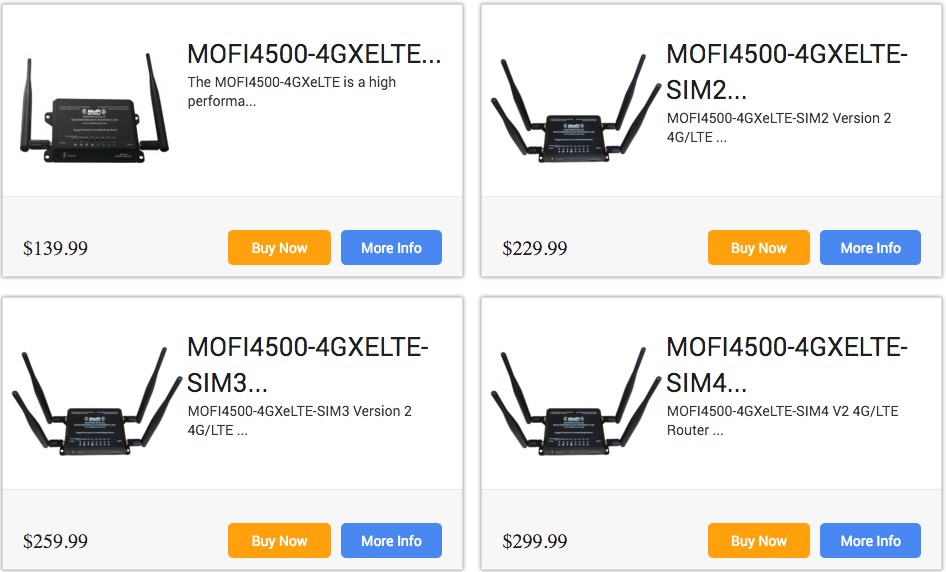 All the current MoFi 4500 models are "version 2" hardware with twice the internal memory (32MB Flash / 256MB RAM) as the last year's version (16MB Flash / 128MB RAM).
But because of the improved internals and the much improved cellular capability - the prices have gone up across the board.
The basic MoFi without an integrated cellular radio now starts at $139 (up from $99), the currently shipping SIM3 model with support for AT&T and T-Mobile is $259, and the new "all providers" SIM4 model is $299.
The enhanced cellular features and cross-carrier capabilities make the SIM4 seem to be the smartest model to invest in, by far.
MoFi even told us as much:
"We know for sure since the SIM4 has carrier aggregation, there is no reason for anyone to buy the SIM3 units since it is just a bit more but the performance can be significant."
MoFi is currently taking pre-orders for the SIM4 model, with a target ship date of April 25th, 2016.
May 2016 Update:
The MoFi is now shipping as of late April, and available on Amazon.
We have received our review unit - and as usual we will be sharing our hand's on experience and evaluation with our members first.
Special Members-Only Note:
We've had one of the original cellular-integrated MoFi units (the unreleased Verizon model) for several months now, and though we will save our more in-depth analysis for once we have had a chance to test out the officially released SIM4 model - here are a few candid observations on the MoFi strengths and weaknesses we have observed so far:
Members - please be sure you are logged in to read more. If you are not yet a Mobile Internet Aficionado, you can join here.
Further Reading: