We've heard some buzz about cellular routers from Canadian company MoFi for a while now, and when we wrote to get further information on the current MoFi 3500-3GN they replied letting us know about a brand new router coming to market this month - the MoFi 4500.
Cellular routers stand apart from typical home routers in their ability to use a cellular modem as an upstream connection, making them invaluable components at the heart of any moderately complex mobile technology arsenal.
Like other cellular routers (such as those from current favorites WiFiRanger and Pepwave), the MoFi 4500 can use an external USB "stick" modem or a tethered mobile hotspot to get online.
More unusually - MoFi routers can also USB tether via iOS or Android powered phones as well. MoFi actually pioneered iOS tethering - offering it as an optional feature (it required special firmware on the 3500-3GN) long before WiFiRanger added it recently.
And for those who want integrated cellular capability, higher end variants of the MoFi 4500 will even come with a cellular modem built right in - similar to the Pepwave MAX BR1, but at substantially less cost.
On paper, everything about MoFi sounds fabulous!
But is MoFi a worthwhile consideration for RVers on the go?
The MoFi4500-4GXeLTE Product Line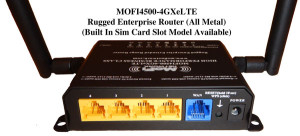 Here are the MoFi 4500 models and prices:
MOFI4500-4GXeLTE - with a front USB port and SD Card Slot - $99.99
MOFI4500-4GXeLTE-Verizon1 - Verizon only (no GPS) - $239.99
MOFI4500-4GXeLTE-Verizon1-SIM - Verizon only (with GPS) - $259.99
MOFI4500-4GXeLTE-SIM1 - AT&T, T-Mobile, Bell, Rogers, Telus (no GPS) - $239.99
MOFI4500-4GXeLTE-SIM1-GPS - AT&T, T-Mobile, Bell, Rogers, Telus (with GPS) - $259.99
Other than the presence or absence of a built in cellular modem and GPS hardware (primarily useful for fleet tracking), the various MoFi 4500 products are supposed to be identical in features and performance - and all of them are aggressively priced considering the features and capabilities on offer.
One major disappointment is that there is NO universal cellular model. If you want to swap between Verizon and AT&T or T-Mobile, you will need a second external modem to connect through - you can't simply swap SIM cards. However for those utilizing both Canadian and a single USA carrier, this may be a great product offering that can keep you connected as you cross borders.
The other big disappointment is the lack of 5GHz WiFi capabilities, or gigabit ethernet ports.
The MoFi 4500 hardware is a small metal box - with five ethernet ports on the back, two external WiFi antennas on the side, and an SD card (for sharing files) and USB port on the front.
All the key software features seem to be there - including WiFi-as-WAN capability to share a remote WiFi network, automatic failover to the best connection, and bandwidth usage tracking.
Other unique features include a built in ad blocker, "video games optimized mode", and USB file and print server functionality.
MoFi Cloud Features
MoFi is also rolling out some very interesting cloud based features to go along with their routers. Most interesting is the "MoFi Cloud Link Server" - which for $14.99/mo provides users with a dedicated private IP address and encrypted VPN tunnel between their router and MoFi's data center.
When this feature is enabled it will increase both privacy and security, and MoFi claims increased compatibility with many online gaming platforms. Having a dedicated IP address also makes it easier to remotely connect to DVR systems or surveillance cameras that you might have in your rig.
Another nice side-effect - because the VPN "out" address is located in the USA, MoFi customers traveling abroad with a MoFi router will still be able to use services like Netflix that block international usage.
For customers who only want video streaming through the VPN, without the private IP address and other features, a more basic "Netflix" package will be offered as well for $4.99/mo, with the first six months service free with a new router purchase.
Getting MoFi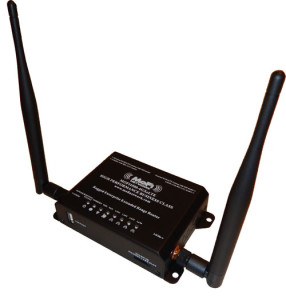 The MoFi website has not even been updated yet with information on the new MoFi 4500 models, and most of the authorized MoFi dealers seem to be focused exclusively on the Canadian market.
Online store AntennaGear however does have the new WiFi MoFi4500 now available in the USA for $99, and AntennaGear is also offering the MoFi4500 via an Amazon storefront.
The MoFi models with the built in cellular modem are supposed to be released any day now - so if you want the convenience of a integrated cellular, keep your eyes peeled.
NOTE: The older MoFi3500-3GN is also still available some places online, but the 4500 offers a lot more features for the same price so the older model is best avoided now.
MoFi - A New Contender?
The MoFi feature set is impressive, and on paper it looks to be a solid alternative to our current favorite cellular routers - WiFiRanger and Pepwave.
We are expecting in a review unit from MoFi soon - and will be sharing our experiences over time as we test out the various features in a range of locations and situations. As usual - we will be sharing our results with our Mobile Internet Aficionado members first.
Readers, if you have used or are considering a MoFi router - let us know what your experience has been.
More Info: