A core feature of the WiFiRanger indoor routers is the ability to directly tether via USB with most cellular modems and mobile hotspots.
This eliminates one radio hop, a lot of potential signal interference, and it keeps your gadgets charged too in the process.
The massive "Phantom" 7.0 Firmware release that came out earlier this year added support for USB tethering with Android devices as well - but iOS devices have not been supported via USB because the driver software required was "too complicated and memory-hungry", especially for the oldest versions of WiFiRanger hardware.
Challenge - Accepted
I've been researching the very promising looking MoFi Network MoFo2500-3GN V2 cellular router (we should be getting one in for review soon) - and one particularly exciting feature I noticed was support for USB tethering Android and iPhone devices - the first time I've seen this supported anywhere.
When I checked in with WiFiRanger last week, I mentioned that I'd seen another router that had actually managed to offer iOS tethering support.
Yesterday - Davey at WiFiRanger surprised the beta testing Facebook group with a screenshot of iPhone tethering in action, saying he "gladly accepted the challenge".
And today, just moments ago, the feature has been released to the public as part of the new 7.0.2 firmware release!
Nothing like a little competitive pressure to make the impossible possible, eh?
*grin*
iOS Tethering - Limitations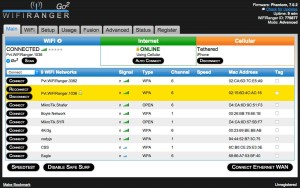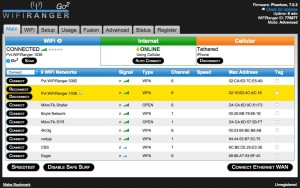 We haven't had a chance to test this feature out yet, but according to WiFiRanger iOS tethering is only supported on the current Go2 and Mini routers, and older routers like the Home and Go1 are NOT supported.
And since they were in a rush to slip this feature into the 7.0.2 release, they were only able to confirm tethering was working on iPhone 5S and older devices, though if there are any issues with iPhone 6 devices a quick fix should be possible.
We will be testing out iOS tethering soon - and we welcome our readers letting us know their experiences.
Firmware 7.0.2 - Other Changes
The other changes present in the 7.0.2 firmware are primarily bug-fixes and performance improvements, in particular solving some of the worst bugs that made the long-term data usage tracking in firmware 7.0.1 unreliable.
There have also been some fixes that should help with logging in to filtered campground networks.
Preliminary Firmware Change Log 7.0.2:
iPhone Tethering Support
Substantial Overall Throughput Improvements
Safe-Surf Usage Tracking Fix - Track both the safe-surf usage AND the corresponding WAN interface it's going out of.
Firewall performance with ipsets.
Adjustment to filtered connections to assist with handling slow responding LAN routers.
Upgraded web-server to fix the obnoxious SSL errors.
Smarter Wireless Channel Auto-Selection
Indoor / Outdoor SSID Synchronization
And much more...
The official release notes and change log will be released tomorrow, and we will update this post then with further details.
The 7.0.2 firmware has just gone live to the public and should be available via the WiFiRanger control panel now.
Let us know how well it works out for you!