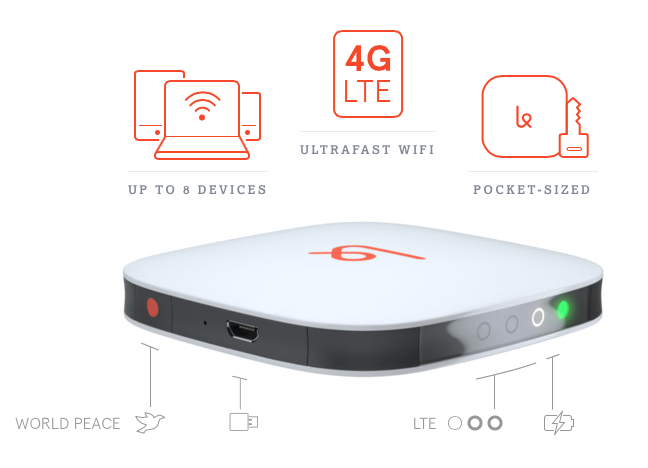 The unique Sprint-powered MVNO Karma has had an awful year.
Karma made headlines late last year when it announced an unlimited data plan called 'Neverstop' for $50/month. Though speeds were capped at a modest 5Mbps, this plan generated a huge amount of interest from those desperate for a truly unlimited cellular data plan.
It only took Karma a few weeks to discover that the usage demands of the Neverstop plan were higher than it could deliver, and in February Karma canceled the Neverstop plan entirely and introduced the Pulse plan instead.
The more traditional Karma Pulse plan wasn't nearly as appealing - with prices ranging from $40/month for 5GB of data, to $140/month for 20GB of data. Especially when compared to a direct Sprint data only plan of 30GB for $110/month.
Karma's original pay-as-you-go Refuel plan continued on as well - with $15/GB data that could be purchased as needed, and which never expired. It was quickly challenged by Charge, offering a similar plan but without the need to purchase a pricey propriety mobile hotspot device.
For many of those excited by Neverstop - the alternatives were just not all that appealing. Especially considering Karma was built on top of Sprint's LTE network, the least desirable network for most RVers.
Fortunately, Karma had a no questions asked refund policy.
Karma Refunds: Lots of Hard Feelings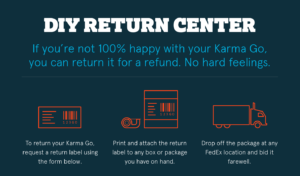 Karma's return center promises customers an easy return with "No hard feelings" - with full refunds for the cost of prepaid service and the required $149 Karma Go hotspot promised within 4-6 weeks of returning the device.
Unfortunately - it seems that Karma is actually running around 4 to 6 months behind in processing refunds, and some customers (many who paid for a year of service up front) have been getting livid at the seemingly endless runaround they have been getting.
One customer, Sam Hawkins, shared his story of visiting the Karma headquarters in New York City to demand his refund after waiting for five months:
"So I went to the Karma Mobility LLC. I went asked if there is someone I can speak with. A guy said "what can I do for you?" There were only 2 people in this huge office space. I introduced myself and than told him my situation and said I want my money. He than said "There is nothing I can do." I replied that I was going to call the police and he said "Go ahead, but you are trespassing and need to leave." I replied call the police than. I called the police who told me they can't do anything about and that I would have to sue them."
Sam isn't the only one with stories of upset to share.
A dedicated Facebook group "Bad Karma 2016" has sprung up as a support group for others furious with Karma, many still stuck in limbo waiting for refunds. Even Karma's own Facebook wall has been filling up with comments and questions from customers still out hundreds of dollars, with no clear answers coming from Karma's support staff.
The most that Karma will say is that "We're still processing refunds, which have been heavily delayed due to a high backlog."
And indeed - some customers have reported long delayed refunds at last going through.
But many more are still waiting for their hard feelings to go away.
Meanwhile - Karma Rolls Out "Double Data"

Despite everything, Karma is still advertising heavily, attempting to sign up new customers.
The latest offering is the new Pulse 25 plan, which offers 50GB/mo for the price of 25GB - for a total monthly cost of $150/mo.
This works out to a relatively cheap $3/GB price.
The catch: The Pulse 25 plan's data doubling ends at the end of the year, and only the first 1,000 customers will be allowed to sign up for this offer. At the time of this writing, Karma's website reports "747 seats remaining".
The plan still requires the purchase of the Karma Go hotspot device for $149 (often on sale for $99).
Karma on Deathwatch?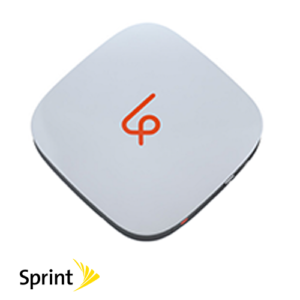 It is hard to tell if Karma will manage to make it long term.
Karma's founder and CEO Steven van Wel seems to be no longer be with the company, having left in June according to his LinkedIn profile.
Meanwhile, on Glassdoor.com an anonymous supposed former employee has this to say about the new management:
"The new CEO had never even used our product when he signed on, which is not surprising when you consider the fact that he is far from tech savvy. It's embarrassing and insulting having him at the helm. ... Almost all of the original team has quit at this point.
Advice to Management: You literally have no idea what you're doing. The company is dead. Try to let it die a respectful death instead of dragging it through the mud (although it's a little late for that, I guess)."
*ouch*
So is Karma going to manage a dramatic turnaround, or is this the final chapter?
A representative of Karma wrote to us last week asking us for "coverage of our new product launch" of the Pulse 25 Plan.
But when we wrote back asking for an update on the status of refunds, and for information about the vision of the new management, we received no further communications in reply.
It seems that Karma is unwilling to answer any tough questions right now.
Without clear communications about the struggles of the past and a vision for the future, it's hard to put any faith in Karma.
Our advice for prospective customers:
The Karma Go hotspot (our review) is currently on sale for $99 through the end of the month. If the 50GB promotional data plan makes sense for you in the short term, go in with eyes wide open.
Know after the first of the year, assuming Karma is able to sustain the plan, it reverts back to 25GB for $150/month - which is more expensive than an equivalent data-only plan direct with Sprint. Of course the plan is month-to-month and you can cancel, but you'll be stuck with Karma's proprietary mobile hotspot that is now outside of their refund policy and will not be able to activate on another service.
And for those waiting for a refund after Neverstop...
Keep your fingers crossed, and keep the pressure on!
Alternatives?
Currently, the most affordable option for a Sprint based plan is through Unlimitedville, even with their recent monthly price increase for new customers. But we're also tracking a developing story that may mean Sprint is making adjustments in what is considered allowable usage on the plan.
For more unlimited options:
Past Posts about Karma:
Related Guides: