The January 2015 Adjustements

January 7, 2016 Update: Karma has contacted Neverstop customers saying they never intended this plan to be used for 'extreme usage' and will be making some adjustments.

Now the plan is just 2-3 mbps (used to be 5), and they state the plan is intended only for occasional video streaming. They now specifically disallow work arounds to connect the Karma to streaming devices and game systems (like Apple TV, Chromebox, etc.)

We still consider this plan worth considering for those who don't need streaming or handling large files regularly, but it may no longer meet as many needs for RVers as before.

Follow the story here: Karma Neverstop - Not Intended for Extreme Use
Sprint MVNO Karma announced today that it is rolling out a $50/mo truly unlimited "Neverstop" plan that works with the $149 Karma Go LTE hotspot.
Karma's "Neverstop" Plan
In the past Karma only offered pay-as-you-go plans (now called 'Refuel') with data that can be purchased in bulk for as little as $9.90/GB. What made Karma unique was that there was no ongoing monthly fees, and any data purchased never expired. You can also catch occasional double data deal top ups when they run specials.
Karma is thus a great plan for light or sporadic data users.
But for those regularly needing more than 5GB a month, Karma was not a particularly good deal.
Neverstop aims to change that by offering truly unlimited data for an ongoing monthly subscription of $50/mo. They also have discounts for prepaying in bulk ($130 for 3 months - save $20, and $500 for 12 months - save $100)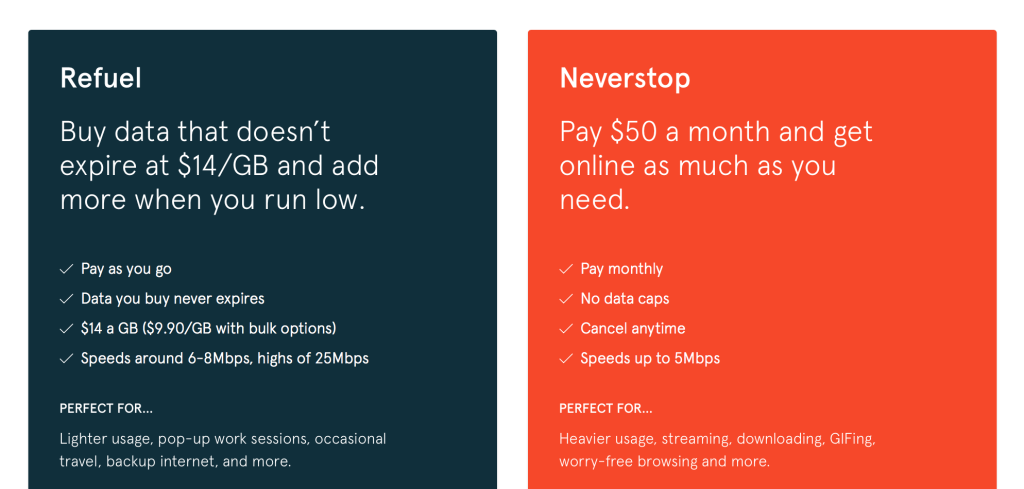 Karma also works on, well, karma. The plan encourages you to share an open network that others can create a free account on and get 100 mb of free data. The connection is isolated from your own connection. When they do, you get a bonus. On the Refuel plan, you get an extra 100 mb added to your account, and on Neverstop, you get a $1 credit.
But there are three catches.
First - regular Karma plans can be shared with eight client devices. The Neverstop plan is limited to three simultaneous connections.
Second - while data usage is unlimited, speeds with the Neverstop plan are capped at 5Mbps. The regular Karma pay-as-you-go plan runs as fast as the underlying Sprint LTE network will allow.
5Mbps is however fast enough for video streaming (even HD video - but not 4k resolution), and can offer a solid surfing experience. Online games and multiple users sharing the hotspot simultaneously though might start to drag a bit.
Karma says that they might offer additional Neverstop plans with different limits in the future too - potentially opening the door to faster speeds down the road.
And third, the Karma Go device requires that you have access to a browser to login to your account to get online. They use a login protocol referred to as captive portal, similar to what some campground or hotel WiFi networks use. This makes directly using streaming devices like Roku, Chromecast and AppleTV incompatible. Gaming systems may also not be compatible, unless they have access to a browser. You should however be able to use the device on a mobile router, like a WiFiRanger or Pepwave to get around this. Even an inexpensive travel focused WiFi extender or bridge can help get around these sorts of captive portals - both providing the login, and increasing the number of connected devices beyond the 3 limit.
And The Big Catch... Sprint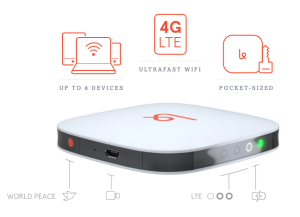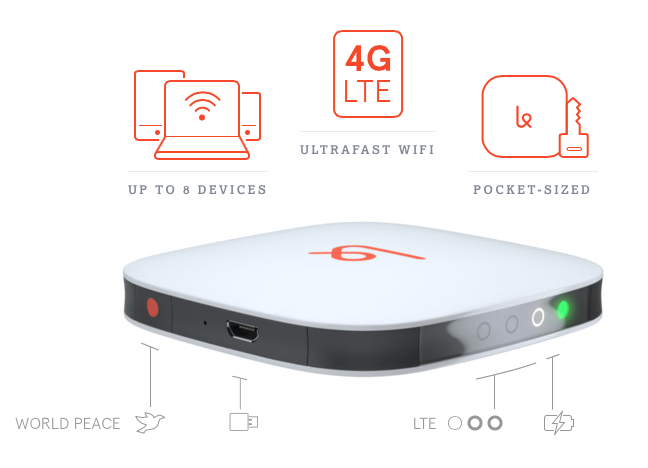 The biggest downside of Karma is that it relies on Sprint's LTE network for service.
And for RVers, in most areas Sprint is a distant fourth behind Verizon, AT&T, and even T-Mobile when it comes to network speed, reliability, and especially coverage.
If you do happen to be in a strong Sprint area however - a Karma plan can be a great way to tap into Sprint's network.
And with no contracts required, you can turn on and off Karma Neverstop service when it makes sense for you. The plan then reverts back to the no monthly cost Refuel option.
It is great to have an affordable unlimited hotspot data plan available again.
To Sign Up, and save $10
(we also get a $10 kickback - which helps us fund keeping this plan
for testing and reporting back on the resource center):
Now if only the bigger networks offered something similar...
Another Sprint Unlimited Offering, but available only to select business types: Unlimitedville Offers Unlimited Sprint Hotspot Plans for $42.99/month (View for our comparison to the Karma Neverstop plan.)
---
Karma Go Discount
The Karma Go hotspot is frequently offered at a discount. So keep your eye out for deals. Since launch, we've seen them as low as $99.
Initial User Reports
Late December 2015: Several of our readers have now received their Karma devices and are utilizing them. We've had lots of initial reports of slow shipping - even beyond the estimates that Karma posts, which may be problematic for RVers on the go who need to provide a current shipping address. However, that seems to have resolves - as we ordered on 12/31/2015 and had a shipping notification within 2 hours.
For those in strong Sprint signal areas, they report success with streaming video and utilizing the service for their day-to-day needs. The captive portal login has caught some off guard, but Karma has since revised their FAQ to reflect this - and a wireless bridge or router can help get around this limitation (see above for recommendations).
The biggest complaints we hear are from those not in strong Sprint areas, which is to be expected. Some are also concerned about the security of their connection, considering anyone can utilize the hotspot and create a Karma account. If you're needing a more secure connection, we recommend utilizing a VPN or secure router to connect.
We ordered our Karma Go hotspot at the end of 2015, and received it immediately. So far, the form factor is pretty impressive - much smaller than anticipated. We're getting speeds comparable to our direct Sprint iPhone plan at our current location (1-2 mbps down).