Karma, the Sprint reseller with their own proprietary mobile hotspot and some unique data plans, just sent out notification to their customers that they have a new add-on service they are calling 'Premium'.
The service can be added to either of their Pulse or Refuel data plans.
The Premium service adds the following features:
Ability to create a private Wi-Fi network: Premium customers can now create a private network with a passphrase needed to connect. With the base Karma plans, your only option is to have a public Wi-Fi network that is joined via a web page based captive portal. Those who do not have your password can then create a free account and get 100mb of free data (and you earn bonuses from Karma). Now at last you can keep your network 100% private.

Ability to name your private network:

Premium customers are able to name their private network whatever they like, including using emoji.

Connect Any Device:

With a private network and passphrase, at long last Karma Premium customers can connect devices that do not have a web browser to get past the captive portal. For example, streaming and gaming devices like an Apple TV or PlayStation can now connect.
Karma's Premium webpage also lists additional features coming soon, including selecting the speed delivered and data usage limits to avoid unexpected higher bills.
Basically, all Karma is adding with Premium is the ability to use a standard WiFi network more similar to that provided by a traditional mobile hotspot Jetpack or MiFi router, with an SSID (network name) and password.
This is fixing one of the most common complaints customers have had about the Karma service - and enabling a feature delivered by every other cellular carrier with a mobile hotspot plan.
And for providing this fix, Karma is charging $15/month on the Refuel plan, and $5/month on the Pulse plan.
Quick Karma Recap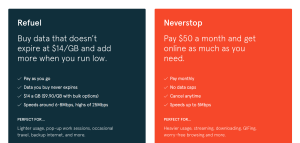 The Refuel Plan is Karma's initial offering they launched last summer. It's a pay-as-you-go model with never expiring data. You simply purchase as much data as you want to have in your account at $15/GB, and use it as you need it. If you want to be able to have your own private WiFi network, now it will also cost you a reoccurring $15/month fee (which can be canceled). This option is quite flexible for RVers who just want Sprint as a back-up option, and the model has since been implemented by reseller Charge, without the requirement of proprietary device purchase.
Their Pulse plan is a tiered data plan, were you pay a set monthly price for data that expires at the end of the month (prices range from $40/month for 5GB of data, to $140/month for 20GB of data). For comparison, you can get a 12GB data plan direct with Sprint for $80/month.
Karma made headlines late last year when they announced an unlimited data plan called 'Neverstop' for $50/month of throttled data. The big hurdle that customers ran into is non browser based devices were unable to use the plan due to needing to pass captive portal.
It only took Karma a few weeks to discover that demand for the plan was higher than they could deliver, and in February they canceled the Neverstop plan and introduced the Pulse plan instead.
We have heard from many customers who returned their Karma Go devices when Neverstop was canceled (a required $149 purchase to sign up for any of Karma's plans), and some are still awaiting their refunds months later.
Posts about Karma: