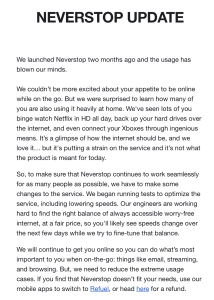 Back in November, Sprint network reseller Karma announced their new unlimited Neverstop plan.
With the plan, up to 3 devices can connect to a $149 Karma Go dedicated hotspot device, and customers can then enjoy unlimited data usage for $50/month.
The limitation of Neverstop is that speeds are capped at a maximum of 5 mbps.
Many RVers have jumped on the deal in the past couple of months, some even making it their primary source for online connectivity - even actively sharing their referral codes in groups and forums.
After heavily promoting the service and running year end specials to purchase the Go hotspot at a discount, Karma today sent out an e-mail to Neverstop customer essentially saying they never intended the service to be utilized for "extreme" use.
But we were surprised to learn how many of you are also using it heavily at home. We've seen lots of you binge watch Netflix in HD all day, back up your hard drives over the internet, and even connect your Xboxes through ingenious means. It's a glimpse of how the internet should be, and we love it… but it's putting a strain on the service and it's not what the product is meant for today.​
This is actually quite a shock to hear and feels like Karma is slapping their customers hands for using it exactly as they marketed it:
Pay $50 a month and get online as much as you need.
It's like they never conducted any market research as to what today's mobile internet users, or even cord cutter & rural stationary folks, actually need to do online.
They even specifically marketed the plan as being perfect for heavier usage like streaming and downloading files.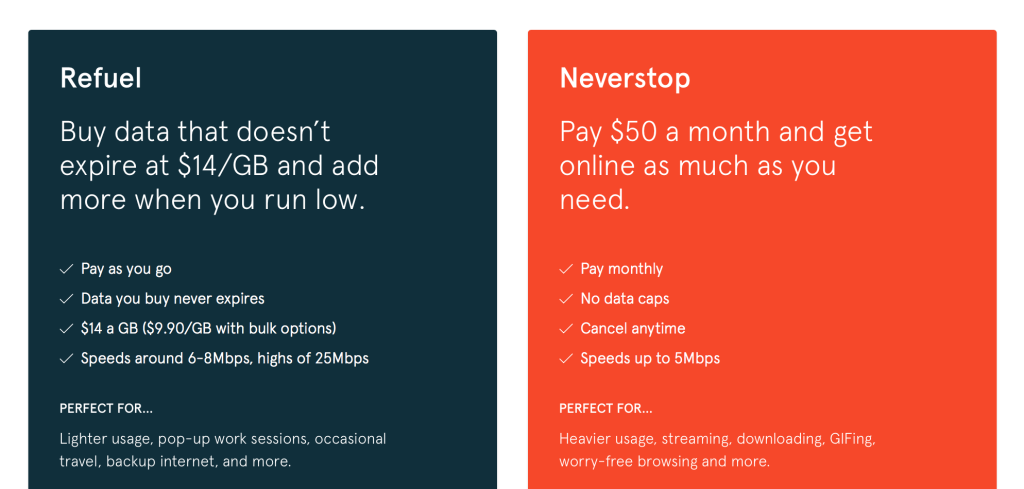 Over the coming days, Karma announced it is going to start experimenting with different data speed caps than the advertised 5 Mbps to try to reduce usage and find a 'perfect balance'.
For customers who find the new offering does not meet their needs, Karma suggests switching to their pay-as-you go Refuel option, or requesting a refund.
The service was after all no contract, which does go both ways.
We will continue to get you online so you can do what's most important to you when on-the-go: things like email, streaming, and browsing. But, we need to reduce the extreme usage cases.
In the e-mail, Karma also sent out a survey link so that customers can let them know what they seek in an unlimited service.
We encourage you to fill it out.
Carriers need to know when they actively market and promote unlimited data, customers really want unlimited service.
We have reached out to Karma Public Relations for additional information, and will continue tracking this development as they conduct their experiments. Any new information we discover will be posted here. Stay tuned!
Updated Information: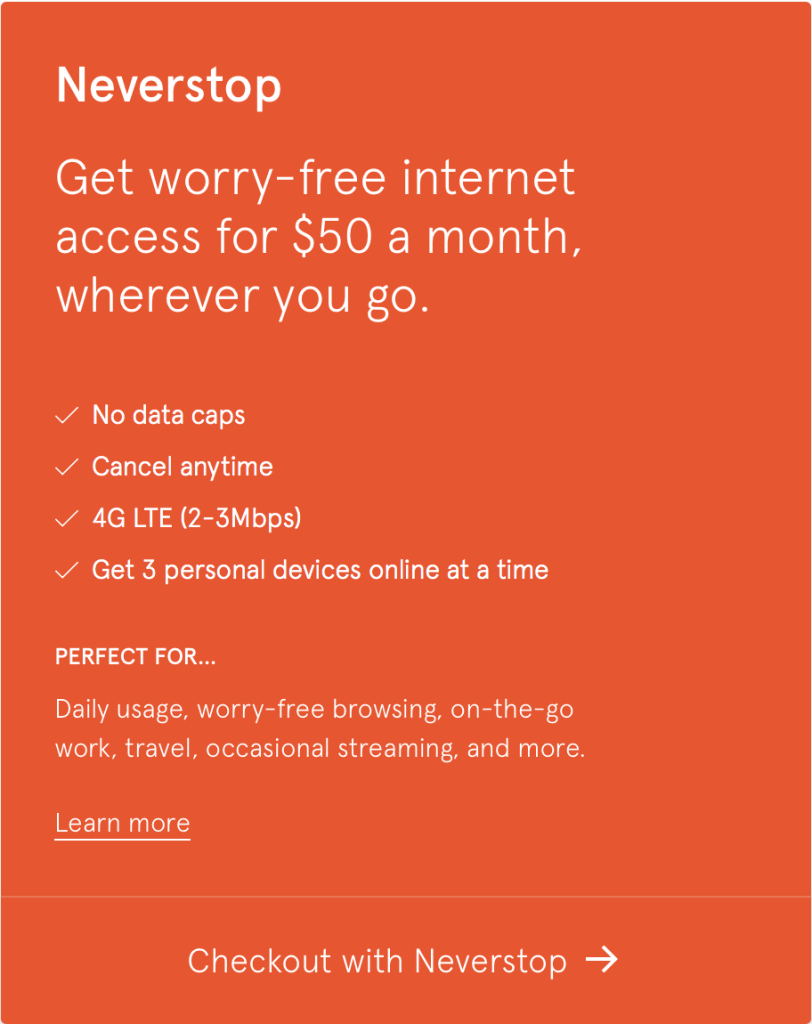 January 8, 2016: Karma has made some adjustments to their website offering for the plan.
Now Karma is marketing Neverstop shaving 2-3 Mbps as the speed cap.
They've also revised what the service is 'perfect for' - "Daily usage, worry-free browsing, on-the-go work, travel, occasional streaming, and more."
We've heard many reports of customers having noticed their speeds reduced last week to 1.5 mbps (indicating Karma might have been experimenting with speeds even before their announcement).
And many today are reporting getting around 2.5 Mbps where they used to reliably see 5 Mbps.
We anticipate that Karma will continue to experiment, and we advise holding off on making any decisions about the plan until they settled on what the new offering will be.
For more information: