Canadian Mobile Internet for RVers & Cruisers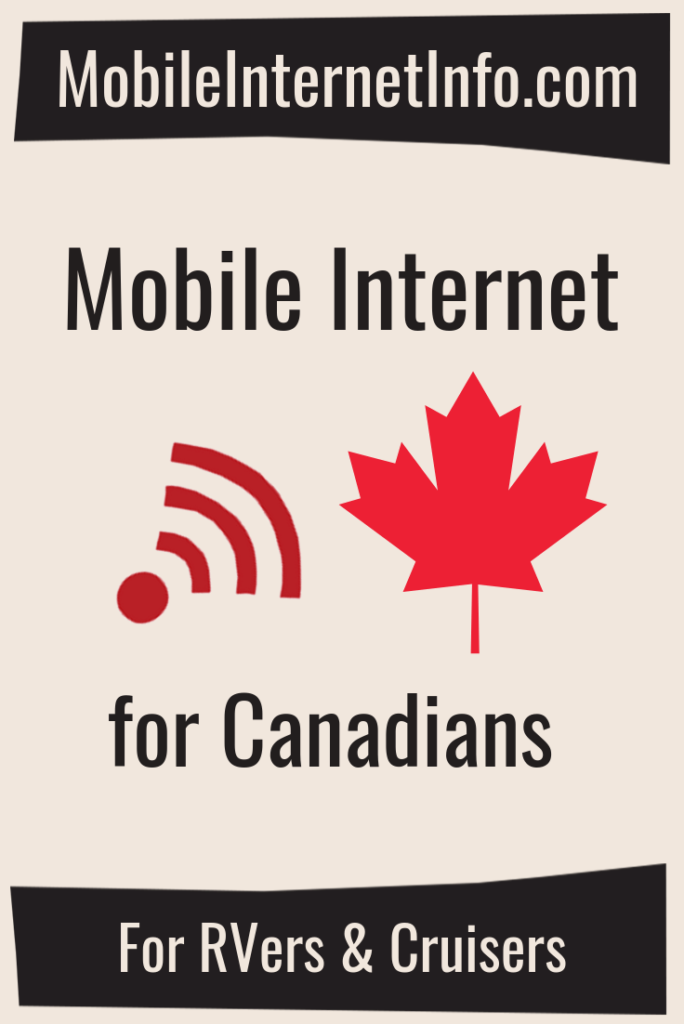 Canadian traveling to the U.S.? You can be mobile & connected too!
While the focus here at the Mobile Internet Resource Center is helping U.S. based nomads set-up home internet replacements while maintaining a mobile lifestyle, we often field questions about similar set-ups for our friends to the north.
This guide has been written to help guide Canadian based nomads traveling both within Canada, and also those venturing south of their border into the U.S. find solutions for keeping connected.
We closely track options for keeping connected in the U.S., and even for U.S. based nomads traveling internationally. However, many of the options we track require you to have a U.S. billing address to subscribe.
Which isn't overly helpful for Canadian citizens choosing to hit the road.
So here is an overview of the options for keeping connected for Canadians.
This Guide Brought to You by Our Members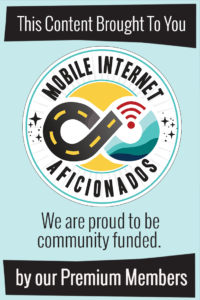 We are honored to be able to present the basic sections of this guide for free without 3rd party advertising.
This content is brought to you by funding from our premium members.
Our members have access to the entirety of this guide, interactive guidance, product reviews, alerts, vendor discounts and more.
If you're a member, please log in above to see the member exclusive portions of this guide.
If mobile internet is an important part of your lifestyle, here are ways you can help:
---
Wi-Fi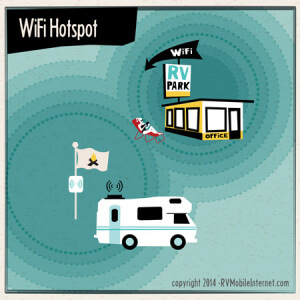 Relying on Wi-Fi is the simplest way to stay connected in the U.S. or Canada - although it is not always the most effective or reliable way.
Wi-Fi works the same in the U.S. and Canada, and you can use Wi-Fi equipment interchangeably between the two countries.
In both the U.S. and Canada, Wi-Fi is present in many campgrounds, marinas and RV parks (even if only in the front office or clubhouse).
However, Wi-Fi being present doesn't always mean it is usable. But, if your needs are modest, Wi-Fi hotspots can often suffice for basic needs.
Aside from campgrounds & marinas, Wi-Fi hotspots – like in most places across the world – are often accessible from cafes, coffee shops, restaurants, libraries, breweries, and more.
Many public Wi-Fi hotspots in both the U.S. and Canada are free, or free with the purchase of an amenity from the source. You will occasionally find paid Wi-Fi sources too. Free or paid, the quality of the connection will vary substantially.
Having Wi-Fi repeating gear on board your rig can help improve your connectivity situation if the prime issue is increasing the range between your RV or boat and the hotspot. However, no amount of gear will make any difference if the bandwidth at the source of the Wi-Fi is not supportive enough. Very often it is the upstream connection itself that is very limited – especially in small remote towns, RV parks, and campgrounds.
Be especially considerate of others sharing the same Wi-Fi network - streaming video should only be attempted if you have an explicit OK from the network manager. Don't be the one who drags the internet to a crawl for everyone - in some rural areas, there just is not a lot of connectivity to go around.
For in depth information on using Wi-Fi, please refer to our guide:
For in depth info on finding campgrounds with Wi-Fi, please refer to our guide:
Traveling Planning Around Connectivity
Additional Member Only Content :

Has this guide been helpful so far?
Well.. there's a lot more below available to our members - as well as dozens of other guides like this, videos, a classroom, forums, webinars and more. All specifically created for helping keep RVers, cruisers and nomads online.
---

Hopefully you've noticed that our content isn't cluttered with 3rd party advertising, we're not sponsored and we're not reliant on selling you plans or gear to make our content possible.
We are instead community funded via our premium membership program - allowing us to focus on creating unbiased quality, in-depth, constantly updated content.
If mobile internet is an important part of your lifestyle, here are ways you can help:
Become a Member Support this Content
If you're already a member, please log in to see the rest of this guide.
Here's a sneak peak at the member exclusive topics in this guide:
Canadian Cellular Plan Options
An overview of the data plans available for the major carriers in Canada for use in Canada, as well as resellers and prepaid brands.
Cellular Frequency Bands
Getting the best cellular service means having equipment optimized for a carrier's network - this section tracks the cellular bands utilized by the Canadian carriers.
Cellular Service in the US
This section goes over the Canadian data plan roaming options for traveling in the US, options for plans direct with US carriers that don't require a US billing address and global roaming services.
Satellite Internet in Canada
Satellites have coverage maps too - this section tracks which mobile satellite services have you covered up north.
---
Conclusion: Canadians Can Be Connected Too!
Canadian nomads like the internet too! We assume.
While this guide is not all-inclusive of every plan available in Canada - we hope it will provide Canadian nomads some guidance in where to begin their search for a mobile internet solution that meets their needs.
For Canadian nomads heading South to the U.S. for bursts of time, there are multiple options for staying connected. From using local Wi-Fi to taking advantage of the roaming features or add-ons on their Canadian cellular plan, to grabbing a U.S. based cellular data plan - careful research into cellular plan terms and other options for connectivity can make or break your mobile internet experience on a Canadian and/or U.S. adventure.
Related Reading
Related Guides:
Related News Stories:
Explore the Resource Center
The MIA is our premium membership - designed for those who consider mobile internet an important part of their lifestyle.
In thanks for making content like this possible, we offer a bunch of additional perks. From interactive guidance, in-depth member exclusive content, discounts, alerts, classroom and more.
We totally understand that a membership isn't right for everyone.
However you can still support this content with our supporter level for just $25/year.
With our gratitude, you'll get access to all our free content without the 'nags'.

Have Questions? Stay In the Know
Join our 'Library Desk':
Internet for RVers & Cruisers Facebook Group
We cross post news articles and guides, and can help point you in the right direction to our content here on the resource center.
It is with gratitude to our premium members that we're able to offer our free content - and for that, they also have access our private Q&A areas for more in-depth guidance.
Stay in the Know
We're constantly tracking the industry and analyzing new developments for mobile travelers. If you'd like to receive updates, we offer several ways: