This device or plan has been discontinued or we consider it obsolete. While current owners of this device or plan may continue to find performance to be adequate for the foreseeable tech-future, we do not recommend upgrading to or purchasing it.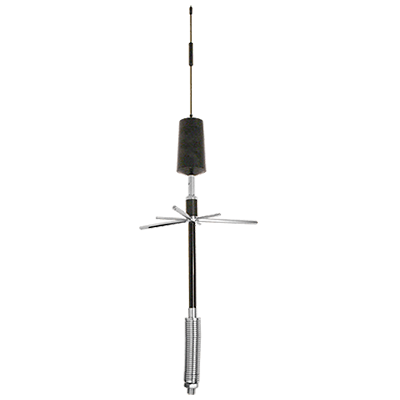 weBoost's former Trucker & RV optimized for 3G and voice cellular antenna is a classic omnidirectional shaft-mounted design that does not require a ground plane.
In the 3G era, cellular devices only needed to be concerned with the classic cellular band (now known as LTE B5/B26) and the PCS bands (LTE B2/B25).
And the Wilson RV/Trucker Antenna earned a great reputation over the years for serving these bands extremely well.
In the age of LTE though, a lot more bands are important, and the classic Trucker was not designed taking these into account.
Specifications
Model:

311133
# of Antennas: Single

Direction:

Omni-directional
Frequency Range: 700-800 / 824-894 / 880-960 / 1850-1990 MHz

Impedance:

50 ohms

Cable Type & Length:

RG-58 / 13.5'

Connector:

SMA Male
Internal Ground Plane: Yes

Dimensions:

21.5" Tall
Weight: 1.59 pounds

Mounting:

3-way Bracket
Outdoor Rated: Yes
Frequency / Gain:
700-800 Mhz: 3.1 dB
824 - 894 Mhz: 4.1 dB
880 - 960 Mhz: 2.0 dB
1710 - 1880 Mhz: -1.8 dB
1850 - 1990 Mhz: 5.1 dB
2110 - 2170 Mhz: -2.6 dBi

Retail Price:

$59.99
---
Review & Testing Status
Wilson Amplifiers sent us a review unit, and we have our results in the member area below.
---
Potential Alternatives to Consider:
For other popular cellular antennas on the market we are tracking - here are our featured options:
Learn More About Selecting Cellular Antennas
---
This Review Contains Additional Member Exclusive Content!
We are Honored to be Member Funded!
No ads, no sponsors, no selling (but may contain affiliate links)
Our members fund our in-depth independent reviews.
This entry may contain additional member exclusive content such as testing notes, field testing data, user interface tours, comparisons to alternatives, analysis, tips, videos and discounts.
Members also get interactive guidance, alerts, classroom and more.
Purchasing Options
Amazon | Wilson Amplifiers | 5G Store | weBoost
Cellular antennas can be a vital part of your signal enhancing strategy to get a better signal, and thus better cellular data performance. They come in many shapes, sizes and varieties.
They can be used directly connected to your mobile hotspots or cellular embedded routers, or they might connect to your cellular booster. They come in omni-directional vs directional, single vs MIMO, and might support different frequency bands. They come in combination antennas with Wi-Fi and GPS.
But most importantly, is your installation options on your RV or boat.
So before choosing an antenna, be sure to understand all of these variables - and keep in mind that there likely isn't a single 'one size fits all' solution here. You may need to make compromises, or even have speciality antennas for challenging signal areas.
We recommend starting with our Guide to Selecting Antennas, and then moving on to our other guides addressing related topics: