The Verizon HumX is a "Connected Car" device that plugs into a vehicle's OBD-II diagnostic port, automatically creating a Wi-Fi hotspot whenever the ignition is turned on.
In other words - the HumX is designed to keep passengers entertained with internet access while on a road trip.
But the HumX is a lot more than just a Wi-Fi hotspot. It also provides vehicle diagnostics, tracking, a speakerphone, and it can even give you (or your kids) a driving safety score.
Unfortunately - the HumX is saddled with frustrating limitations that make it relatively useless for the most common nomadic connectivity needs.
---
Specifications
Model Number: VT-400

# of Connected Devices:

10 via Wi-FI
Control Panel and Default Password: Located on the back of the HUM speaker
USB Tethering Support: None
Supported Networks and Bands:
LTE: Bands 2, 4, 5, 12, 13 and 17
UMTS/WCDMA, HSPA+
MIMO Support: 2x2 Internal only

LTE Performance Category:

Category 4
(Max Theoretical Speed: 150Mbps Down / 50Mbps Up)
Other Ports: OBD-II

Wi-Fi Technology / Frequencies:

802.11 b/g/n - 2.4GHz Only

Dimensions:

Wi-Fi Device: 3.19" x 2.13" x 1.06" / 6.0 oz
Speaker Device: 4.72'' x 2.76'' x 1.99'' / 6.0 oz

SIM Card Type: eSim (not removable!)

Retail Price:

$150
NOTE: Verizon also offers the Hum+, which is a vehicle tracking/diagnostic tool without the built-in Wi-Fi hotspot feature. If you are looking for internet access, be careful not to accidentally purchase the wrong Hum!
---
Review & Testing Status
We purchased a HumX and added it as a line to our Verizon New Unlimited Data Plan.
We used the HumX extensively for a brief period and then returned it shortly before the two-week return window closed.
---
Unboxing Video & First Impressions
Here is our unboxing video and impressions of the Verizon HumX, filmed in May 2017.
---
Hands-On Testing Notes
We decided to find out the answers to these key questions:
Can the HumX be powered by an external power adapter like the AT&T Mobley - allowing it to operate without needing the vehicle's ignition on?
Yes, but only for a limited time - and only if the HumX has not already been paired with a vehicle. Once the HumX is paired with a vehicle, it will not power on without being plugged into that specific vehicle. And you can not easily switch vehicles without Verizon re-provisioning the HumX to pair with the new vehicle's VIN number.
Some online hardware hackers have speculated that an OBD-2 interface setup with a VIN spoofer might get around this check, but this level of workaround is well beyond most mortals.
Will the HumX keep operating as a mobile hotspot after the vehicle ignition has been turned off?
No, it turns itself off within a few minutes of the vehicle shutting down. There is no way around this presently.
Can you use as much 4G LTE data as you want, without encountering Verizon's 10GB high-speed mobile hotspot cap?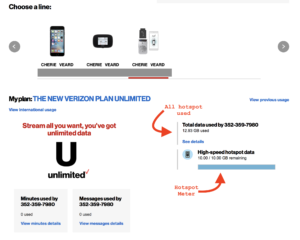 We were able to use 12GB of data on our HumX without any slowdowns or notifications.
However, on our MyVerizon dashboard, the usage shows the new 10GB hotspot meter - but none of that data was calculated as mobile hotspot usage.
Our smartphone on the same account also is not currently calculating hotspot use into the meter - and there is clearly a policy on this.
Our Jetpack line on this same account is actively subject to throttling after 10GB of usage.
We consider the unlimited high-speed usage to be a possible temporary condition - given that our smartphone hotspot data is calculating the same way.
Update: In September 2017, Verizon both raised the hotspot cap to 15GB and began enforcement of the throttling on smartphone lines. And multiple confirmations in forums seem to indicate that the cap & enforcement applies to the HumX plans as well.
Conclusion: Because you can not practically use the HumX outside of a running vehicle and is subject to Verizon's "unlimited" mobile hotspot cap, the Verizon HumX is NOT a viable equivalent to the AT&T Mobley Connected Car Plan.

However, if you're seeking an onboard diagnostics tool that can also act as a Wi-Fi hotspot while the vehicle is on, the HumX might serve that need.
---
Potential Alternatives to Consider:
For other popular mobile hotspots on the market - here are our featured options:
---
This Review Contains Additional Member Exclusive Content!
We are Honored to be Member Funded!
No ads, no sponsors, no selling (but may contain affiliate links)
Our members fund our in-depth independent reviews.
This entry may contain additional member exclusive content such as testing notes, field testing data, user interface tours, comparisons to alternatives, analysis, tips, videos and discounts.
Members also get interactive guidance, alerts, classroom and more.
Purchasing Options
REMINDER: Verizon also offers the Hum+, which is a vehicle tracking/diagnostic tool without the built-in Wi-Fi hotspot feature. If you are looking for internet access, be careful not to accidentally purchase the wrong Hum!
Purchasing Links:
The guides below have been hand-picked to help further your education about selecting mobile hotspots and best utilizing them in your mobile internet setup.