KVH Industries is best known for providing TracVision satellite TV receiver domes for the RV and marine market, as well as for its popular TracPhone global satellite voice and data service that is often found providing connectivity on mega-yachts (with the budgets to match).
In June 2018, KVH introduced the TracPhone LTE-1, its first cellular-powered system. Initially marketed towards cruisers with more modest budges who are not planning to venture far enough off shore to require satellite, its now offered as a solution for RVers as well.
The TracPhone LTE-1 is a marine-rated 13" diameter plastic dome resembling KVH's other satellite products, and it would look right at home on a radar arch next to a KVH satellite TV receiver.
Inside the dome there is a cellular integrated router with an LTE-A compatible cell modem, paired with a MIMO cellular antenna.
KVH says it can provide coverage up to 20 miles from a cell tower (for RVers), and up to 20 miles off-shore (for cruisers).
One unique feature of the LTE-1 is that it automatically switches between carriers, to ensure better coverage as you travel. The two carriers they use are T-Mobile and AT&T. The system will try to connect to T-Mobile first, and if unable to do so will then connect to AT&T.
NOTE: KVH was unwilling to share the deeper technical specifications, but we've dug up some unofficial details that we'll share for logged in members below.
The unit is powered over a POE (power over ethernet) connection routed into the boat, and to connect your devices it can create a 2.4GHz local Wi-Fi network.
You can also plug the POE power supply into an indoor networking switch or router if you want to have a wired or 5GHz indoor Wi-Fi network as well - but an indoor network is NOT required and the TracPhone LTE-1 should provide adequate Wi-Fi coverage throughout most modestly sized boats.
The TracPhone LTE-1 is locked and customers will not be allowed to change SIMcards and will ONLY be able to use a KVH data plan.
And the data plans on this device are expensive - $99/month for 10GB.
KVH currently only provides coverage in US waters (including Alaska and Hawaii), and in the Gulf of Mexico through a roaming agreement with Tampnet. They tell us that they hope to partner with other carriers to also provide Caribbean coverage in the future.
KVH also provides a LTE Manager app, which "allows you to customize your onboard Wi‑Fi, see your data usage, and receive usage alerts via text or email via our secure app and website."
The KVH LTE-1 lists for $1,699.
Specifications
Model: TracPhone LTE-1
Router Specs:
Cellular Modem Specs:

Supported Networks and Bands: T-Mobile and AT&T
MIMO Support: Yes
LTE Performance Category:
Cellular Antenna Ports:
SIM Slots:

Dimensions: 13.5" x 13.3"
Other Ports: None
Power Source: POE
Outdoor Rated: Yes
Special Features: Can automatically switch between carriers (we just don't know which carriers)
Retail Price: $1,699
TracPhone LTE-1 Data Plan
KVH's data plan is simple, though expensive. You get 10GB of data a month for $99, with overages charged $9.99/GB, and $100 activation fee.
There is no contract, so seasonal mariners can start and stop service as needed. KVH charges a $9.99/mo fee for temporarily suspending your service, which avoids need to pay an activation fee to start up again.
---
Review & Testing Status
We do not currently have a unit in for testing.
---
Potential Alternatives to Consider:
For other popular mobile routers on the market we are tracking - here are our featured options:
Learn More About Selecting Mobile Routers
---
This Review Contains Additional Member Exclusive Content!
We are Honored to be Member Funded!
No ads, no sponsors, no selling (but may contain affiliate links)
Our members fund our in-depth independent reviews.
This entry may contain additional member exclusive content such as testing notes, field testing data, user interface tours, comparisons to alternatives, analysis, tips, videos and discounts.
Members also get interactive guidance, alerts, classroom and more.
Member Exclusive Content:

Please don't share the details below outside of member spaces. But please DO SHARE A LINK to this page - non members will get a free preview.
Before you purchase gear, check for discounts - an exclusive member perk!
Member Discounts Listing
Thoughts & Analysis
MIA Member Exclusive: What's Inside The KVH TracPhone LTE-1?
We have covered the LTE-A version of the BR1 Mini here - and have heard good things from several members who have used this device. KVH refused to answer any of our questions about the deeper technical capabilities of the TracPhone LTE-1 - but the FCC ID stamped on the data sheet seems to indicate that inside the plastic dome KVH is using the PepWave MAX BR1 Mini as the heart of the TracPhone LTE-1.
The BR1 Mini costs $399, and you can pair it with any antennas and data plans of your choosing - potentially allowing you to build your own TracPhone LTE-1 equivalent for a fraction of the overall system cost.
But there is definitely something nice about having just a single company to turn to for a complete and well supported package - so KVH definitely still has a niche to fill.
If we learn any more details about the deeper specs of the TracPhone LTE-1, we will share them here.
Favorite Features:
Automatic switching between carriers
Great marine reputation
Potential Downsides:
Cannot change SIMcards

Plans are pricey
KVH not forthcoming with much of their technical information
Mobile routers are best paired with a high-capacity or unlimited cellular data plan, which can be difficult or expensive to find. Additionally, some data plans offered by carriers and resellers may allow usage on a mobile hotspot device, but not a cellular-embedded router. You will need to carefully research your data plans to ensure they will work with your chosen device and profile sufficient data for your needs.
TracPhone LTE-1 Alternatives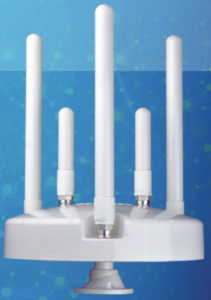 TracPhone has an excellent reputation for providing marine rated gear, but there are alternatives to consider as well for offshore cellular internet access.
Most similar to the TracPhone LTE-1 is the Winegard ConnecT. The marine version of the ConnecT 1.0 (our review of the RV version) is $479, substantially cheaper than the TracPhone LTE-1.
Winegard's data plan is provided by (just) AT&T, and comes with a more flexible range of sizes - ranging from 1GB for $20/mo to 20GB for $150/mo, and these plans include Canadian coverage. Or you can get 10GB for just $65/mo without support in Canada.
Or rather than mounting all the cellular electronics outdoors, any indoor cellular integrated router paired with an outdoor antenna is worth consideration too.
But there is definitely something nice about have a package deal with hardware, cellular service, and support all provided by one company. If this style of integration appeals to you, it is great to see KVH entering this market.
Purchasing Options
Related News Center Articles
The guides below have been hand-picked to help further your education about selecting & using mobile routers.