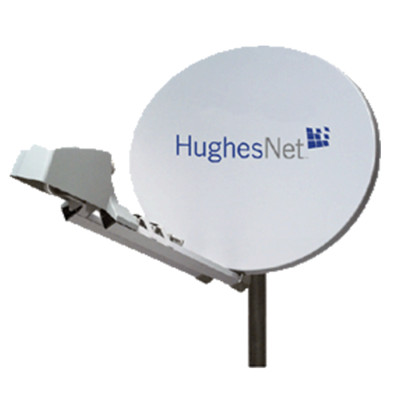 HughesNet launched its final 5th generation satellite in December 2016 and rolled out Gen5 service to customers in April 2017.
Unlike the limited coverage of HughesNet Gen4, Gen5 covers the entire continental United States, parts of Alaska and Canada, and even into Mexico with faster service than HughesNet has ever been able to offer before.
This is a huge improvement over older generations - and makes HughesNet a very interesting option for RVers who travel frequently out of range of cellular towers.
Gen5 standardizes the speeds to offer a promised peak of 25Mbps down and 3Mbps up, a substantial improvement that makes HughesNet a lot more competitive with LTE cellular technology.
Getting Gen5 Service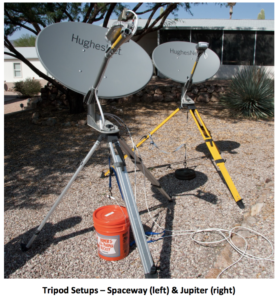 Service will require a HT2000W satellite modem, radio and satellite dish. Plus a tripod and cabling.
If you're purchasing equipment new, anticipate that the start-up costs are around $1200-1500 depending on what you select.
There are auto aiming roof mounted options too, which brings the price into the $15-20k range.
On top of that, you'll need a compatible satellite service plan which start at $49.99/month for 10GB of anytime residential data (plus 50GB overnight) all the way up to $389.99/month for 200GB of business data.
Do keep in mind - traditionally all HughesNet plans require agreeing to a multi-year contract to sign up for a new tier of service.
Make sure that these new plans will meet your needs before getting locked in!
What About Mobile Satellite Internet ?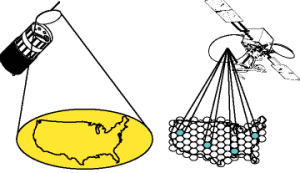 HughesNet has NEVER directly supported mobile satellite internet installations - they will only directly setup fixed location stationary installations.
This isn't just a matter of policy - it is a technical limitation due to satellite internet dishes needing to be professionally set up and aimed, as well as how the satellite divides up the country into hundreds of "spots" that function similar to cell towers - only a lot further off the ground.
Even if you could re-aim a dish that you moved yourself, if you leave the spot beam that your service address is assigned to you will be essentially invisible to the satellite and unable to connect at all.
This makes satellite internet service particularly tricky for mobile users to take advantage of.
There are two ways around this spot beam limitation, offered only by select vendors able to setup customers for mobility.
Specifications:
---
Review & Testing Status
We do not intend to obtain a HughesNet tripod system to test first hand, due to our own lack of storage space for the bulky dish required.
But we have owned and used a previous generation (Gen2) HughesNet tripod system, and we are tracking several people who have purchased Gen3, Gen4, and now Gen5 setups and who have shared with us their first hand experiences.
---
Potential Alternatives to Consider:
For other featured mobile satellite options:
Learn More About Mobile Satellite Options
---
Our member section below goes over these options & plan costs in greater detail. Some insider information and tips are shared with our members below.
More Information Available to our Members

We are honored to be able to present the above overview for free without 3rd party advertising.
In thanks for funding this resource center our members have access to any further notes, analysis, insider info, member experiences and/or our full in-depth review of this product or offering.
If you're a member, please log in above to read the review.
Additional Reading
Related Articles
Related Guides
---
Purchasing Options
You can NOT sign up for "mobilized" HughesNet service directly with HughesNet, and you can not easily take an existing residential HughesNet system on the road.
It just wont work. The account needs to be provisioned differently to enable mobility, and the modem needs to have special firmware settings unlocked to make roaming between spot beams possible.
Here are vendors who can assist RVers with mobile setups:
The guides below have been hand-picked to help further your education about mobile satellite: