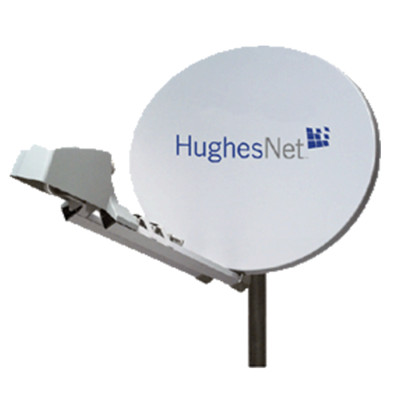 HughesNet launched its final 5th generation satellite in December 2016 and rolled out Gen5 service to customers in April 2017.
Unlike the limited coverage of HughesNet Gen4, Gen5 covers the entire continental United States, parts of Alaska and Canada, and even into Mexico with faster service than HughesNet has ever been able to offer before.
Gen5 standardizes the speeds to offer a promised peak of 25Mbps down and 3Mbps up, a substantial improvement that makes HughesNet a lot more competitive with LTE cellular technology.
This is a huge improvement over older generations - and makes HughesNet a very interesting option for RVers who travel frequently out of range of cellular towers. Or for those RVers who absolutely MUST have Internet 24 x 7, wherever they stay.
However, HughesNet only sells service for fixed locations and doesn't directly support mobile use. However, they do have a Value-added Reseller (VAR) network sells mobile options.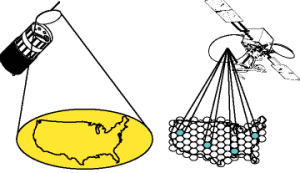 This isn't just a matter of policy - it is a technical limitation imposed by Hughes for residential HughesNet satellite internet dishes to be professionally set up and aimed, as well as how the HughesNet spot-beam systems divide up the country into hundreds of "spots" that function similar to cell towers.
Customers who purchase service directly from HughesNet and try to move to another spot will discover their service no longer works.
So do NOT purchase Gen5 service directly from HughesNet and expect to travel with it.
Ok, So What About Mobile Gen 5 Options?
While HughesNet has NEVER directly supported mobile satellite internet installations - they have allowed Value-Added Resellers (VARs) to sell mobile service to their satellite network using equipment that consumers can setup and use.
Mobile Gen5 options through a VAR require specialized equipment and modem firmware that must be acquired from the reseller. Standard HughesNet consumer or business equipment cannot be moved around, self-installed or used for mobile VAR plans because the standard residential firmware is different.
Additionally, only business plans are available via a mobile VAR setup.
Getting Gen 5 Service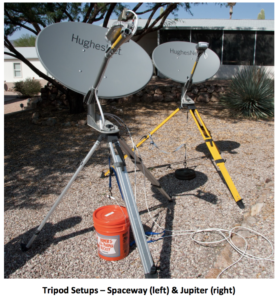 Service will require an HT2000W satellite modem, a radio, a satellite dish, and cabling. Additionally, a mount is needed, typically a sturdy tripod. There are many other items that can make setups quicker and easier, but these are the minimum necessary items.
If you're purchasing equipment new, anticipate that the start-up costs begin at around $1000 and up depending on what you select.
There are auto-aiming roof-mounted options too, with starting prices around $15,000 plus installation (and go up from there), but you might find retrofit options for much less ($6000).
During a test phase, HughesNet allowed resellers to utilize residential plans (which have much cheaper pricing) in a mobile setup, but that was discontinued.
A compatible mobile satellite service plan starts at $89.99/month for 35GB of total data per month.
These plans allocate data by time slot. The 35GB plan, for example, includes 10GB of data that can be used anytime plus another 25Gb of data that can only be used during the day (i.e., business hours) - 8am-6pm local.
There are several plan options ranging from the base 35GB for $89.99/month and up. There are also "backup/continuity/ plans which allow the account to remain active for as low as $49.99 per month but only provide minimal data.
However, if you run out of data on your plan, you can purchase additional data for $3 per GB or you can switch to a higher (or lower) plan, but there are usually restrictions on how often you can switch plans. This does not affect your contract.
Additionally, keep in mind these plans require a 2-year contract which has an Early Termination Fee (ETF) that starts at $400.00 and decreases until it reaches $0 at 24 months. The no-contract option requires the full $400.00 paid up-front.
---
Equipment and Plan Specifications
Equipment
Equipment Specifications
Main Function: Provide mobile satellite-based internet access
Satellite Network: HughesNet Gen5
Mobile-Friendly: Yes
Setup Options: manual tripod or autoaiming system
Equipment Cost: $1000 - $25,000
Plan
Plan Specifications
Satellite Provider Used: HughesNet Gen5
Provider Relationship: Value-Added Reseller (VAR) & associated dealers.
Plan Types Available: Business data-only plans (available for consumers). VOIP service available for an additional monthly fee.
Equipment Purchase Required: Yes, must use special equipment compatible with mobile plans
Throttling: Maximum speeds are 25Mbps down and 3Mbps up. Once the monthly data is used up, speeds are throttled to1-3Mbps until the start of the next billing period.
Plan Period: 30 days (24-month contract required)
Data Roll Over: None, except for token data.
Overage Charges: None
Streaming Policies: No streaming throttles or limitations - all streaming data counts as data use.
---
News, Videos, & Status
We do not intend to obtain a HughesNet-based system to test first hand, due to our own lack of storage space for the bulky dish required, but we did own and use a previous generation (Gen2) HughesNet tripod system.
We do have first-hand reviews and reports from our MIA members who use the mobile Gen5 system, which is included in the member section below.
Related Articles
Related Guides
---
For other featured mobile satellite options:
---
This Review Contains Additional Member Exclusive Content!
We are Honored to be Member Funded!
No ads, no sponsors, no selling (but may contain affiliate links)
Our members fund our in-depth independent reviews.
This entry may contain additional member exclusive content such as testing notes, field testing data, user interface tours, comparisons to alternatives, analysis, tips, videos and discounts.
Members also get interactive guidance, alerts, classroom and more. 
---
Purchasing Options
Purchasing Links & Disclaimer
We don't sell stuff, we are primarily member funded. Some links below may be affiliate links (see our disclaimer), which also helps fund MIRC.
The vendors displayed below provide larger discounts to our MIAs that we have negotiated instead of displaying affiliate links while they are logged in.
MIA Discounts - Learn & Save!
Our Mobile Internet Aficionados (MIA) get special discounts from the below vendors. Members please check for discount codes before ordering. With savings up to 11% off, you could save more than your membership cost!
You can NOT sign up for "mobilized" HughesNet service directly with HughesNet, and you cannot use a residential HughesNet system on the road.
It just won't work. The account needs to be provisioned differently to enable mobility, and the modem needs to have special firmware settings unlocked to make roaming between spot beams possible.
Mobile Gen 5 setups are only available from HughesNet VARs and their dealers, not directly from HughesNet.
Here are vendors who can assist RVers with mobile setups:
The guides below have been hand-picked to help further your education about mobile satellite: